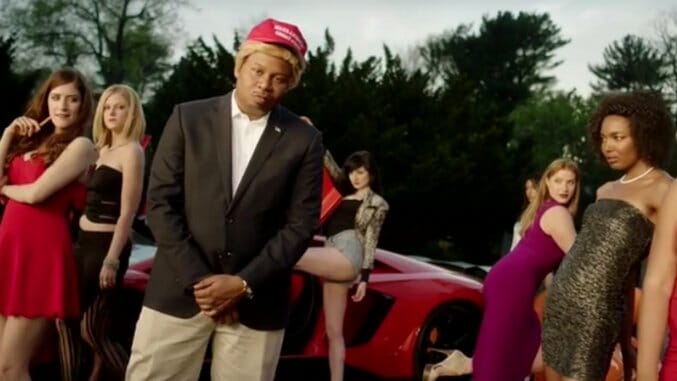 Donald Trump says a lot of absurd stuff—stuff that you wouldn't and couldn't believe he actually said if there weren't visual, audio or written records of it happening. The Donald's talk ranges from the obscure and dumb to the downright offensive and inflammatory.
Luckily (or unluckily) for us, Trump's nonsense has all been catalogued over the decades (yes, he's been doing this for far longer than this election cycle) and is easily accessible to anyone, including The Daily Show with Trevor Noah.
The satirical news program was able to string together a largely coherent, awfully catchy and totally verbatim rap of all those awful Trumpisms, delivered expertly by "Black Trump" himself, played by Roy Wood Jr., with the help of hype man Jordan Klepper. Get ready to blast "They Love Me" ironically through your speakers via the player above, and use the date stamps below the lyrics to remind yourself how truly awful Trump actually was, is and will always be.