The Daily Show Launchs Campaign for Trump's Dishonest Media Awards With Full-Page Print Ad
Photos by Jeff Schear/Getty
Comedy
News
The Daily Show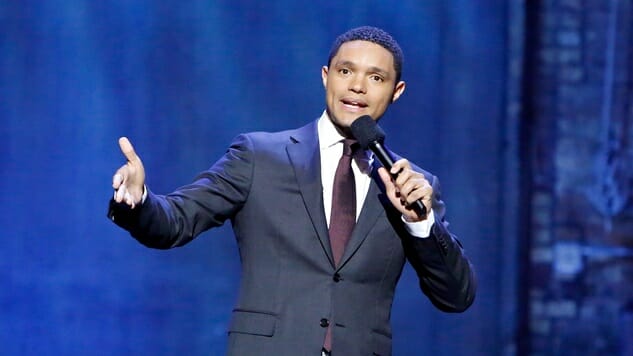 Not content to let Stephen Colbert and his Late Show contingent have a higher profile heading into the Dishonest Media Award season, The Daily Show with Trevor Noah joined in the "For your consideration" festivities today by launching their own print campaign to curry President Trump's favor come trophy time.
Monday night's MOST DISHONEST & CORRUPT MEDIA AWARDS is going to be ????????????@realDonaldTrump, For Your Consideration: pic.twitter.com/6GT31qdBaL

— The Daily Show (@TheDailyShow) January 4, 2018
Comedy Central's satirical stalwart began their campaign for the highest honor in "fake news" by purchasing a full-page ad in The New York Times. Including quotes from such esteemed outlets of integrity as Breitbart News, which was denied Capitol Hill press credentials, and Fox News's Fox & Friends, the President's go-to morning show, the ad humbly requests the President's consideration when honoring the top fixtures in dishonest and corrupt media.
They even quote Scott Baio!
Noah, Colbert and all other nominees won't have to wait much longer, as the President plans to announce all the winners this coming Monday at 5 p.m. EST.
I will be announcing THE MOST DISHONEST & CORRUPT MEDIA AWARDS OF THE YEAR on Monday at 5:00 o'clock. Subjects will cover Dishonesty & Bad Reporting in various categories from the Fake News Media. Stay tuned!

— Donald J. Trump (@realDonaldTrump) January 3, 2018