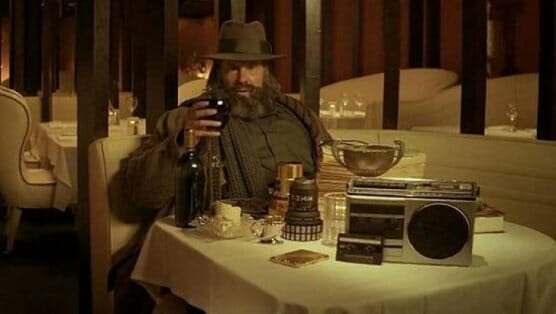 Review Ratings:
"That's Jazz" (Episode 2.03): 6.8
"Fear Steps In" (Episode 2.04): 8.3
IFC's latest saga The Spoils Before Dying sets itself apart from its predecessor, The Spoils of Babylon, in that it has a compelling story that's been pretty coherent and easy to follow (so far, anyway). It's a noirish mystery—Rock Banyon (Michael K. Williams) tries to clear himself of the murders of Fresno Foxglove (Maya Rudolph) and scientist Wilber Stygamian— wrapped in a blanket of ridiculousness that only IFC and Funny or Die can deliver.
It begins as usual with creator Eric Jonrosh (Will Ferrell) talking about himself and his 1958 classic novel that was hit with more than 80 obscenity lawsuits in over 30 states. He says that when he was brought before a House Subcommittee on Un American Activities: "I plead the fifth and then drank a fifth." But the Jonrosh is on an especially good roll with this episode's introduction: "Well, here it is, part three of six. It drags a bit and loses its pace. I was interested in boring my audience at that time—and I still am. Most of you are idiots anyway…" Unfortunately, Jonrosh is right (about the episode).
"That's Jazz" opens with a faithful recreation of an old TV show with Andy Daly playing host in "Artie Mann's Jazz Party," which is sponsored by Boghei "French-like" cigarettes. "A pack or two a day is the Boghei way…" There's truth in that cigarette commercial spoof, which makes it perfect satire. After Rock has a breakdown on the Artie Mann show, he heads for a watering hole where he meets Kenton Price (Michael Sheen). After ordering a glass of "Bagpipes O'Toole Scotch Flavored Vodka"—as an advertisement for the canned beverage that's "perfect for driving" flashes on the screen—Price hits on Rock. After Rock turns him down, the two get to talking about Wilber Stygamian, an acquaintance of Price's. Now this is where Spoils Before Dying gets serious on the audience: It turns out that Stygamian was a member of the secretive Mattachine Society (a real organization) that fought for the rights of gays in the 1950s. Sheen says that "hamosexuals" like himself are persecuted by local police and that the secrets the society knows about the power brokers of L.A. could get people into trouble.
The episode does drag in a few places: About midway through there's a yawner of a musical number with Delores at the club singing above a montage of Rock wondering the streets. But it's followed by a great scene with an over-the-top Kate McKinnon from Saturday Night Live, playing the girlfriend of Rock's sax player (who also turned up dead). Alternating between weeping and drinking, McKinnon's boozy Southern character outs herself as a harlot, who has slept with all the jazz greats. And she means all—naming most of them in a funny and well-edited monologue: "Ella…ooh, Ella was the best."
In Rock's quest to track down another clue, Chris Parnell makes an appearance as a drug dealer Beebop Jones who introduces Rock to Tabby Smooth (Jack Kilmer), the future of music—rock music. He also sends Rock off with a warning not to look into the murder of Stygamian. The scene then transitions into a cartoon about jazz set to music and free verse, then ends up back with Jonrosh, hawking Boghei cigarettes. He gets angry with off screen producers who try to get him to stop: "Why would they take tobacco commercials off TV? It makes no sense!" (which can also apply to the mishmash of "That's Jazz.")
Its partner episode, "Fear Steps In" fares better with more action, sex, drugs and murder. Jonrosh's intro is outrageously entertaining. Ferrell deadpans into the camera: "It took me one night to write my novel, The Spoils Before Dying." Jonrosh then compares himself to other literary giants like Mailer, Vidal, Cheever and curses those who banned the book and exiled him. "Even now, I'm a man without a country…and an apartment." He says that episode four is "pretty good. I think you'll enjoy it."
Rock visits Price for more information about Stygamian and immediately notices that Price is exceptionally jumpy and nervous. Sheen's performance in this scene as he jumps around the room mixing cocktails is reminiscent of a classic Three Stooges physical comedy sketch; that is, until the toy helicopter is spotted outside his house and assassinates Price as dramatically as Sgt. Elias was in Platoon.
Salizar Vasquez Deleon makes a return appearance and attacks Rock and Delores at Rock's apartment. What follows is a talking cat sequence and then hot sexy time between Rock and Delores, sort of. Jonrosh pops in to explain that the original film scene was banned and destroyed, and they've done their best to recreate it with original audio and storyboards that were found in a Parisian whorehouse that Jonrosh frequented. The censored images and sound effects are extremely amusing.
Emily Ratajkowski makes an appearance at the end as Stygamian's purported daughter and leads Rock to a secret room about a mile below the scientist's home. But it's a trap! There's an evil German woman scientist waiting with a big needle and the screen fades to black as Spoils sets things up for its final two episodes. The show's humor is definitely juvenile at times, and isn't for everyone, but if you look past the winks and nods, you'll find more serious fodder as well as surprisingly sharp moments of commentary on American culture, history and media.
Christine N. Ziemba is a Los Angeles-based freelance pop culture writer and regular contributor to Paste. You can follow her on Twitter.