Tini Howard Throws Down With the Women Wrestlers of GLOW
Art by Hannah Templer & Rebecca Nalty
Comics
Features
GLOW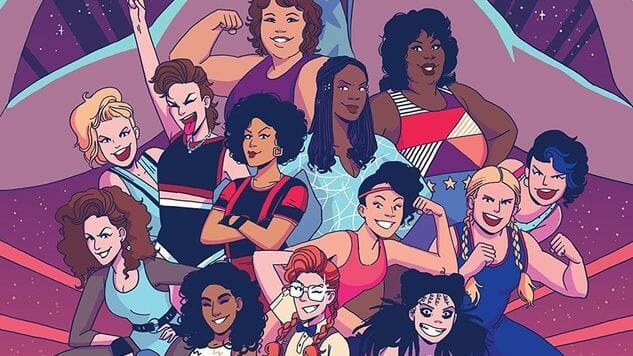 It's the most wonderful time of the year for wrestling fans. No, it's not just WrestleMania season—it's time to get ready for the Gorgeous Ladies of Wrestling! Hailing from IDW Publishing and clocking in at 32 pages of stunning, late-'80s Southern California neon glory, writer Tini Howard, artist Hannah Templer, and colorist Rebecca Nalty have teamed up to deliver GLOW, an absolute must-buy for fans of the Netflix series and wrestling fans in general.
We spoke to WWE comic alum (and newly minted Marvel exclusive writer) Tini Howard about the four-issue miniseries, which will follow Ruth, Debbie and the rest of the GLOW roster as they unexpectedly find themselves scheduled to step into the ring with veteran women wrestlers for a charity event. GLOW #1 hit stands on March 27th, and is available on ComiXology and in your local comic shop. Now: let's get ready to rumble with GLOW writer Tini Howard!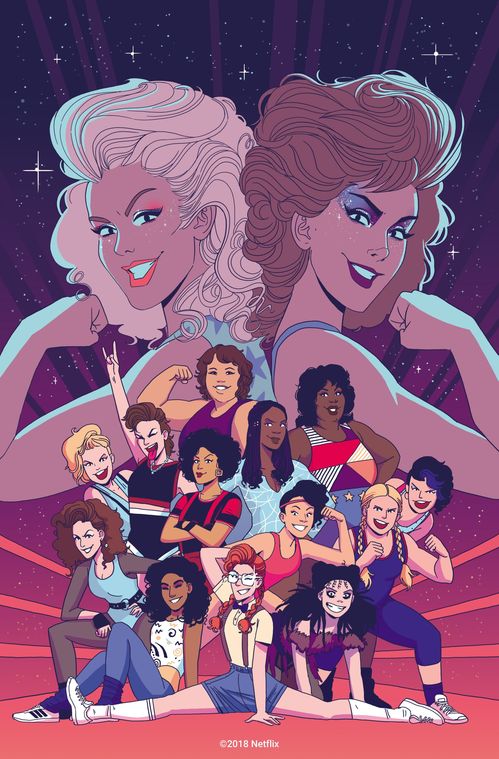 GLOW #1 Cover Art by Hannah Templer & Rebecca Nalty
Paste: This is big—GLOW comics, IDW Netflix comics, Tini Howard wrestling comics! How did you, Hannah Templer and Rebecca Nalty come together with IDW for this miniseries?
Tini Howard: I am so grateful to the team at IDW for bringing me on to this project. When they first reached out I was so excited, but my schedule ramped up really quickly and I wasn't sure if I was able to take it on. They worked with me so that I could be a part of the team, so it feels extra special—we all really wanna be there.
Hannah is a brilliant cartoonist and Rebecca a fantastic colorist. IDW brought them to the project and I could not be happier. If you don't know them already, they're about to be your favorites.
Paste: You've previously written for BOOM's WWE comics series—how different was writing for a Netflix dramedy about a wrestling show, versus writing about a wrestling show? Or was it pretty similar?
Howard: I think the biggest difference is how we handle things like weakness and humor and failure. There's a little less freedom in writing for WWE—you're writing about characters that are tied to people's weekly ongoing performances, so you can't really shame them or hurt them or take them out of the picture. Whereas with GLOW, they're just characters, who are kind of flawed and messy, and exploring that is even more fun than spotlighting their victories and defeats.
Paste: How does the miniseries fit into the universe of GLOW—is it something folks can read if they're a little behind, or haven't checked out the Netflix series yet?
Howard: It's definitely something you can read if you're a little behind. The [series] actually takes place in the nebulous "montage time" during Season 2, where the girls are just pumping the show out each week. This is like a lost weekend that we didn't see during the show.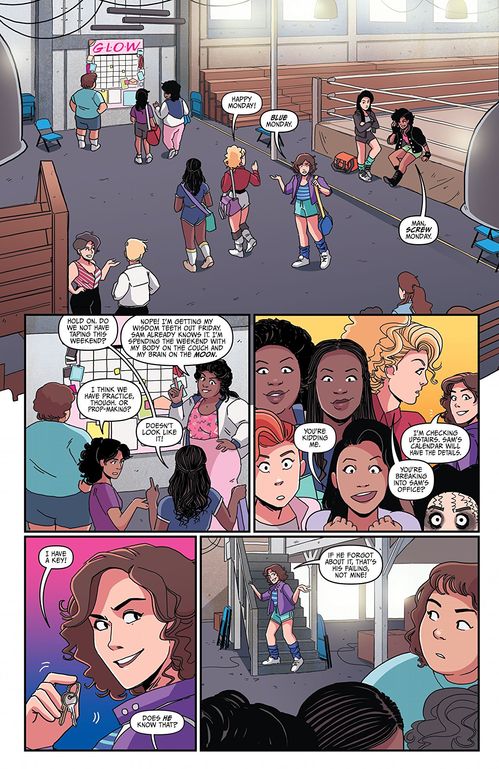 GLOW #1 Interior Art by Hannah Templer & Rebecca Nalty
Paste: Wrestlefest feels a lot like WrestleMania week or Ring of Honor's SuperCard of Honor experience—kind of like a Comic Con for wrestling fans, where it's not just about the show but about soaking up the whole lifestyle for a day or two. What's it like getting the chance to introduce these characters into that environment?
Howard: Absolutely! I knew you'd catch on. It's fun because we usually see the GLOW girls as introducing wrestling to their fans, so I wanted to do a situation where they're the new girls among full-time wrestlers. So they're feeling like they need to prove themselves in this pressure-cooker of an environment, where everyone's tired and cranky and working 12-hour days…it makes for some fun drama.
Paste: And of course they're not just there for fun—Gorgeous Ladies of Wrestling find themselves booked for some real matches against some very experienced ladies of wrestling, the Star Primas. Who are the Star Primas, and what does the GLOW team expect? Did you take inspiration from any wrestlers for the Star Primas?
Howard: The Star Primas are "the other girl wrestlers," and in the way that women often feel like they have to compete for the "one girl spot," our women find themselves having to do just that. There's that question—do you pull others down to climb to the top or do you help each other up against your detractors? And they have to put aside their egos to do that.
The Star Primas are pure athletes, and as such, I drew a lot of inspiration from some of my favorite women wrestlers: Charlotte, Naomi, Nia Jax, Becky Lynch, Asuka. Who are all great performers too, but it's fun to imagine them as pure athletes against a group like the GLOW girls.
Paste: How have you enjoyed working with Hannah and Rebecca? The character designs from the show are so varied and fun, Hannah and Rebecca seem like a great fit, especially throwing back to the '80s aesthetic.
Howard: Hannah's cartooning just blows me away. While so many licensed works are reliant on likeness, Hannah manages to nail a likeness with so few lines—it's really incredible work, just from a technical standpoint. And then you add Rebecca's palette, that fusion of neons and sun-bleached beachy pastels, and it's pure '80s Southern California.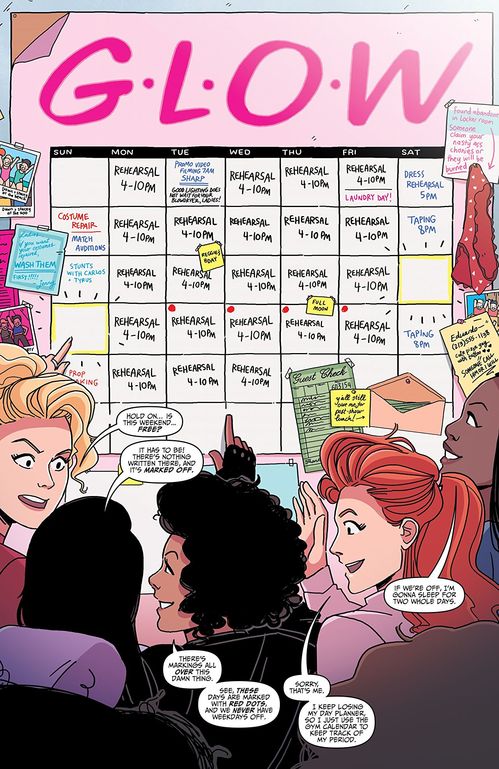 GLOW #1 Interior Art by Hannah Templer & Rebecca Nalty
Paste: When it comes to scripting, or working with an artist, what are action scenes like for something like GLOW compared to a traditional superhero or action comic? I feel like folks often underestimate how similar wrestling and superheroes are!
Howard: I agree completely! I love watching people play with identity, how they distill their own personal mission into a few symbols, colors, a catchphrase. Wrestling and superheroes both make use of that. One of the great things about GLOW is that (with a few exceptions) these aren't characters who fight to solve their problems—they're fighting to perform or to get better. So their movements are really intentional and calculated, you can play a lot with what a character is saying when they take action.
Paste: Is there a particular moment you're really excited for readers to experience in the miniseries? No spoilers requested, just a teaser!
Howard: There's a sort of mysterious new character who really challenges one of our girls to take her game to the next level, and I love her. She's super cool, I can't wait.
Paste: Any chance for more GLOW comics in the future?
Howard: I don't know what I can say… I can say that I'm a GLOW fan and I'm excited for what's next!
Paste: If Tini "Script Slayer" Howard could team up with any of the women of GLOW for a tag-team match—who would it be? And who would you want to face off against?
Howard: I think I'd want to team up with Black Magic. If I were a wrestler, I'd totally want to be a witch or a priestess like her, who can "curse" people and stuff. I think we'd team up against one of the good guys. Or Sheila. It would be so fun to fight Sheila.