Exclusive: Dark Horse Announces New Hellboy Graphic Novel, Into the Silent Sea, for 2017
Images via Mike Mignola, Gary Gianni/Dark Horse
Comics
News
Hellboy
Hellboy will storm the seas again on May 2, 2017, when Dark Horse publishes the first original graphic novel starring the wayward paranormal investigator in six years.
Hellboy: Into the Silent Sea is co-written by the character's creator, Mike Mignola, and Gary Gianni, who's also providing the immaculately detailed art. Longtime HB colorist Dave Stewart returns to the property to slather Gianni's gothic, maritime visions in haunting grays and blacks.
The story will see Hellboy return to the atmospheric events following 2005's classic story arc "The Island," which was penned and illustrated Mignola. In the new graphic novel, Hellboy is abducted aboard a ghost ship as the captain and crew set sail to defeat a mysterious and powerful sea creature.
"I imagine if Hellboy: Into the Silent Sea were a movie, the Hollywood hyperbole would describe it as Hellboy's greatest adventure," said Gianni in a press release. "Yes … it's Hellboy as you've never seen him before, laughing, loving and battling his way across the stormy seas! You'll be thrilled as he faces cosmic forces terrorizing a haunted shipped manned by a desperate crew!"
As Mignola recently wrapped his solo effort on the character, Hellboy in Hell, we're ecstatic to see Big Red continue to flourish under new creative voices. Check out the graphic novel's cover and two exclusive pages below.
Hellboy: Into the Silent Sea Cover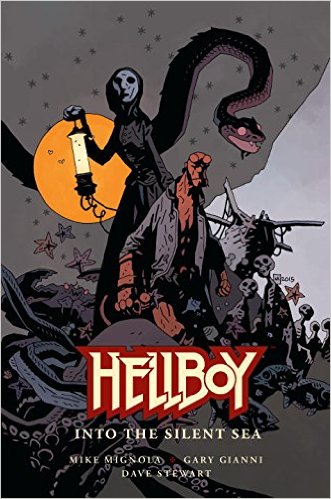 Hellboy: Into the Silent Sea Interior Art