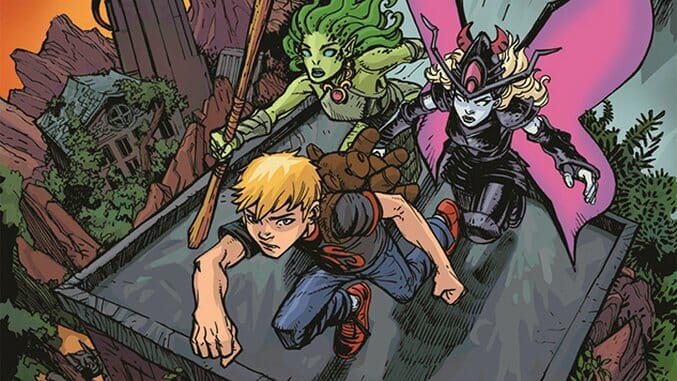 In Guest List, Paste's favorite artists and auteurs reveal the music that's inspired some of their most seminal works.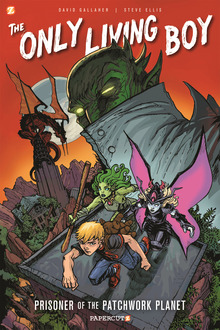 Set on a mysterious patchwork planet, David Gallaher and Steve Ellis' The Only Living Boy follows 12-year-old Erik Farrell as he runs away from home and finds himself stranded without his memory in a world overrun with magic and mysticism. With heavy doses of Jack Kirby's Kamandi and a liberal sprinkling of old Hanna-Barbera action 'toons, The Only Living Boy Vol. 1: Prisoner of the Patchwork Planet is an all-ages adventure out this week from Papercutz, with additional volumes to follow.
And with a title plucked from a Simon & Garfunkel song, it's only fitting that The Only Living Boy would come equipped with a hefty playlist. While you can find every song selection from David Gallaher's list on the book's Spotify page, the Harvey nominee was happy to provide Paste with a rundown of the major tunes that accompany his latest collaboration with artist Steve Ellis.


"Main Theme" from Jonny Quest, Dominik Hauser
The percussion-heavy big-band jazz theme song from Jonny Quest, covered here by Dominik Hauser, was written and conceived by Hoyt Curtain and is simply the quintessential adventure theme.



"The Only Living Boy in New York," Simon & Garfunkel
There's a reason why this song is the namesake of our series. Lyrics like, "half of the time we're gone but we don't know where" capture this timeless, lost and lonely feel. Our hero could be anywhere in space or time—and there's something archetypal about that.



"Somewhere They Can't Find Me," Simon & Garfunkel
"Before they come to catch me I'll be gone. Somewhere they can't find me." Those lyrics really speak to Erik's mood when he's running away through the rainy streets of New York. The frenetic up-tempo song causes an incredible ruckus, making a brilliant fit for our story.



"Little Talks," Of Monsters and Men
I've always loved bombastic sea shanties. "Little Talks" is epic in its ability to capture the torrential and tempestuous nature of our world. The "you and me against the world" theme in this song mirrors the deep emotional core that simmers just below the surface of The Only Living Boy.



"All Is Love," Karen O and The Kids
"Let the wild rumpus start!" When we set out to make The Only Living Boy, Where the Wild Things Are was the first inspiration to come to mind. This song for the soundtrack is full of playful, unrelenting enthusiasm.



"All These Things That I've Done," The Killers
I've always thought of this song as an anthem for growing up, accepting responsibility and moving beyond your past. Erik runs away from home… But when there's nowhere else to run, he'll have to confront his own past mistakes.



"Where Is My Mind?," The Pixies
We're often asked if the patchwork planet in The Only Living Boy series is some sort of dream, hallucination or Lost-esque afterlife. This eerie, unsettling tune, based on Black Francis' own near-death experience scuba-diving, perfectly suits Erik's amnesia and adds greater weight to the speculation.



"It's The End Of The World," R.E.M.
Known for its jaunty, fast-paced, rapid-fire (and often undecipherable) lyrics, this song takes all of the anxiety you may have ever felt about the "end of days" and dials it up to 11. There's no better anthem for the impending Apocalypse.



"Princes of the Universe," Queen
This is one of Steve Ellis' inspired choices, but I love the heavy rhythms and vocal harmonies here. Fans of the Highlander films think of this song as a celebration of immortality, but I think of it as a calling to defend each other against monsters to the death, while the world crumbles around us.



"I Wanna Be Like You," Louis Prima
When people ask me to describe The Only Living Boy, I frequently compare it to The Jungle Book. They are both wild action-adventure tales with a menagerie of colorful creatures. In this song, which is part jazz, part scat and part Dixieland melody, King Louie asks Mowgli to give him the secret of "Man's Red Fire" so that he can defeat Shere Khan and become rightful ruler of the jungle. Fans of The Only Living Boy might notice parallels between King Louie's quest for fire and Baalikar's quest for the Chrysalis.