Vault Announces Nightfall, an Annual Fall Horror Event Kicking Off With The Plot
Vault's Inaugural Nightfall Title is Co-Written by Tim Daniel & Michael Moreci and Drawn by Joshua Hixson
Main Art by Joshua Hixson
Comics
Features
Vault Comics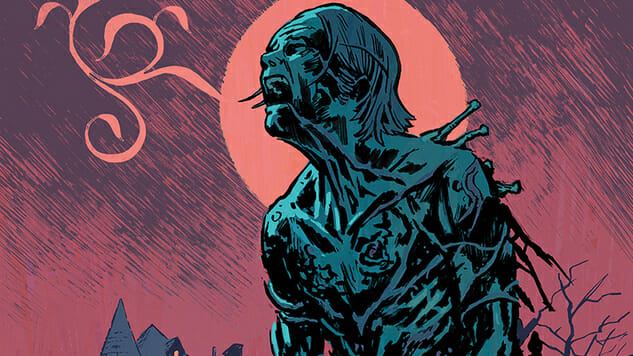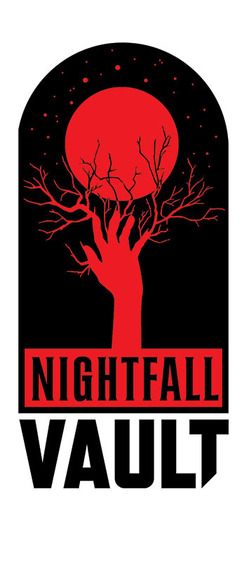 Vault Comics has never shied away from horror-adjacent content in series like These Savage Shores and Heathen, but the publisher hasn't yet taken a deep dive into the terror genre—until now. Paste is thrilled to share details on Nightfall, a new annual fall event from Vault Comics focusing on horror. Designed as something of a pop-up imprint, Nightfall's icon will grace a select number of Vault titles launching between September and December each year, assuring readers that they can expect genuine frights within. While Nightfall titles will launch within a specific window annually, they'll then continue to release like other Vault periodicals, until each title's planned conclusion.
"For a little over two years, Vault's mission has been to bring you the best in science fiction and fantasy," Vault Editor-in-Chief Adrian Wassel said in a statement. "But there's no denying our affection for the macabre has wormed its way into many of our series. Nightfall—even more than an annual event—is a badge. It tells readers and retailers which of our stories will be truly terrifying. Sure, they might contain some sci-fi or fantasy, but if you crack open a Nightfall cover, your skin will crawl."
"Nightfall will begin as annual event, bringing you some delightfully dreadful comics from some truly remarkable creators each fall," Vault CEO and Publisher Damian Wassel added. "But, like every initiative we launch at Vault, we have some big, as yet unspoken plans for Nightfall, to bring our readers more of that late-October feeling horror fans crave."
Tim Daniel, Vault's E.V.P. of Branding and Design, also chimed in on the initiative: "Nightfall is all about allowing us to maintain our core focus while embracing our love of horror. Every title under the Nightfall banner will receive the same strict care and attention our readers have come to expect."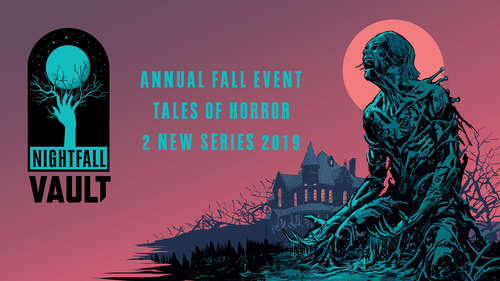 Nightfall Promotional Art by Joshua Hixson & Tim Daniel
It's fitting that Daniel is invested in Nightfall, as the first title launching this September under the banner will be The Plot, co-written by Daniel and Michael Moreci (Wasted Space, Mall) and drawn by artist Joshua Hixson (Shangai Red).
"This is the most emotional book I've ever written," Moreci said. "It's everything I love dearly about horror, where the scares come from the characters and their intense personal journeys. This is horror you feel chilling your bones. It's horror that lingers when you try to sleep at night."
Artist Joshua Hixson added: "The best kind of horror confronts us with our buried secrets and darkest thoughts—all that we try to keep dormant. The Plot drags those to the surface and forces us to look. It's everything I love about horror, and everything I love about drawing it."
Vault is known for launching new series with a variant "Vault Vintage" cover homaging a relevant series from the past—Transmetropolitan for Test, Saga for She Said Destroy—and The Plot is no different. In a chillingly suitable pick, Vault Vintage cover artists Nathan Gooden and Tim Daniel will pay tribute to Bernie Wrightson's iconic House of Secrets #92 cover from DC Comics.
Readers can find both covers for The Plot #1 below, along with an official synopsis. For more on Nightfall, The Plot and other Vault Comics series, keeping checking Paste throughout the month and be sure to visit the Nightfall website.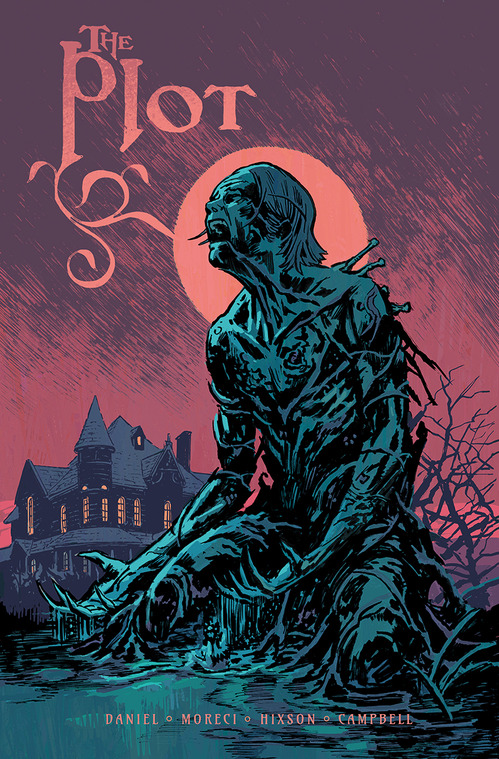 The Plot #1 Cover Art by Joshua Hixson
The Plot #1
Writers: Tim Daniel & Michael Moreci
Artist: Joshua Hixson
Publisher: Nightfall/ Vault Comics
Release Date: September 2019
In order to receive…first you must give. When Chase Blaine's estranged brother and sister-in-law are murdered, he becomes guardian to McKenzie and Zach, the niece and nephew he hardly knows. Seeking stability for the children, Chase moves his newly formed family to his ancestral home in Cape Augusta—which overlooks a deep, black bogland teeming with family secrets.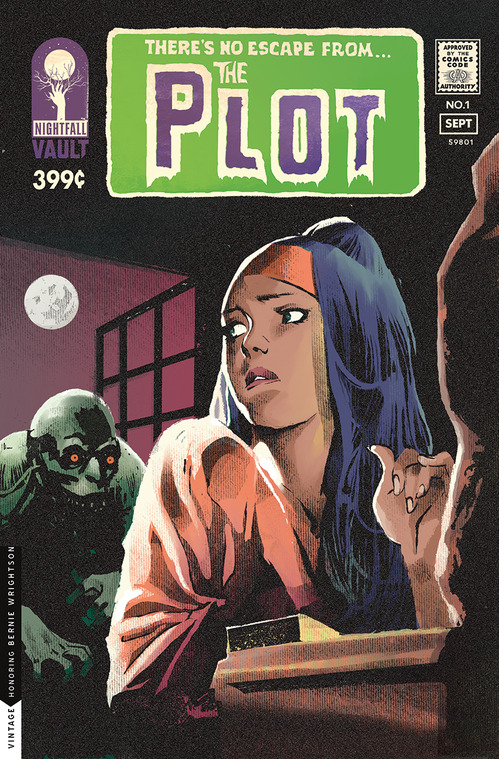 The Plot #1 Vault Vintage Variant Cover Art by Nathan Gooden & Tim Daniel