Exclusive Preview: Warren Ellis & Bryan Hill Debrief Michael Cray
Get a First Look at N. Steven Harris, Dexter Vines & Steve Buccellato's Interior Art for Issue #1
Main Art by Khary Randolph
Comics
Features
Warren Ellis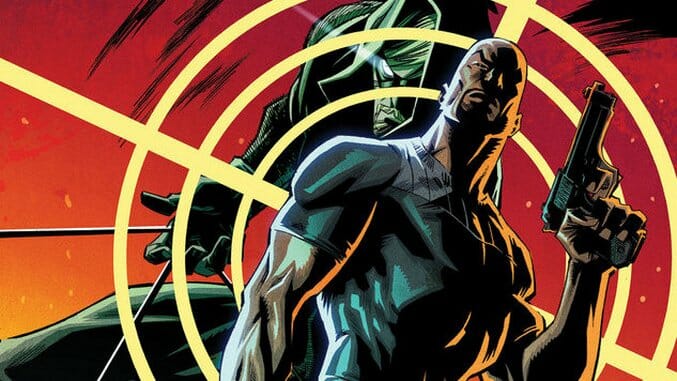 Few creators get to reinvent the wheel twice, but visionary writer Warren Ellis is doing just that with The Wild Storm, his hyper-modern reimagining of the imprint he helped revolutionize around the turn of the century. Along with artist Jon Davis-Hunt, Ellis has situated characters like the Engineer, Grifter, Zealot and Deathblow—none of who are bothering with codenames this time around—in a complex plot of cutting-edge corporate warfare, futuristic technology and alien intervention.
Beginning next month with Michael Cray #1, Ellis and Davis-Hunt invite new creators into the secretive fold, with Romulus writer Bryan Hill and the art team of penciller N. Steven Harris, inker Dexter Vines, colorist Steve Buccellato and letterer Simon Bowland taking over the creative reins of The Wild Storm's first spin-off series. Paste has an exclusive first look at Harris and Vines' interior art for Michael Cray #1, as well as an interview with Ellis and Hill about Cray's fatal status quo, expanding this pocket universe and what's next for The Wild Storm.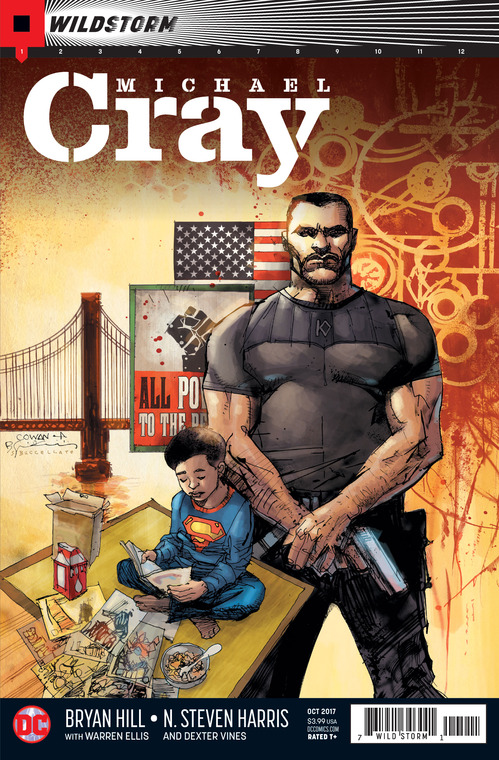 Michael Cray #1 Cover Art by Denys Cowan & Bill Sienkiewicz
Paste: Warren, Michael Cray's heyday as Deathblow is a bit further back in popular consciousness than some of the other characters in The Wild Storm. Why was he your first choice to spin off into a separate title, and does this series take him off the board for the second "book" of The Wild Storm?
Warren Ellis: Well, first off, there's a plan. I wrote that plan before I even wrote the script for the first issue of The Wild Storm. He parts company with The Wild Storm at the end of the first volume, and heads off into different parts of the Wildstorm world. He was also the character in the first six who I knew would be least served by the ensemble structure, and I wanted him to have some space of his own. It does take him off the board for the second volume of The Wild Storm—sort of. But possibly not the third.
Paste: How did you assemble Bryan Hill, N. Steven Harris and Dexter Vines for the book? How involved are you once you hand Bryan the series bible? And what are Harris and Vines bringing to the book to build on the look Jon Davis-Hunt has established in the core series?
Ellis: I'm reading every script, and giving notes if I feel any are required, which they usually are not. I'd recently seen Bryan Hill's Romulus and had been impressed. Postal is also very good. Dexter Vines—I'd admired his work for years, he's one of the very best in this business. My editor, Marie Javins, gathered up a big group of samples of people she thought I should look at, and Steve really stood out. He's clear-lined like Jon Davis-Hunt, but it's a different dynamic going on, a different energy and directness to it. He makes a great partner for Bryan, and Dexter makes it all land.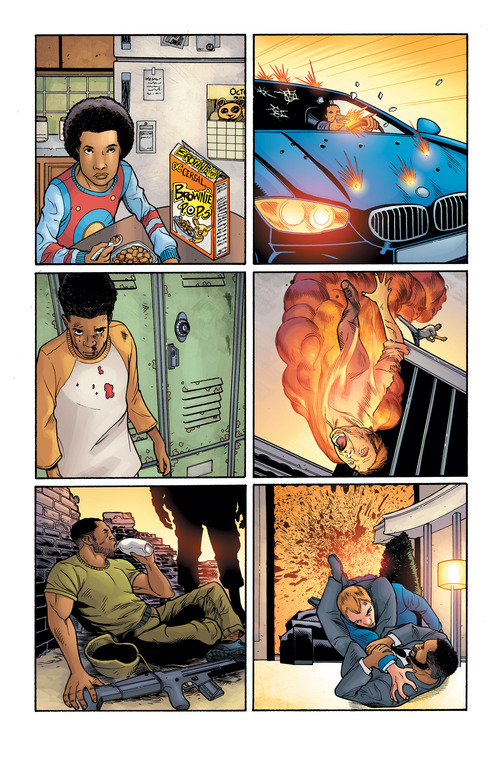 Michael Cray #1 Interior Art by N. Steven Harris, Dexter Vines & Steve Buccellato
Paste: Bryan, you're used to TV writers rooms and co-writing comics at other publishers—what's the process been like with Warren as you help build out this "pop-up imprint"?
Bryan Hill: Warren's amazing. His work was part of why I wanted to write comics in the first place. He has a very specific vision for The Wild Storm so that makes it easy to follow his lead, but at the same time he's allowed me to put myself into the work and explore aspects of the world and character that speak to me on a personal level. No two writing projects are the same and I switch up between collaboration in TV and with some of my comics, and solo work as a screenwriter and on my own stories like Romulus. I'm not a "job chaser." I'm not the guy who bothers editors about work all the time. Frankly, if I didn't think I could offer anything interesting to something, then I wouldn't do it. With Michael Cray, I saw an opportunity to paint a portrait of a complex man with some decent ultra-violence in there for the bleachers in the stadium, and knowing that Warren has his pick of the litter of writers to choose from, it was a no-brainer to say yes to this.
I got a "good job" from him. Gotta say, that felt nice. My inner 13-year-old did a happy dance.
Paste: In the first six issues of The Wild Storm, Michael Cray finds out that he has a potentially inoperable brain tumor and that his life's work may have been more lie than truth. What sort of state is he in as Michael Cray opens, and who's he gunning for now that he has a team of his own and an open mandate to choose targets?
Hill: Michael is searching for purpose, something worth applying all his skill to, a war worth fighting. That's a dangerous place to be. When a man searches for righteousness, other people will see opportunity in that, a way to manipulate that need to their own ends. This is a story about weapons, both human and inhuman. It's about asking the question: is it ever righteous to kill?
Michael is always gunning for people he believes deserve it, but that puts a lot of power in his hands. It's the kind of decision that gods make, but he is just a man and men often fail. Michael wants what many soldiers want: to be obsolete, for the world to not need men and women like him. Until that day, he's doing what he can, bullet by bullet, to bring the world closer to that goal.
Who's he kill? The people who get away with it. For readers looking for a no-holds-barred story about the purpose and price of violence, they should come home to Michael Cray.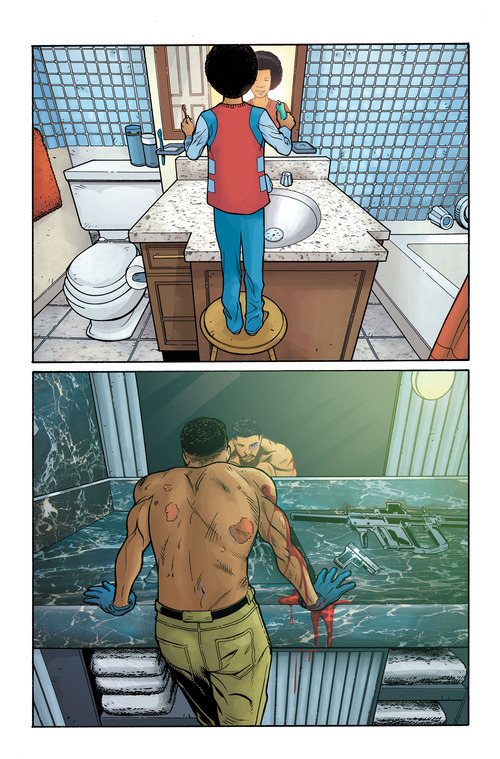 Michael Cray #1 Interior Art by N. Steven Harris, Dexter Vines & Steve Buccellato
Paste: Bryan, how difficult is it to confront mortality through Cray's perspective? How does a terminal diagnosis change the outlook of a man who puts his life on the line every day—and kills for cash?
Hill: A professional assassin has made peace with mortality a while ago. It's a job requirement. Cray is much like Tom Cruise's character in Collateral (directed by Michael Mann), the hit man named "Vincent." That's a movie that stuck with me. There's a cognitive dissonance in people like Cray, a separation from consequence. Death is an old friend to Michael Cray. The fact that it has touched him is just that to him: a fact. It's a fact that means he's on borrowed time and payments are soon due. His response is to make the best of all the days he has left, and to make sure he's not going into the ground alone.
Paste: Do you feel at all beholden to previous versions of Cray? We've yet to hear him called Deathblow, and this iteration of the WildStorm universe seems much more grounded than some earlier takes.
Hill: "Beholden." Great word. We don't use words like that enough in modern language. To answer your question, no and yes. You have to be humble when you're writing legacy characters and not take them too far from what people loved in the first place. That's my perspective. Simultaneously, you have to make things as real to you as possible. A good writer, and I have no idea if that's what I am, but I work a lot (LOL), is honest. I have to make Michael Cray honest, on my own terms. I have to render him in a way that makes sense to me. I built a path in my head from his childhood to where we see him now, nothing I've shared with anyone, but it's something I reference when I'm writing him, it helps me hear him talk in my imagination.
As for the naming of the man, I tend to think that names like that are created when people need to create a persona separate from themselves. See: Bruce needing to be a bat. Right now, Michael is dealing WITH himself. He may get to a place where that kind of psychological separation is necessary. Both the readers and me will discover that at the same time.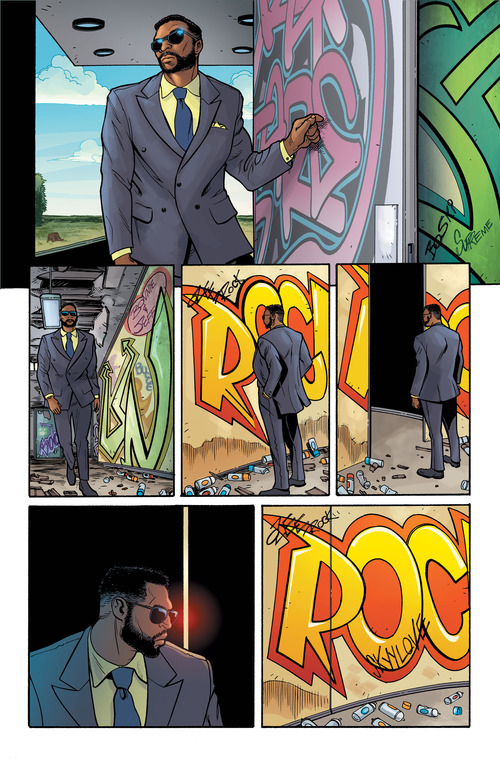 Michael Cray #1 Interior Art by N. Steven Harris, Dexter Vines & Steve Buccellato
Paste: The solicit text and Denys B. Cowan's cover for the first issue of Michael Cray tell us a few things that the first six issues of The Wild Storm don't: Michael appears to have a young son, Superman and Oliver Queen somehow exist in this universe and Cray's tumor is actually an alien life-form. What spoiler-free details can you add to any of the above?
Hill: I've had too much sleep and too little whiskey to fall into that trap, but I will say that judging anything from Warren Ellis from its cover might be the wrong course of action. There's a gun in his hand on that cover. Inside the book he uses it. There's a detail, LOL.
Paste: Warren, what is next for the flagship title The Wild Storm? Solicits for #7 introduces John Colt, better known as Spartan. Is another spinoff series in the works for this character?
Paste: Not for that character specifically. But you might be close.
In the first volume, we established and grounded that world. In the second volume, we start pushing against that. It gets a little weird. The stakes get raised. Everything's moving. There's a war coming. Issue eight breaks the mold of previous issues so hard that we either found a new level or we killed the book stone dead. Come and find out! Oh god help me please.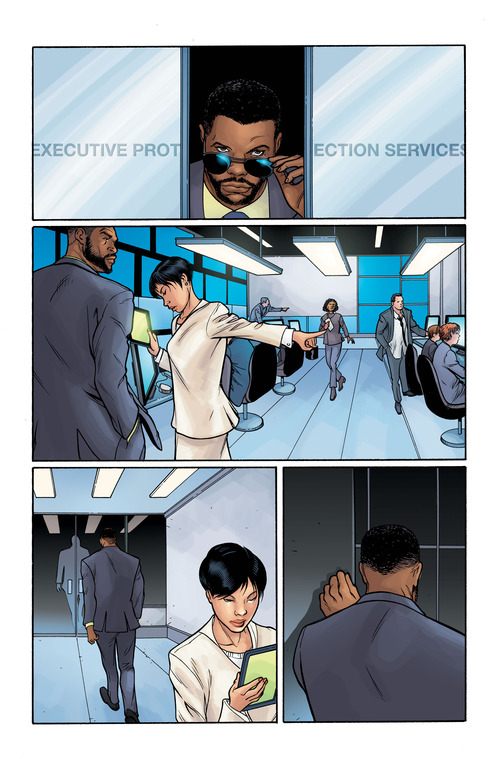 Michael Cray #1 Interior Art by N. Steven Harris, Dexter Vines & Steve Buccellato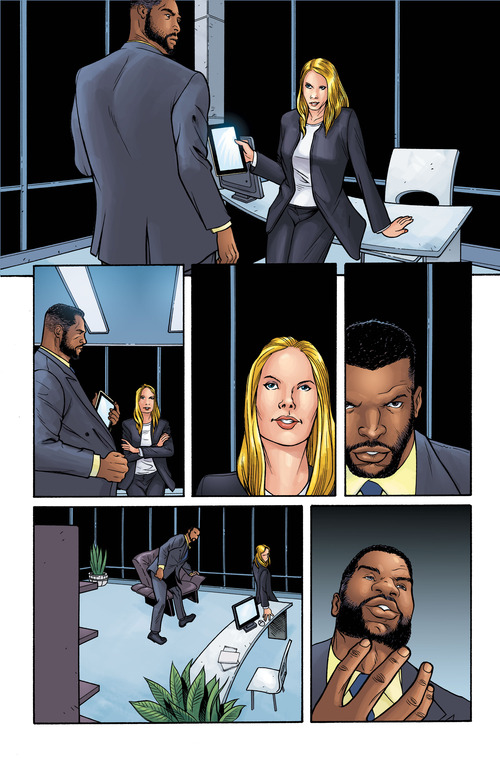 Michael Cray #1 Interior Art by N. Steven Harris, Dexter Vines & Steve Buccellato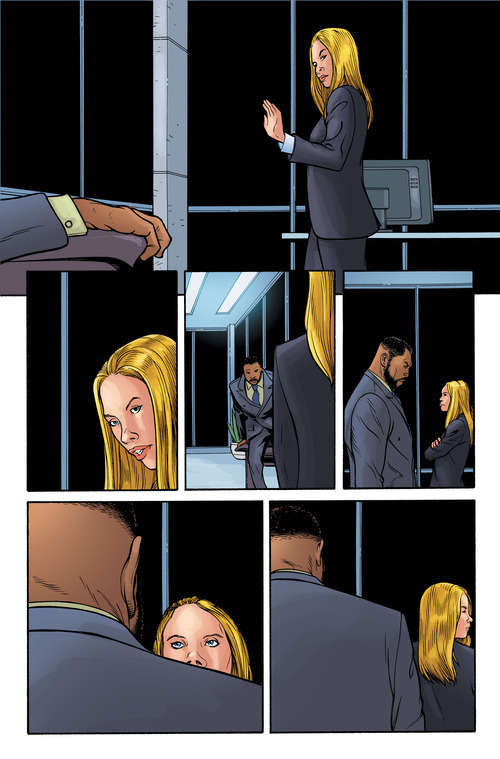 Michael Cray #1 Interior Art by N. Steven Harris, Dexter Vines & Steve Buccellato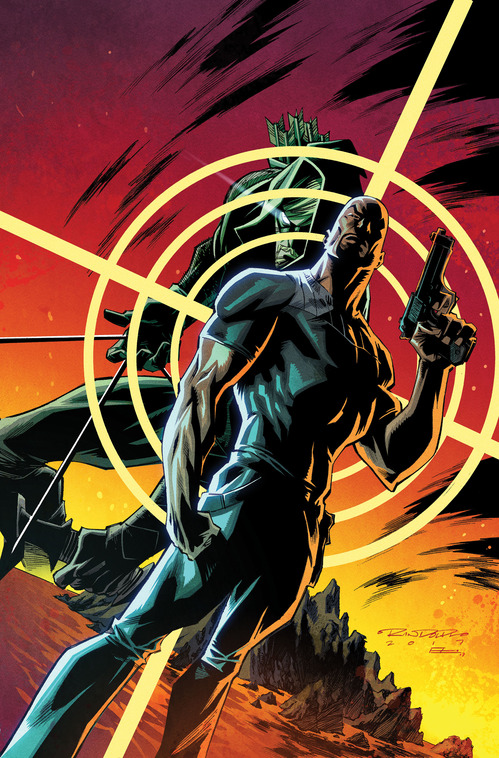 Michael Cray #2 Cover Art by Khary Randolph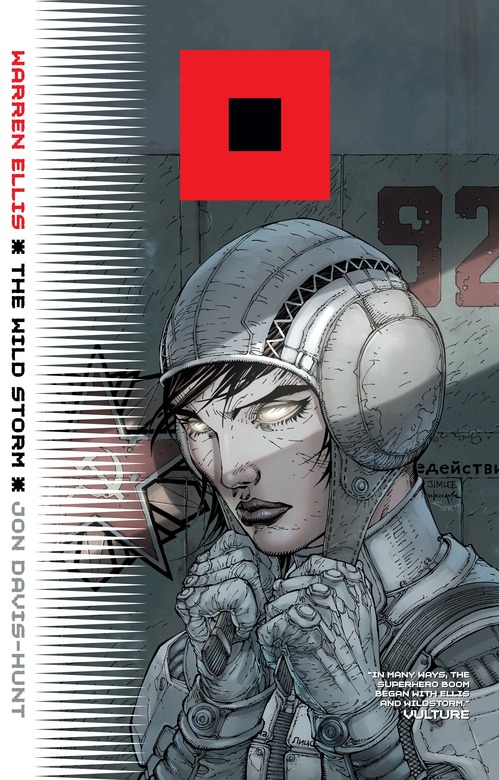 The Wild Storm Vol. 1 Cover Art by Jim Lee