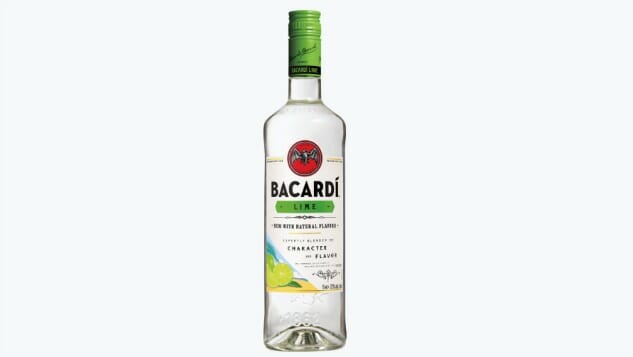 Just in time for summer, Bacardi is launching a new lime flavor. Like Bacardi's other flavored rums, it begins with a base of Bacardi Superior white rum that is then infused with natural lime flavors and lime zest.
Bacardi sent us a bottle to try prior to the launch, and we found it to be a delightful spin on the original. As someone who tends to drink their rum most often in ginger beer, the lime was a nice addition and made it so I didn't feel like I needed to grab an actual lime to finish my drink.
"As soon as the weather warms up, people are ready to take their drinks outside, whether it is for an outdoor barbecue, party on the beach or happy hour on a rooftop bar, BACARDÍLime is the perfect complement to these spring and summertime occasions," said Roberto Ramirez Laverde, Vice President, BACARDÍ for North America. "We have watched the flavor space grow year after year and we know that consumers are going to embrace this new infused rum, especially when they're on the hunt for a refreshing new cocktail."
It's also affordable. A 750ml bottle of Bacardi Lime has a suggested retail price of $12.99. Bacardi says an ounce of Bacardi Lime mixed with soda also only clocks in a 74 calories, so you can have a few of them guilt free.
If you do decide to snag a bottle (it's delicious, you should), Bacardi sent us a few cocktail ideas for what you should mix up at home:
---
Sparkling Hibiscus Limeade
Ingredients
6 parts BACARDÍ Lime Flavored Rum
2 parts St. Germain
4 parts Lime Juice
4 parts Monin® Hibiscus Syrup
8 parts Lemon Lime Soda
4 lime wheel garnish
Directions: Add all ingredients into a punch bowl or carafe with ice and stir. Garnish with lime wheels.
---
Bacardi Lime Mojito
Ingredients
2 parts BACARDÍ Lime Flavored Rum
4 Lime Wedges
6-8 Fresh Mint Leaves
2 tbsp Caster Sugar
1 part Club Soda
1 Sprig of fresh mint
Directions: Add the lime wedges, sugar and mint leaves and gently muddle until the limes release juice. Add BACARDÍ Lime Flavored Rum and mix the ingredients with a bar spoon. Fill with crushed ice and stir once again. Add club soda and garnish with mint.
---
Bacardi Lime Frozen Daiquiri
Ingredients
2 parts BACARDI Lime Flavored Rum
1 part Freshly Squeezed Lime Juice
3/4 part Simple Syrup
Lime wheel
Lime zest
Directions: Combine all ingredients in a blender with 2 cups of ice. Blend until smooth. Serve into a rocks glass. Garnish with lime wheel.
---
Bacardi Lime and Soda
Ingredients
2 parts BACARDI Lime Flavored Rum
4 parts Soda
Lime wheel
Directions: Pour ingredients over ice. Garnish with a lime wheel.
---