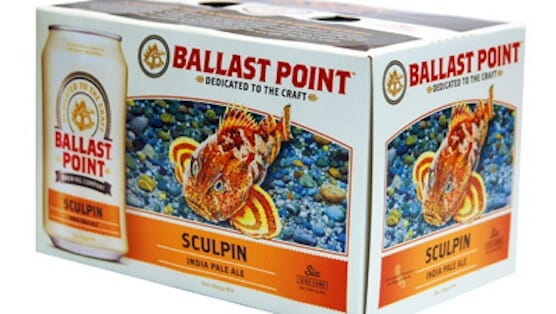 Ballast Point beers are relatively new to my region (Northern California), but this San Diego craft brewery has been churning them out since 1996. The company produces six year-round offerings, three of which are pale ales, and of those three Sculpin IPA has a permanent home in my beer fridge. They also have a handful of seasonals and offer roughly the same number of spirits via their microdistillery.
Sculpin pours a beautiful golden orange (think "freshly squeezed") with a healthy head thanks to its ample carbonation. First bite on the tongue is bitter, the calling card of a good IPA, followed by a citrusy note that's subtle but present. Subtlety is the name of the game here: Nothing about Sculpin's flavor profile overpowers. Instead, everything inside the bottle or can of Sculpin works in harmonious synchronicity. Like the Mormon Tabernacle Choir. Yep, Sculpin is like the Mormon Tabernacle Choir.
No beer is perfect, and to my palate Sculpin IPA's weakness is its mouth feel, which is a bit watery. I prefer a beer with a lot of body, something that lingers on the tongue. Honestly, though, I feel like I'm finding something to pick on here. Sculpin is a rock solid beverage, deserving of its 2010 gold medal win at the World Beer Cup, and inclusion in this magazine's 100 Beers Everyone Should Drink list.
Brewery: Ballast Point Brewing and Spirits Company?
City: San Diego, California
Style: IPA??
ABV: 7.0%??
Availability: Year Round