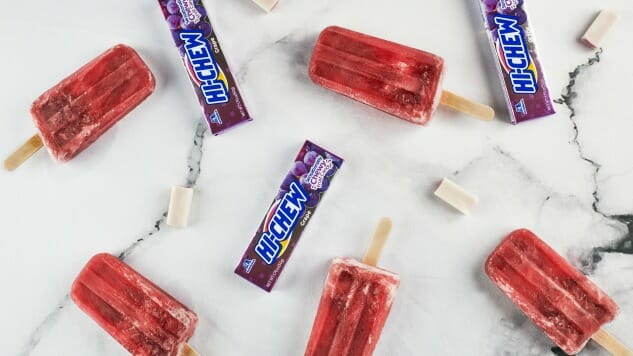 I'm a tremendous fan of the boozy popsicle. Especially on a hot day, alcoholic popsicles automatically make you the most popular person at the party/picnic, and they're also pretty delicious.
I've traditionally made popsicles with wine, or mimicked a favorite cocktail (frozen margarita popsicles, anyone?), but I recently got an interesting recipe from HI-CHEW that involved something a little different from my norm: Pisco.
The idea here is that you're infusing the Pisco with HI-CHEW candy before you make the popsicles. The creation of Allison Kave of bar/bakery Butter & Scotch, the result is nothing short of fantastic.
Here's how to make it happen for yourself:
Grape CHEWsicle
Ingredients:
2 ounces Grape HI-CHEW Infused Pisco*
2 cups concord grape juice (chilled)
2 ounces simple syrup
1.5 ounce fresh lemon juice
Method: Combine all of the ingredients in a pitcher or measuring cup, pour into popsicle molds, and freeze until solid, at least 6 hours but preferably overnight. Dip the molds briefly in hot water to release from the popsicles.
*INFUSIONS: The infusion ratio is one piece of HI-CHEW per one ounce of liquor. Soak until fully dissolved.