Tasting Three Spirits From Two Brothers Brewing Co. (Gin, Amaro, Coffee Liqueur)
Photo by Jim Vorel
Drink
Reviews
liquor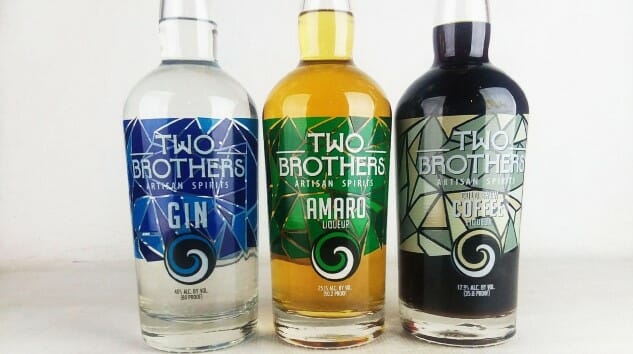 Being a craft beer geek who hails from the Southwest burbs of Chicago, I have a fairly long history with Two Brothers Brewing Co. The company is one of the O.G.'s of Illinois craft brewing (since 1996!), but despite it, has always sort of had a tendency to fly under the radar. Regardless, they were a brewery I was quickly drawn toward when I began experimenting with craft beer in the late 2000's. There were numerous reasons—from the accessible versions of classic beer styles, to the fact that I shared the same alma mater with founders Jim and Jason Ebel, to the regular availability of their beer in that same college town. Along the way, their brews helped me to appreciate a number of classic styles, from hefeweizen, to rye beer, to Russian imperial stout. Even as my knowledge and experience in the beer scene broadened, I always thought of Two Brothers with words like "solid" and "dependable."
And then I sort of went away for a while. Living in Central Illinois and then Atlanta, I was swamped in beers from new breweries and rarely had a chance to sample new bottles from Two Brothers. And while I wasn't paying close enough attention, Two Brothers began to evolve and modernize. They got a very solid sour program off the ground, something I was largely unaware of until I was very impressed by one at last year's GABF. Along the way, the brewery expanded into multiple locations and also started a very tasty coffee roasting business on the side—something I finally got to sample when home last year for Thanksgiving. And now the brewery has gone yet another step further by introducing their own line of spirits to the mix. It must be nice to operate in a state where one company can do all of those things under the same banner, is it not?
The distilling wing of Two Brothers is now producing a range of spirits, from vodka and gin to amaro, brandy and coffee liqueur made with their own in-house roasted coffee. To celebrate the 2018 release of these new spirits into the market, the brewery shot some bottles down to the Paste office for assessment. And so, assess we did. Here's our thoughts on the gin, amaro and coffee liqueur in particular.
---
Two Brothers Artisan Spirits Gin
As is typical of young distilleries, Two Brothers started with vodka and gin—the building blocks of a distillery before you can get your fancy, aged spirits (such as whiskey) to market a couple of years down the line. However, where some distilleries tend to phone in their gin, Two Brothers at least took it seriously. Their spirit is flavored with a blend of botanicals, as all gins are, but it's of interest that the brewery uses Citra hops as one of those botanicals. Only makes sense, right?
On the nose, this gin is pleasantly floral and citrusy, with notes of fresh cut grass, somewhat corny sweetness, grapefruit zest and juniper. It doesn't play too heavily into the juniper/pine tree dominance that makes some people hate gin, but leans more heavily on the citrusy qualities. It's much the same on the palate, combining the corny sweetness that I sort of associate with an American vodka like Tito's with plenty of lemon/grapefruit candy notes, grassiness and cucumber-like freshness. Easygoing and approachable, it strikes me as a solid, everyday gin that isn't trying to break the mold, but would play nicely in all manner of mixed drinks—especially if you're trying to avoid that intense pine note.
Rating: 8.0
---
Two Brothers Artisan Spirits Amaro
It's a little bit difficult to grade some amaro from microdistilleries because they're all expressions of what that specific distiller is trying to achieve, and that can be very different from amaro to amaro. Still, I have to assume that there's at least some desire to drink it neat in the Italian fashion, as an aperitivo, and it's somewhat challenging to do that with this spirit.
Amaro is all about a balancing act—juggling the complexity of many flavors, a certain level of sweetness, and the requisite bitterness that makes them amaro in the first place. This one, on the other hand, goes hard on a few specific notes, especially citrus and vanilla, to the point that it seems to overpower the rest. On the nose, it's intensely citric, reminding one of tangerine juice and whole vanilla beans, 'ala the classic Dreamsicle/Creamsicle ice cream treat. That follows through on the palate with a big, sweet, juicy citrus note before taking a hard left turn into grassiness/bitterness that is fairly intense as well—although not so bitter as the likes of say, Fernet (or Malort, for that matter). Still, it doesn't seem like these two halves of its being play very nicely with each other. The sweetness and dominance by the citrus seems to suggest a dessert or almost curacao-type liqueur, while the bitterness places it in aperitivo territory. It might function better as a cocktail ingredient than it does as a straight amaro for aperitivo drinking, but the conflicting notes in its flavor profile make this difficult to enjoy neat.
Ultimately, this amaro is difficult to score because I'm not sure I'm consuming it exactly as it's intended to be consumed, but regardless, I think they probably doubled down a bit too hard on certain flavor notes.
Rating: 6.5
---
Two Brothers Artisan Spirits Coffee Liqueur
This is another drink that isn't exactly easy to consume neat, but this time it's understood that a coffee liqueur isn't supposed to be consumed by the glass anyway.
Given that Two Brothers has their own roastery, a coffee liqueur is an obvious fit, and in many ways the distillery (or the roastery) knocked it out of the park on this one. The nose on this stuff is tremendous—incredibly rich and inviting, like the best cold brew you've ever consumed. With the sweet, nutty complexity of cacao nibs, it's probably the best-smelling coffee liqueur I've ever found. I want candles that smell like this.
On the palate, much of that amazing coffee flavor comes through—fudgy chocolate, rich vanilla, toasted chestnuts and roasty intensity. The only possible knock is the level of residual sweetness, which is quite high, making this something you would never really drink from a little Glencairn glass, even as a dessert cordial. As far as mixology is concerned, though? I see amazing potential for this stuff. I can't wait to try it in all the coffee cocktails I know how to make, from the Revolver Cocktail. to a coffee-amped up version of the negroni/boulevardier It should be very useful in cocktails where a little increase in residual sweetness is desired, and I have to think that its quality probably ultimately comes from the quality of Two Bros. coffee. So tip of the cap to the roasters on this one.
Rating: 8.2
---
Jim Vorel is a Paste staff writer and resident brown liquor geek. You can follow him on Twitter for much more drink writing.