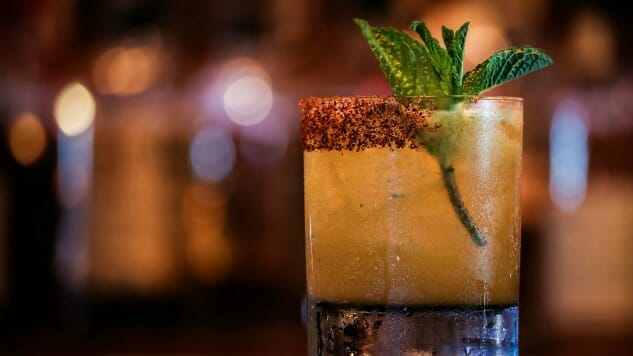 If you asked me when National Margarita Day was I would probably guess sometime in the summer. Cinco de Mayo always has people scrambling for a margarita or two, and warm weather really lends itself nicely to a little tequila and lime.
Strangely enough, the day is actually in the heat of winter: February 22. If you're looking to celebrate (and of course you are) we've rounded up some of the best options out there for making it happen.
---
Grilled Pineapple Margarita
Available at Makoto
Makoto's unique smoky-sweet margarita features house-infused grilled pineapple tequila, cilantro and a spiced salt rim.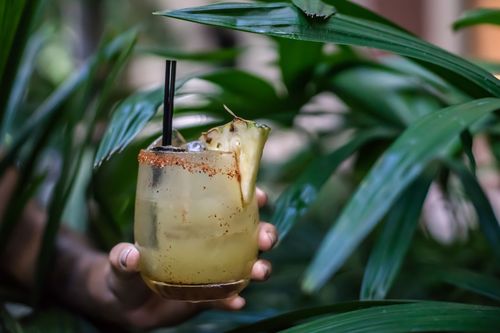 Ingredients:
1.5 oz. grilled pineapple infused Sauza
1 oz. pineapple juice
.5 oz simple syrup
Directions: Muddle 1 lime wedge and small handful cilantro. Add ice and ingredients to a mixing glass and stir. Pour into a glass and garnish with pineapple and togarashi on rim.?
---
Mango Chile-rita
A slightly spicy margarita made with Mango HI-CHEW infused reposado tequila is sure to give you a sweet, tropical escape. The fresh orange and lime juices mixed with the chile salt garnish brings the joy of vacation to your tastebuds with each sip.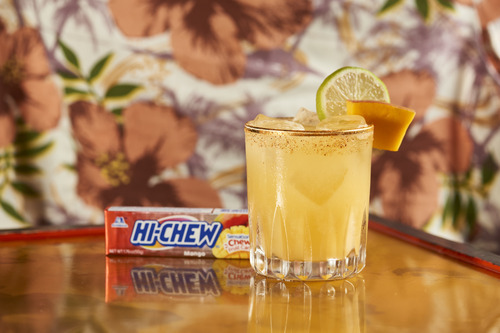 ?Ingredients:
1.5 oz. Mango HI-CHEW Infused Reposado Tequila
1 oz. fresh orange juice
.75 oz. fresh lime juice
.5 oz. simple syrup
1 dash Bittermens Hellfire Habanero Shrub (optional)
Kosher salt and cayenne pepper for garnish
Directions: Run a lime wedge along the lip of one half of a rocks glass, then roll that side of the glass in an equal-parts mix of kosher salt and cayenne pepper. Measure all the ingredients into a cocktail shaker. Fill with ice, shake vigorously, then strain over fresh ice in the prepared rocks glass.
INFUSIONS: The infusion ratio is one piece of candy per ounce of liquor. Soak the candy until dissolved.
---
Jessica Rabbit
Available at Terra Mare
Who said you can't enjoy carrots with your tequila? This spicy cocktail was designed to be a modern – more healthy – version of the classic margarita. Best enjoyed next to ocean views.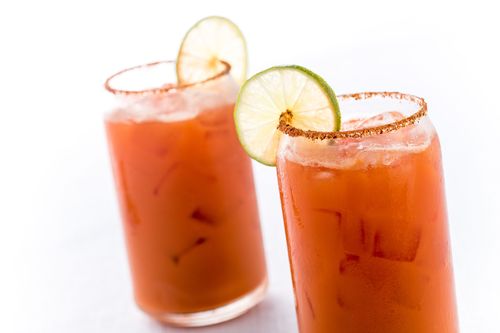 Ingredients:
1.5 oz. Milagro Silver Tequila
.5 oz. Cointreau
2 oz. carrot juice
.5 oz. fresh lime juice
1 oz. fresh orange juice
.5 oz. cilantro simple syrup
3 slices of jalepeño
Directions: Combine all ingredients with ice and shake. Rim glass with kosher salt. Garnish with 1 lime wheel.
---
Tipp Top
Available at Blackbird Ordinary
Blackbird Ordinary gives a classic margarita an upgrade with the sweet taste of passion fruit.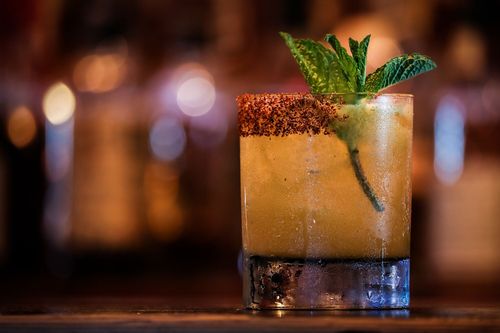 Ingredients:
1.5 oz. Fidencia Mezcal
.75 oz. Passion Fruit
.5 oz.  Agave
3 drops Yucateco
4 Mint Leaves
Directions: Place all ingredients into mixer with ice. Shake then strain into glass with tajun rim. Garnish with mint leaves.
---
La Margarita
Created by Jorge Ortega from Los Angeles, CA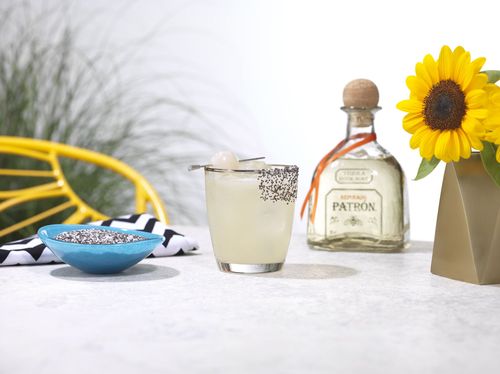 Ingredients:
1.5 oz. Patrón Reposado
.75 oz. Patrón Citronge Orange
1 oz. Lime Juice
.5 oz. Lychee Syrup
.5 oz. Ginger Syrup (such as Monin or Ginger Reál)
Whole lychee for garnish
Sprinkle of chia seeds and salt for rim
Directions: Combine liquid ingredients in a cocktail shaker and shake with ice to chill. Strain onto fresh ice in a glass rimmed with a 50/50 blend of chia seeds and
kosher salt. Garnish with lychee.
Lychee syrup: Empty the complete contents of a can of peeled/pitted lychees into a blender. Blend until completely liquefied, then strain through a mesh strainer to remove solids.
---