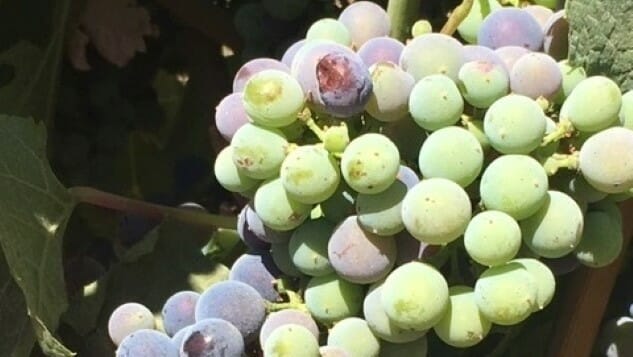 Napa and Paso Robles are about four hours' drive apart, but I'm glad I went for it recently, because it gave me a nice opportunity to contemplate Cabernet Sauvignon terroir, especially from grapes grown on "mountain" vineyard sites. I'll be honest, though: I have sometimes been guilty of suspecting a lot of the hype about mountain cabs was … well, hype, born of a wholly understandable if perhaps myopic determination to believe in the power of a piece of land that cost you a fortune and with which you have a deep emotional connection. I mean, a California Cabernet is a California Cabernet, right?
Not really. There are reasons why people go out of their way to point it out if their grapes came from certain sites known for high elevations and steep slopes.
Some of the qualities commonly attributed to mountain cabernet are straightforward and easily chalk-uppable to scientific processes a fourth grader can understand: grapes absorb what's in the soil and those nutrients affect flavor, and many of California's small coast-proximate mountains have unique mineral compositions. Steep stony slopes don't hold onto water, so the growing conditions are dry and "stressful," which vines happen to love. Different altitudes do have different microclimates and higher elevations perhaps create favorable conditions for grapes just as they do for tea, coffee and chocolate. Depending on how much elevation we're talking about, there's a discernable impact on flavor because grapes exposed to more UV radiation will develop thicker skins, which for red wine means more anthocyanins. The day-to-night temperature shift is more extreme the higher you go, and that translates to better preservation of acidity. And California's coast ranges tend to be physical barriers to vapor rolling off the Pacific, so you'll get thick fog at sea level and sunny skies above. The "inversion layer" phenomenon exerts a host of subtle influences on grapes.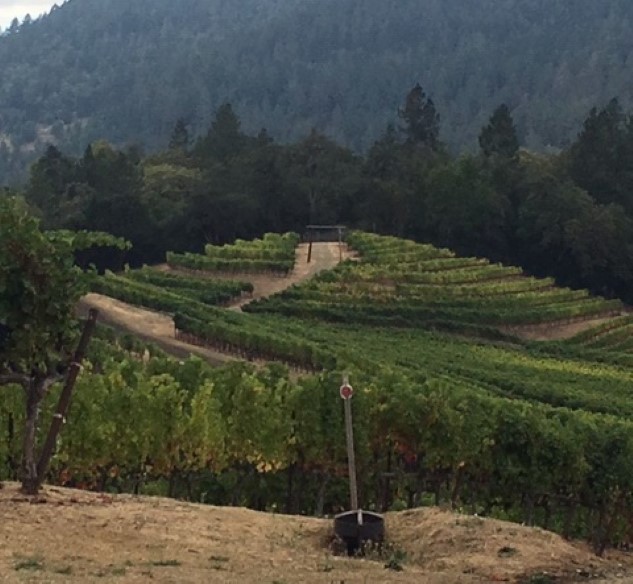 Here's my takeaway from a three-mountains-in-24-hours experiment.
Mountains often have origin-story myths associated with them (aboriginal cultures around the world have considered them the birthplace of all life) and the 2200' peak once known as Hoffman Mountain Ranch, and now named eponymously for current owners Georges and Daniel Daou, is considered such a birthplace for Paso Robles winemaking. Daou Mountain has a fairly magical combination of calcareous clay soils, auspicious exposures, ideal airflow (wind doesn't always come up in conversations about terroir, but it should: it exerts a huge influence on everything from disease management to tensile strength of the vines) and advantageous climate. In fact, the morning I made the drive, the entire Salinas Valley was shrouded in ground fog so thick I had my windshield wipers on for 50 miles, but up on the mountain it was warm, sunny, and bone dry. Danny Daou mentioned that this was the normal pattern in summer and that they also got much more rain in winter than the valley floor did, creating the ability to farm without irrigation despite the steep rocky slopes.
Daou makes a pretty excellent Chardonnay and a frankly fabulous rosé of Grenache (the latter a love letter to a childhood spent as Lebanese expats in the south of France), but the spotlight is generally on their Cabernet, and listening to them talk about their mountain fruit is an experience that will redefine the word "enthusiasm." These men love their mountain. And why not? It's gorgeous, boasts insanely cool views, and produces fruit that pushes the boundaries of phenolic concentration. Daou 2016 Estate Cabernet is a rich, opulent, purple wine in which you can certainly detect the "mountain" qualities of serious concentration and density. It's powerful-potent enough to potentially not appeal to folks with a strong preference for light-bodied reds, but a delight for those who appreciate a little "iron fist in velvet glove" in their glass. Aromatics are firmly in the "leaping" category and favor classic Cab notes like blackcurrant, graphite, cocoa, blackberry cobbler and wild blueberry. The palate backs up the assertions made by the bouquet and adds a hint of anise. The overall impression is of something powerful and structure-forward, but not intimidating or rigid. If this wine had a birth chart it would be an Aries-charismatic, not afraid of the spotlight, and a tiny bit loud, in a totally lovable way. There's an unabashedness to it, a kind of raw-edged intensity and exuberance.
Spring Mountain, part of Napa Valley's Mayacamas range, has been grape country since the late 19th century. Weathered volcanic soils are common, and elevations range from a few hundred feet to a couple thousand. It's a district where every square inch seems to have been individually assessed for its unique micro-micro-microclimates, and you would be forgiven for thinking it borders on the neurotic until you blind-taste a bunch of wines and take note of how different the different blocks can be. Newton takes advantage of this with a mosaic of single-vineyard cabs showcasing several distinct terroirs. Newton Wines Spring Mountain Cabernet (2014) is a garnet-toned dissertation on poised intensity. If the Daou Cabernet is an Aries, this one would have to be characterized as a Leo-generous, and unabashedly dramatic, with the long, long finish of an opera diva. The most herbaceous of the three wines here, this cab has spent a lot of time getting ideas from its neighbors in the Napa oak-bay chaparral-the aromatics favor wild mint and bay leaf, before turning the microphone over to violets and gravel and pomegranate molasses. It's a bit of a classicist, but has an impudent streak (it pairs its little black dress and pearls with Doc Martens just because it can). Weighty but not heavy, juicy but not silly, it's balanced and luxuriant now and that isn't going to change any time soon.
Meanwhile, on Atlas Peak, Philippe Langner's new, more fireproof house is under construction, and Cabernet vines roll gently over the edge of a pretty intimidating slope-walking in the Kitoko vineyard can give you pause (and vertigo). The vista's gorgeous even with the still very noticeable burn scars that crisscross Napa Valley. The wine made from these vines is-well, I might as well commit to this astrology trope, because Hesperian's Kitoko Vineyard Cabernet is pure Sagittarius. Urbane and worldly, sanguine and philosophical, a wine with an unhurried, understated-elegant kind of vibe and a genial, sociable nature. The 2015 Cab is a beautiful wine from a less-than-beautiful vintage (Philippe has been brutalized by Mother Nature more than once), and more nuanced than a lot of Napa cabs, at least for my money. The sheer amount of layering in this stuff rivals a good pinot noir: an olfactory tapestry of cherries and blackberries, leather and coffee, cedarwood and incense, blackcurrant and toasted bread, spearmint and violets, cocoa powder and oak and a trace of what might be the absolute sexiest smell in the world to a writer: old books. There's a great depth and purity to it, precise focus, lovely dynamic tension, a certain wide-ranging-ness that somehow suggests intelligence. You can pair it, as I was fortunate enough to do, with a dinner table crowded with wild mushrooms and witty, interesting, well-traveled people; it's a cultivated beverage well-suited to cultivating relationships.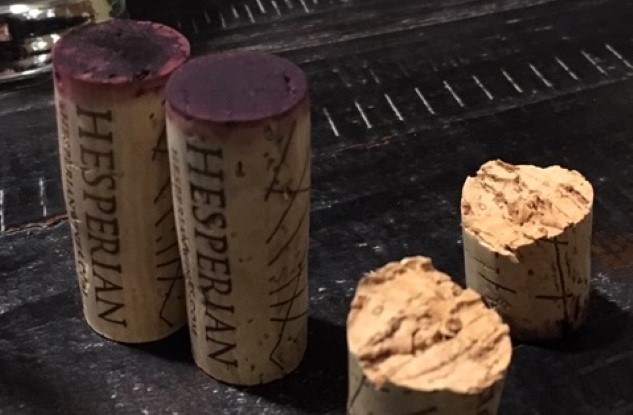 The mountain thing's not wishful thinking or mythology. These wines are pretty darned spectacular, driven and full of an almost electric intensity. I should point out that yes, mountain wines are often spendy. Of the three considered here, Hesperian's Cabernet will run you about $150, Daou's most accessible bottling is about $80, and Newton's Spring Mountain Cab weighs in at $150 to $220 depending on vintage and where you find it. There are many (many) wines in the world that are priced less intimidatingly than any of these Cabernets, and I won't say otherwise. Personally, I'd be unlikely to purchase any of these for myself on a given week, though I don't consider it too exorbitant for an occasional special gift. And also: high-elevation cabs have elevated price tags for non-arbitrary reasons; they require exceptional amounts of tricky manual labor. The rewards for that work can be pretty intense, so if you're going to splurge, you might as well do it right.