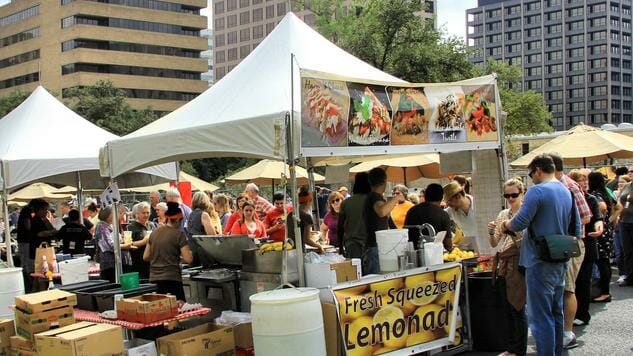 The start of spring can either mean the arrival of blooming flowers or blooming onions, depending on your level of food fanaticism. Either way, there's no shortage of food fests this time of year all across the country. You could go to your city's annual food and wine fest, or you could visit one of these unusual fests, most of which take place in the South. From Bloody Mary lovers to meat eaters to vegans, these fests should sate whatever kind of food and drinks cravings you have — and inspire envy in all your friends back home longing for Southern barbecue, buttery cornbread and cheesy grits.
Good Food Festival & Conference, March 24-26, Chicago, Illinois
Eleven years ago, the Chicago-based conference started as an organic trade show, long before organic was chic. March 24 kicks off the fest with a financial conference on food and farm investments, and on Saturday the 25th, panelists will give talks on topics like The Good Meat Supply Chain, and School Gardens Rock. The Good Food Fest takes place on the final day and people are invited to sample local foods and watch Chicago chefs Rick Bayless, Paul Kahan and Sandra Holl do food demos. Attendees can also participate in a Brew Your Own Kombucha workshop and visit 150 exhibitors from all over Illinois, including CSA farmers.
World Grits Festival, April 8-10, St. George, South Carolina
Southerners love their grits so much they'll roll around in a tub of them just to win a contest. All ages can partake in the Rolling in the Grits contest, when contestants jump in an inflatable 10-foot-by-five-foot pool filled with the fest namesake. Those who get the most grits to stick to their bodies win a prize. This weird tradition came about in 1985 at the Piggly Wiggly, where the store's manager realized the 2,000-populated town ate more Quaker grits per capita than anywhere else in the world. Thus, an entire fest was developed around the grits. If rolling around in food isn't your thing, you can participate in clogging, a carnival, arts and crafts shows, or speed-shoveling grits into your maw.
The Bloody Mary Festival, April 10, Brooklyn; May 7, Washington D.C.
Realizing the Bloody Mary is the best brunch cocktail ever, The Bloody Mary Liberation Party organized a festival around it, taking place in NYC, San Francisco (last September) and D.C. The Brooklyn fest will feature three hours of sampling Bloodys from local places Lucky Luna, Skylark, Travel Bar and non-Bloody food and drinks from Grady's Cold Brew and Rick's Picks. In D.C., from 1 p.m.-4 p.m. (prime brunching hours), Hank's Oyster Bar, Range, and Buffalo and Bergen will concoct Bloodys. Attendees vote for the best Bloody in the city.
Vidalia Onion Festival, April 21-24, Vidalia, Georgia
Did you know the sweet onion known as Vidalia comes from the eponymous city in Georgia and it's only permitted to be grown in 13 different counties within The Peach State? For decades, the city of Vidalia's spread this knowledge—and how it's the official state vegetable—to the thousands of people who come to the annual fest. The 38th annual fest promises a youth boys' baseball tournament, a Miss Vidalia Onion Pageant, a children's parade, carnivals, a movie night and a live performance from country stars Big and Rich. Besides those events, prepare to eat a lot of sweet onion rings from the Vidalia onion chuckwagon cook-off.
N.C. Pickle Festival, April 22-23, Mount Olive, North Carolina
Despite the nomenclature, this town doesn't manufacture olives, but rather pickles. For 90 years, Mount Olive has been in the pickle business and their jars are sold in all 50 states. The first pickle fest occurred on September 12, 1987 and it's been a hit ever since. In the plaza, free Mt. Olive-brand pickles are handed out, with varieties like zesty garlic kosher dill spears and sweet pickles. The company's "official Pickle Spokespickle," Ollie Q. Cumber, will spread pickle cheer throughout the fest at events like an antique car show, a N.C. Pickle Princess pageant and camel rides.
National Cornbread Festival, April 23-24, South Pittsburg, Tennessee
Corn shows up again on this list, this time in the form of cornbread. This 20th annual fest celebrates all things cornbread, with a Miss National Cornbread Fest pageant, a cornbread-eating contest, a car show and a main dish cornbread cook-off. Stop by Cornbread Alley to taste future award-winning recipes, including cracklin' cornmeal fritters, honey corn puffs,and pork puppies.
Mountain Mushroom Festival, April 23-24, Irvine, Kentucky
Kentucky's home to several varieties of morchella, also known as "hickory chickens" or those honeycombed mushrooms that can be found growing in forests. The morels are highly sought after, especially by chefs. Founded in 1991 in Harry Dean Stanton's hometown, the Mountain Mushroom Fest combines their famed morels with the state's rock, the Kentucky Agate. Expect to see a gem, mineral and fossil show; a pre-fest talent show on April 9 cleverly called the Fungi "Fun Guy" Competition; a cake decorating contest; a mushroom cooking demo; a race on the Kentucky river and mushroom panels on morel hunting.
NYC Vegetarian Food Festival, May 7-8, New York City
Although it's called the Vegetarian Food Festival, all the food is actually vegan. U.S. Veg Corp started the fest in 2011; it's since expanded into Phoenix, and in November it will be in L.A. You obviously don't have be a vegan to attend—the point of the event is to demonstrate how appealing vegan food can be for anyone. Besides serving food samples, there will be 120 exhibitors selling everything from vegan-friendly clothing to toys, and several panels, including ones on agriculture's impact on the environment and wildlife.
World Championship Barbecue Cooking Contest, May 12-14, Memphis, Tenn.
The antithesis to a vegetarian food fest is exactly this: all types of bbq, including whole hog. A part of the Memphis in May International, this 39th annual three-day bbq competition rallies 250 teams from all over the world, shelling out $115,000 in prize money for Best Ribs, Best Shoulder, Best Mustard Sauce and many other categories. Because of health regulations, the public doesn't get to sample the competition food, but there will be enough other foodstuffs to try, such as po'boys, turkey legs, bologna and bacon wrapped hot dogs. Coinciding with the bbq competition will be a Ms. Piggie Idol competition, where men dress up like the Muppet character and sing songs about pork.
Mudbug Madness, May 26-29, Shreveport, Louisiana
Over Memorial Day weekend, approximately 56,000 people will descend onto Shreveport and gobble up mud bugs, aka crawfish. The fest started in 1984 as a means to put the city (and state) on the map (Louisiana supposedly harvests 95 percent of the nation's crawfish). Today, the fest offers crawfish eating contests, a crawfish call contest, a 5K race, a logo designing contest and live music featuring jazz and Zydeco acts. Eat as many mudbugs as you'd like, but a tip to eaters—don't touch your eyes while eating the crustaceans, and don't eat the dead ones.
Garin Pirnia, who has a weird, made-up name, is a Cincinnati/Northern Kentucky-based freelance arts and culture writer. When she travels, she's known to eat and drink more than her heart's content in order to try as many different places as possible. She's also a beer cheese aficionado. Follow her on Twitter and Instagram.