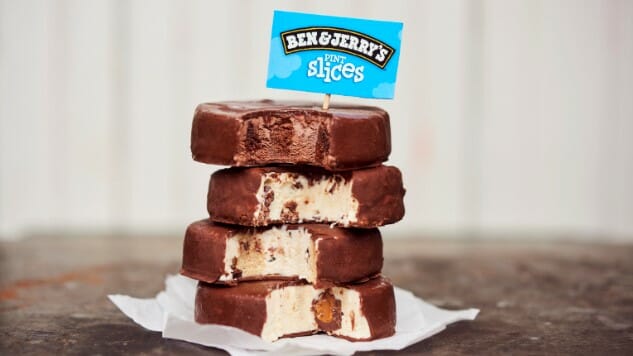 Ben & Jerry's, the famous ice cream-making duo, have just announced an exciting new way for you to ingest their brand of frozen dessert. Taking their classic pint-sized flavors, they've revolutionized the idea behind a Klondike bar, making their ice cream more available for those on-the-go scenarios with their new Pint Slices.
The Pint Slices come in four classic flavors: Vanilla Peanut Butter Cup, Chocolate Fudge Brownie, Chocolate Chip Cookie Dough and Stephen Colbert's Americone Dream. Also, each slice is covered in chocolate. Color us giddy.
Even better, the Pint Slices have been specially wrapped in an "easy open pouch," in order for you to avoid those incredibly embarrassing I've-got-ice-cream-on-my-hands moments. And don't you dare pretend that you don't know what that feels like. We all know you do.
"It took us years to perfect how to squeeze in all the chunks and swirls our fans have come to expect," said Dena Wimette, Global Innovation Manager for Ben & Jerry's. "Using top secret technology, we finally got it. Of course, with all those thick, rich ingredients, there was no room for a stick. It just didn't fit."
The Pint Slices come to stores nationwide in this month, while some ice cream enthusiasts have reported sightings on Wal-Mart shelves already.