How Denver Biscuit Company Brought the South's Favorite Breakfast Staple to Colorado
Food
Features
Breakfast
There is nothing quite like a light, buttery biscuit straight from the oven. A staple to the Southern diet, at one point in time it was nearly impossible to sit down for a meal without finding biscuits at the table. In theory, biscuits are pretty straightforward, made with simple ingredients like flour, baking soda and powder, buttermilk, butter, and salt; but despite their simplicity, there are countless recipes that are handed down from generation to generation, all with slight variances and diehard flour preferences. But as with everything else, there is always room for improvement.
When Drew Shader, owner of the Denver Biscuit Company, came to Colorado from Florida to attend the University of Colorado in Boulder he noticed that no one in Denver was making the traditional Southern folded biscuit (and if they were, they weren't doing it well). "There were a lot of drop biscuits," he told me, "but I couldn't find a biscuit I loved." After college, Shader ended up in the bar and restaurant business and really embraced food as a passion. I recently spoke with Shader about why food was such a passion for him and how he was able to create the perfect fluffy biscuit in a city at elevation.
"I was in the bar business and realized that wasn't enough," Shader said. "It started in 2008 with pizza. I couldn't find a good pizza, so we created Fat Sully's. Then in 2009, the food truck revolution was happening everywhere but Denver so we thought that biscuits would be the perfect vessel for serving sandwiches from a food truck. I also liked how everything is made on the truck, making it incredibly fresh."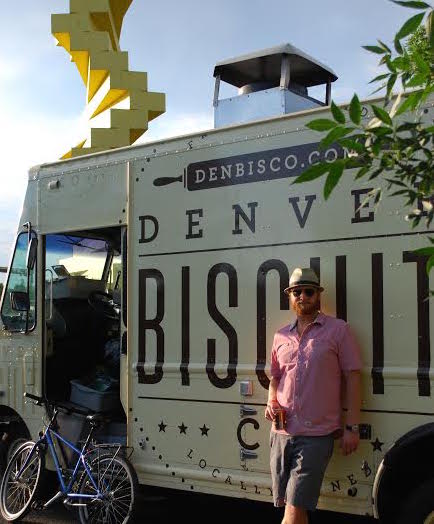 It was at this point that The Biscuit Bus was born. Shader, his wife Ashleigh, and Executive Chef Jonathan Larsen brought this vision to reality and The Biscuit Bus was a huge hit at the Cherry Creek Farmer's Market, where around 450 biscuits are eaten on any given day. As it turns out, Denver was just waiting for a great biscuit to arrive.
Around the same time, the Shaders opened a brick and mortar biscuit location in the back of their bar, the Atomic Cowboy, which also housed the New York-style pizza shop, Sully's. "We were pretty established as a bar, so it took people a few months to starting coming for breakfast." Within those months, the Denver Biscuit Company turned into a hot spot for breakfast, with weekend lines out the door.
Inspired by a diner near his childhood home in Florida, Shader knew what a good biscuit was supposed to taste like. That didn't mean it was going to be easy to figure out, though. Baking a flaky, airy, melt-in-your-mouth biscuit in Colorado was much different than baking one in Florida.
"It took about six months to figure out the recipe," says Shader. "We brought in a local baker to help." At elevation, baking is much trickier and any little change in variable, such as airflow or temperature, can make a difference.
"Everything changes the way we need to make our biscuits. It even changes from our Colfax location to Tennyson" (the two locations are about eight miles from each other). The biscuits at the Denver Biscuit Company are also handmade daily. Biscuit makers spend about 25 minutes working and folding the dough, then hand-cutting each biscuit. Shrader rotates the duty of biscuit-making through that staff throughout the day, because "it's really too much work for one person," he says. "It's not simple—it's not easy."
Besides trial and error and constantly tweaking a recipe depending on the conditions, there are a few tips that are consistent across the board for making a delicious biscuit: freeze your butter or shortening, roll the dough on a cold surface, push straight down with your biscuit cutter (don't twist it!), and make sure the oven is at the correct temperature before putting your biscuits in to bake.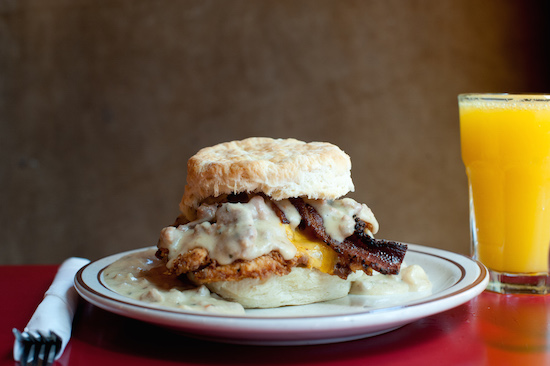 At the Denver Biscuit Company, all of the biscuits are made as close as possible to when you eat them, which is why it takes anywhere from 10-25 minutes to get your food when you eat there. "You can't do it ahead," Shader explains. "People ask us all the time to ship our biscuits, but we can't do it. We pride ourselves on the perfect product and it just wouldn't be perfect if we froze them or shipped them."
While the restaurant serves many classic biscuits, including a plain biscuit with butter, biscuits and gravy and shrimp and grits, there are also some more unique dishes and sandwiches, such as biscuit French toast and the DBC Club (a biscuit with buttermilk fried chicken, bacon, cheddar cheese, lettuce, tomato, and chipotle ranch). "I love a straight up biscuit out of the oven," Shader responded when asked what his favorite biscuit style was. "The shrimp and grits is really good, too. It's well rounded. But the biscuit is a great vessel for any sandwich. I developed stuff that I want to eat."
In 2011, Denver Biscuit Company was featured on Unique Eats on the Cooking Channel, and in 2013, Drew got a call from The Food Network to set up a visit from Guy Fieri for Diners, Drive-ins, and Dives. If you ever find yourself visiting or living in the Mile High City, definitely make time to stop by the Denver Biscuit Company. I, too, am a fan of the shrimp and grits, although the strawberry shortcake biscuit makes a pretty sweet dessert. Guy Fieri recommends the Elmer with smoked pulled pork, BBQ sauce, friend onions, coleslaw and house-made pickles. But let's be serious, it's a traditional Southern biscuit made in the foothills of the Rocky Mountains. You can't go wrong.
Abbie Mood lives just outside Denver, Colorado and can usually be found running around outside, writing, or planning her next adventure. She is a freelance writer and life coach who loves to explore environmental and animal rights issues, food culture, and the human experience through her writing. You can find out more about her at abbiemood.com or her blog.
Images courtesy Denver Biscuit Company