The 8 Best Hawaiian Restaurants in California
Photos courtesy of Island Eats Hale Aina and Aloha Café
Food
Lists
With the influx of build-your-own-poke bowls taking over the nation, Hawaiian food has become more popular than ever before. In fact, according to Foursquare, the number of Hawaiian restaurants in the U.S. has doubled in the past two years from 342 to 700 as of August 2016. This Hawaiian food trend has led to a rise of many chefs putting their own unique spin on traditional Hawaiian comfort foods. Before the poke explosion, many people only associated Hawaii with Spam. And although Hawaii leads the rest of the world as the leader in of Spam consumption — with seven million cans per year to be exact — there are many more delicious dishes.
Good Hawaiian food is hard to find outside of the islands. If you think L&L or those Chipotle-style poke shops are your only choices you have on the mainland, rest assured. Here's your guide to the best Hawaiian food in California for those times you're having some serious Hawaii withdrawals. The list will definitely have you saying 'ono.
1. Island Eats Hale Aina
19106 Normandie Ave.
Torrance, Calif. 90501
Want to be transported to food trucks on the North Shore? Then, make your way over to Island Eats Hale Aina (pictured above). Catch the staff barbequing Huli Huli Chicken, Teriyaki, ribs and Kalua Pig out front every weekend just like how they do on the islands. Other dishes on the menu include: Loco Moco, Saimin, Shoyu Chicken, Kalbi Beef, Garlic Shrimp, etc.
Island Eats' must-order dish is hands down the taro leaf wrapped pork Lau Lau, which comes with a side of potato macaroni salad, steamed rice, and sides of Lomi Salmon and poke. Save room for dessert like the sweet and tangy Lilikoi (Passion fruit) Chiffon Cake and the Chocolate Haupia. The restaurant is quite spacious with plenty of outdoor seating. Enjoy the Hawaiian music and row of ukuleles hanging up on the wall that are available for purchase.
2. Homestyle Hawaiian
7524 Mesa College Dr.
San Diego, CA 92111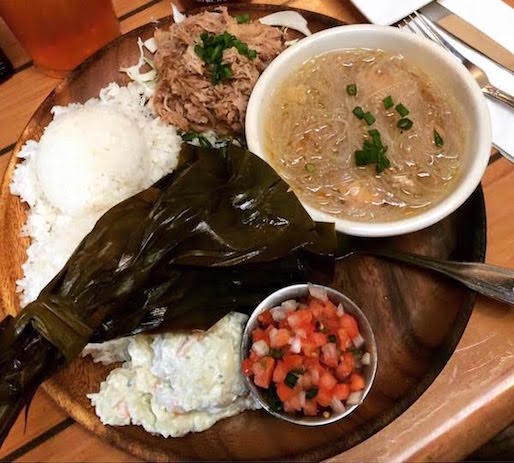 Photo courtesy of Homestyle Hawaiian
With three locations in the San Diego area, Homestyle Hawaiian is one of the places to beat for authentic and tasty Hawaiian food. The interior is tiny with only a few tables and one row of bar-style seating, but the food more than makes up for those shortcomings. The menu is small, but full of island favorites like Teri Chicken, Kalua Pig, Deep fried Spam Musubi, and Garlic Shrimp Scampi and Loco Moco Plates, to name a few. The most popular items are the Korean Chicken aka Lava Chicken and the Pineapple Dole Whip. The Lava Chicken is basically a light deep-fried chicken katsu with a sweet dark sauce similar to teriyaki sauce. The chicken is crispy on the outside and juicy on the inside. Don't forget to grab an order of freshly made malasadas for dessert.
3. Liholiho Yacht Club
871 Sutter St.
San Francisco, Calif. 94109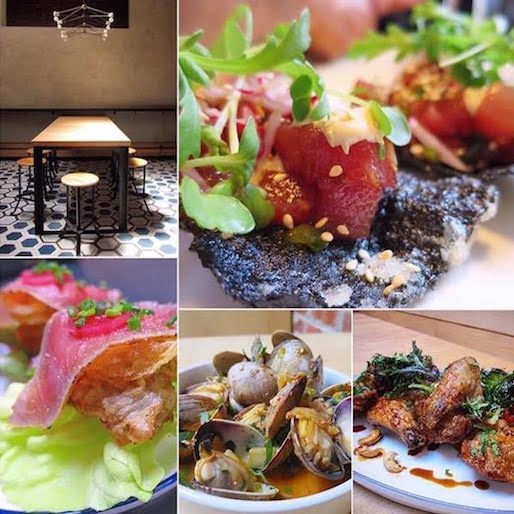 Photo courtesy of Liholiho Yacht Club
Fancy with a laid-back vibe, Liholiho Yacht Club is where you go to for a special occasion. Although Liholiho is considered a Hawaiian restaurant, it has a lot Chinese, Japanese, Korean, Indian and Californian influences as well. Hawaiian-born chef Ravi Kapur helms the 55-seat restaurant. Reservations are hard to come by, but walk-ins are available at the bar. Liholiho boasts a unique menu with innovative twists on traditional Hawaiian dishes. Favorites include the Deconstructed Spam Musubi, Fried Cornish Game Hen with cashews, tamari glaze, broccoli and flowering kale, beef tongue-filled poppy-seed steam buns, duck liver toast, poke with nori crackers and the Baked Hawaiian (caramelized vanilla ice cream with toasted chiffon cake). Don't forget to snap an Insta-worthy picture of the "Aloha" that is spelled out in blue tiles on the floor.
4. Aloha Café
410 E 2nd St,
Los Angeles, Calif. 90012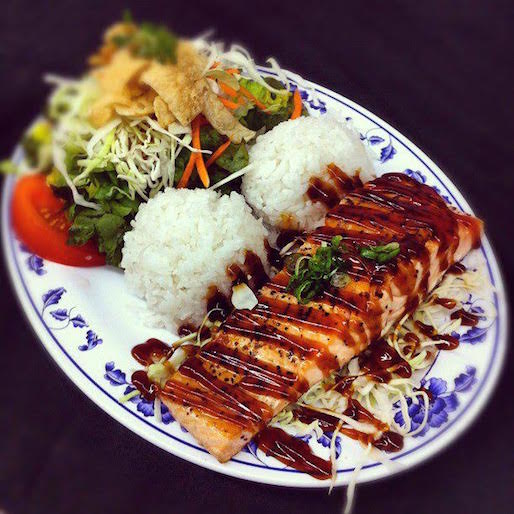 Photo courtesy of Aloha Café
Aloha Cafe is located in Downtown Los Angeles' Little Tokyo district. This no-frills cafe looks like an old-school Hawaiian diner and serves up traditional Hawaiian classics as well as some unique dishes like deep-fried spam fries, cabbage ramen salad and Chili Loco Moco. Aloha Café's breakfast plates that come with eggs, bacon, Portuguese sausage, Vienna sausage, corned beef hash, toasted Hawaiian bread and rice. For something healthier, try the Coconut Chia Seed Pudding sweetened with Hawaiian macadamia nut honey and topped with fresh strawberries and coconut flakes. Favorites include: Pork Lau Lau, deep fried musubi, poke, oxtail soup, braised short ribs and Butter Mochi.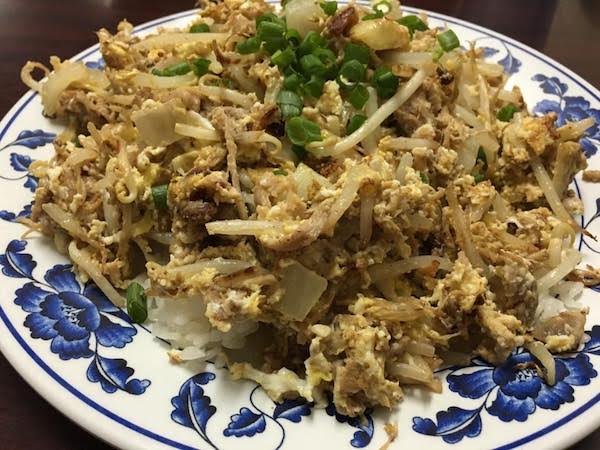 Photo by Kristie Hang
5. Rutt's Hawaiian Café
12114 W Washington Blvd
Los Angeles, Calif 90066
If you're in Los Angeles, Rutt's Hawaiian Café (pictured above) is the place to go for Hawaiian food. The tiny mom-and-pop shop known's for its huge royales, a Hawaiian take on fried rice. For those who aren't familiar, a Royale is an open scrambled omelet over white rice served with a side of teriyaki sauce. All Royales are served with onions and bean sprouts and your choice of either Portuguese sausage or cha siu (Chinese BBQ pork). Of course traditional favorites like Portuguese sausage, lau lau, loco mock, Kailua pork, simian, Hawaiian French Toast and Kalb ribs are available as well. Don't forget to save room for Hawaiian shaved ice — Rutt's has a plethora of shaved ice and smoothie flavors.
6. 'aina
900 22nd St.
San Francisco, CA 94107
(415) 814-3815
Photo: anniebanhie/Instagram
When pop-ups go legit and move into brick and mortars, you get cool concepts like 'aina, (Hawaiian for "that which feeds us"). 'aina is a modern Hawaiian restaurant helmed by Chef Jordan Keao who is originally from Hilo. The food is innovative, fun, and most importantly very Instagram worthy. Brunch is very popular at 'aina, but good luck getting in without an advanced reservation. Chef Keao puts his own spin on traditional Hawaiian cuisine to create a refined, modern version of the dish. The showstopper is the Punalu'u Bakery Taro French Toast. In addition, other stand outs include: Kalua Pork Belly with poached egg and fennel puree, Spam Musubi with kimchi and egg yolk furikake, Smoked McFarland Trout. Don't forget to grab some tropical cocktails or try some non-alcoholic favorites like hibiscus ginger lemonade or the Coconut Milk Punch. Save room for the Malasada doughnuts with guava cream frosting as they are to die for.
7. King's Hawaiian
2808 Sepulveda Blvd.
Torrance, Calif. 90505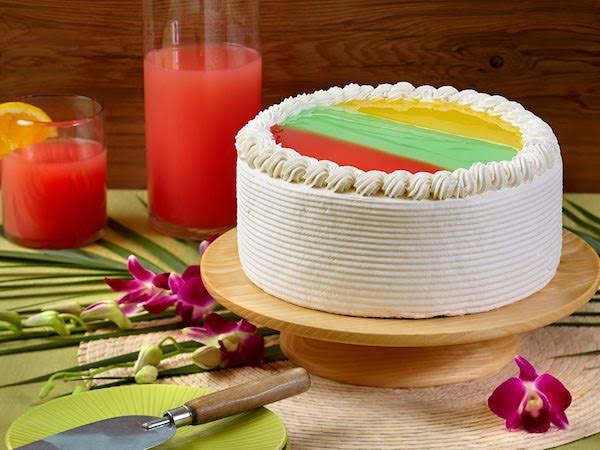 Photo courtesy of King's Hawaiian
Most of you know King's Hawaiian as the company behind those delicious sweet rolls sold at supermarkets everywhere, but in the city of Torrance, they have a bakery and sit-down restaurant that serves traditional Hawaiian classics. Guests are greeted with Hawaiian music, a giant pineapple and a saltwater aquarium that make you feel like you're back in Hawaii. The flagship breakfast is the French toast made with their famous King's Hawaiian sweet bread. Other popular favorites include: macadamia onion rings, oxtail soup, Loco Moco Luau Lomi Salmon, Kalua nachos Hawaiian breakfast burrito stuffed with Portuguese sausages, to name a few. The highlight of the restaurant is the bakery section where they have everything from Hawaiian candies, to fresh Malasada Hawaiian donuts to their famous Paradise Cake chiffon cake is made of guava, mango and lime flavors.
8. Da Kikokiko
12746 W Jefferson Blvd
Playa Vista, Calif. 90094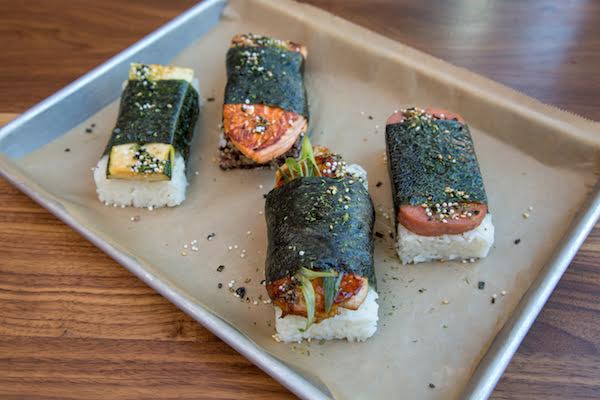 Photo by Bethany Nauert
Top Chef alum Brooke Williamson's Da Kikokiko is a fast-casual, Hawaiian concept in the beach city of Playa Vista. The restaurant has outside picnic tables, bright blue and green walls, and basically Instagramable opportunities left and right. The menu is filled with modern takes on Hawaiian poke and musubi with ingredients from California's farmers' markets. Build your own shaved ice, poke bowls, and musubi. Da Kikokiko's also has unique musubi options like teriyaki?chicken, yuzu kosho salmon and sesame miso zucchini. The build your own shaved ice is made with house made organic syrups like hibiscus-currant, mango-jasmine, yuzu, matcha and Kona coffee, to name a few. For those feeling adventurous, top your shaved ice with a sprinkle of dill pickle.
Kristie Hang is a jet setting freelance food and travel journalist featured in LA Weekly, LAist, Gothamist, MSNBC etc. She has a Masters in Broadcast Journalism from the University of Southern California's Annenberg School of Journalism and a B.A. from UCLA. Find her online on Instagram @kristiehang.