A Slew of Fast Food Meat Lawsuits Could Change Food Advertising Forever
Photos via Taco Bell, Burger King
Food
Features
fast food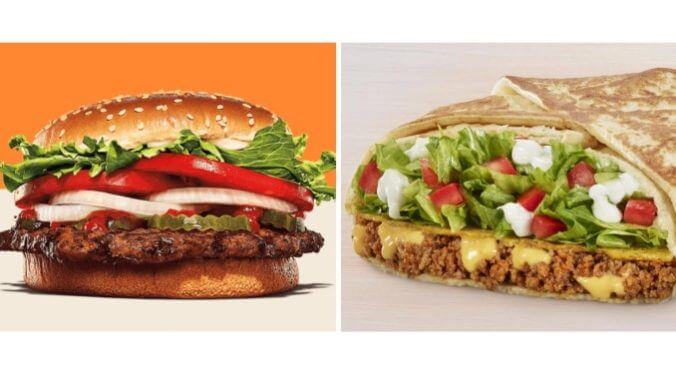 In a move that could end up reverberating throughout the entire fast food industry, a U.S. judge today rejected Burger King's attempt to dismiss a false advertising lawsuit, saying that the international fast food burger chain must defend itself in court against claims that its depictions of the flagship Whopper on in-store menu boards and other advertising were misleading to customers who were essentially claiming to be tricked into ordering the sandwich. It's very bad news for Burger King, which we've long described as the saddest chain in fast food, but the implications are much bigger than just one company. Similar proposed class-action lawsuits are also working their way through the court system, revolving around near-identical grounds of false advertising claims against the likes of McDonald's, Wendy's and Taco Bell. And lawyers for the plaintiffs in those cases will surely be citing the judge's decision to allow this Burger King lawsuit to continue, meaning we could see an entire slew of these cases reaching court around the same time–with the potential to forever alter how fast food is photographed and marketed in the U.S.
The concept of fast food false advertising is of course a tale as old as time, something that pretty much any consumer should understand and expect in this day and age–we've been pointing out the hilarious disparity between "how a burger is portrayed" and "how it actually looks" on social media for going on two decades at this point. Still, as Paste assistant food editor Samantha Maxwell points out: "To be fair, if you're paying your workers poverty wages and sourcing your ingredients from producers who also have questionable ethics while taking an obscene profit, I feel like the least you can do is give people the hormone-spiked meat they thought they were paying for." I certainly can't argue with that.
In Burger King's case, the lawsuit revolves around the classic Whopper, which the plaintiffs claim is made to looking like it's "overflowing the bun" in the in-store depictions, making the burgers appear to be roughly 35% larger, containing "more than double the meat than the chain serves." They're seeking likely millions of dollars in damages in a class-action suit that other aggrieved fast food fans would be able to join. Burger King countered by saying that "the plaintiffs' claims are false" because "the flame-grilled beef patties portrayed in our advertising are the same patties used in the millions of Whopper sandwiches we serve to guests nationwide," and that it had no legal requirement to deliver burgers that look "exactly like the picture." However, U.S. District Judge Roy Altman said a jury could decide that question, allowing customers to "pursue negligence-based and unjust enrichment claims."
McDonald's and Wendy's, meanwhile, are defending against similar lawsuits in federal court that have yet to advance, with the proposed plaintiffs taking exception with the way fast food photography causes the companies to "materially overstate burger sizes" and the amount of toppings. That lawsuit claims that the chains use "undercooked beef patties" in their fast food photography to make those patties appear plumper and more attractive than what customers actually receive.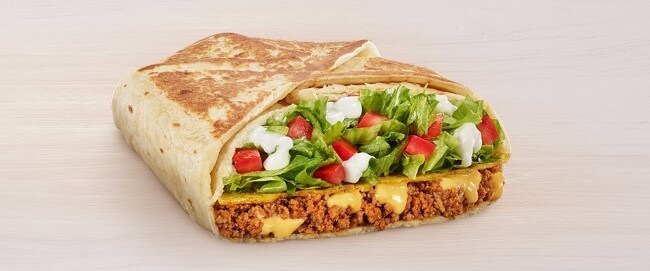 I think we can all agree that no one in history has ever received a Crunchwrap Supreme looking anything like this.
Taco Bell, meanwhile, was just roped a few weeks ago into yet another lawsuit revolving around misleading food photography, this time involving menu items such as the Mexican Pizza and Crunchwrap Supreme. That plaintiff alleges that the Taco Bell menu photography "misleading, inaccurately and deceptively" depicts items such as the Crunchwrap bursting with beef, beans or other fillings, leading to inevitable disappointment with what is actually delivered. The suit leans on the language of economic hard times, saying that "Taco Bell's actions are especially concerning now that inflation, food and meat prices are very high and many consumers, especially lower-income consumers, are struggling financially." They're seeking damages totaling $500 "per item sold between July 31, 2020 and the final day of disposition for the legal action," which would surely be an eye-popping sum.
These lawsuits, especially if they all progress to actual court cases, will no doubt end up shining a light on the highly specialized and frequently absurd world of high-end fast food photography and marketing, famous for its use of various unorthodox tricks in order to make menu items such as fast food sandwiches look their best in print and online advertising. The cases will likely hinge on how reasonable it is for consumers to assume these images represent accurate depictions of what they can expect to receive from their local McDonald's, Burger King, Wendy's or Taco Bell. In other words, plaintiffs will effectively be arguing in favor of their own naivete, acting as if they've always expected McDonald's to deliver pristine sandwiches despite every reason to believe the opposite. That's apt to be a tough argument, if you ask us, but if the plaintiffs do prevail, it will be fascinating to see if the fast food industry changes its photography practices to more accurately depict the food they're serving us every day. Will any of us want to buy a fast food burger that is honestly marketed? That's a question potentially worth billions of dollars.
---
Jim Vorel is a Paste staff writer and resident beer, liquor and fast food geek. You can follow him on Twitter for more drink writing.