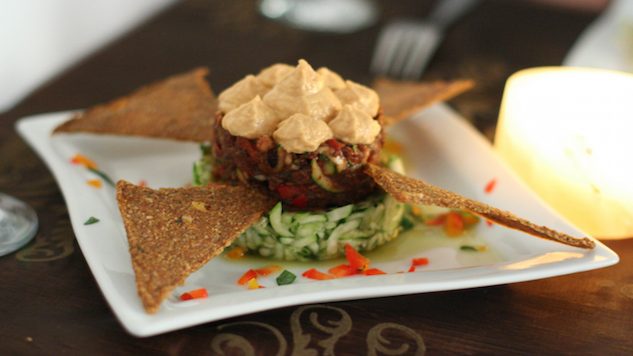 2016 was, well, interesting on pretty much every front. The year ushered in the rise of turmeric lattes, meal kit delivery services, fast-casual appropriated poke and an unusually high number of references to Cheetos. Some trends were good, some all right, but much of the year was like eating a shit sandwich. Good riddance, 2016! I'm not predicting actual shit sandwiches as a trend for 2017.
Fortunately — or maybe not — the future is upon us. Much of 2017 looks like it may be worse than the previous annum. But fret not, fine friends, the food world may be looking up. Here are my predictions for emerging food trends in 2017 in the era of Trump.
Food with Breakable Crusts
Chances are, if you've been scouring the depths of the food internets, you've seen videos of melting chocolate domes and other desserts topped with breakable crusts. This, I bet, is going to become big this year. Many of us are hoping that there's good lurking beneath the surface in the upcoming year. There probably isn't, but we can still crack open a baked Alaska to unearth some delicious ice cream or a white chocolate orb to reveal a delicious raspberry something or other. There's something about breaking through a crust that's fun, yet still intellectually stimulating like unearthing some old piece of legislation that could void Trump's presidency.
Plus, Gene Wilder died. It's like the scene in Willy Wonka and the Chocolate Factory in which a factory visitor broke into a gourd to extract the sweetly scented interior. Consider it a throwback to a simpler, gentler world.
Food Prescription Programs
If certain members of congress get their way, there's a good chance health care coverage will seriously get rolled back. With that may come the rise of food prescription programs (which have already expanded under the Affordable Care Act). Organizations, like Detroit's Fresh Prescription and Wholesome Wave, in NYC and more recently LA, can step in to help healthcare providers offer fruit and vegetable prescriptions to be spent at grocery stores, farmers markets and other healthful retailers.
Since its inception in 2011, Wholesome Wave has reached 8,425 individuals and family members, with more than 2,000 new beneficiaries in 2015.
Increasingly Complicated Vegan Food
All things pork has given way to vegetable-centric cooking over the past couple years. But with the release of the Impossible Burger, the Bill Gates backed plant-based patty that "bleeds" beet juice, I think we're going to see an uptick into meat alternative research and debuts. Vegan meat is trending in the tech industry. Quite frankly: we need it. The ice caps are melting at frightening pace and our incoming administration denies the existence of climate change.
Mixed-Use Restaurants
We've moved on from bars hidden in the back of restaurants (think: PDT in NYC and Coyo Taco in Miami) to restaurants housed behind unmarked doors such as Southeast Asian-inspired, LSXO, in the back of Huntington Beach's Bluegold and the excellent dinnertable inside East Village bar, the Garret East. This idea has been cropping up all across the U.S., from Smythe & The Loyalist in Chicago and Vicia in St. Louis to Daily Provisions in NYC. This trend is going grow, as is the idea of mixed use space, because the rent is too damn high.
Expect more two-in-one spaces, from coworking space during the day at L'Apicio in NYC, to dual concepts like Vinoteca Espresso in the morning, followed by Napolini street food and drinks at Vinoteca Bar, both inside Vinoteca, the Italian-inspired restaurant inside the Four Seasons Hotel Los Angeles at Beverly Hills. Atlanta's 9 Mile Station combines an outdoor beer garden with sit-down restaurant.
Heirloom Wheat
Heirloom wheat is nothing new, in fact, by definition it's been around for generations. But last year, it started seriously rising in popularity. At Blue Hill at Stone Barns, Dan Barber's team figured out how to get lofty loaves out of dense varieties like Einkorn. (Hint: the secret is a really fine grind.) Fresh Direct began delivering new Einkorn and spelt pastas, both of which were damned good. While legendary chefs and bakers like Barber and Jim Lahey of Sullivan Street Bakery have been toying with ancient varieties for years, now the general public can easily buy simple to make products. Heirloom wheat: the new breakfast of gluten-loving champions.
Moringa
Beyonce may have a kale sweatshirt, but soon enough she may have moringa blazed across the front of a shirt. The super green, grown throughout the Caribbean, Latin America, Africa and South Asia, has high levels of calcium, protein, potassium and vitamins A,B,C,D and E. It's been cropping up at vegan spots and juice shops across the country including NYC organic, plant-based stalwart Caravan of Dreams and national juice chain Pressed Juicery, which features the green in its signature Matcha & Hemp juice, along with chlorophyll, dates, sea salt, spirulina and vanilla bean. Currently, moringa is most commonly available in powder form, but as commercial production increases in the states — it's already starting to take off — I think we'll be seeing more of the super food on trendy restaurant menus.
Sara Ventiera is a roaming eater and traveler who looks for amusing stories across the United States. She works from New York, Los Angeles and various places in between. Her work has appeared in theVillage Voice, New York Daily News, Zagat, FoodNetwork.com and more.