Happy Homarus americanus Day!
Paste celebrates National Lobster Day with love and lore
Photo by Keystone / Getty Images
Food
Features
Monkfish, because of its somewhat similar flavor and mouthfeel, is sometimes referred to as "poor man's lobster".
The poor man's lobster used to be…lobster. Indeed, until the mid-19th century eating lobster was a sure sign that you were in very bad straits.
Things have changed.
Maine lobster has gone from "aquatic cockroach" to uberdelicacy in the last few decades, and the lobster fishing industry brings in revenues in the hundreds of millions. Though lobsters are long-lived, they do not suffer as much from the conservation woes of long-lived swimming fish such as Bluefin tuna or salmon—lobster fisheries are relatively well-regulated and carefully monitored, so they're a fairly conscientious seafood choice. Maine lobsters are 100 percent caught by hand from day-boats, one trap at a time. This helps to control overfishing, bycatch, and other destructive practices.
Lobster is commercially available all year but peak season begins in June—hence the June 15th designation of Lobster Day. (for the reasoning behind National Doughnut Day, consult your local doughnut expert, I cannot help you there.) In honor of Le Jour D'Homard, here are some fun facts and handy suggestions.
Maine Lobsters moult in late spring, so early season lobsters (like now) often have softer carapaces than in winter. These are referred to as New Shell lobsters. For some, these are coveted in the same way as the much fetishized soft-shell crab. Others will tell you hard-shelled lobsters are better. But there's pretty much a lobster for everyone.
The Maine lobster fishery is one of the oldest continuously operated industries in the US, dating back to the 1600s and so predating the United States by close to a century. To my knowledge there is no mention of lobster in the Bill of Rights, but of course it all depends on how the document is construed.
Lobster is usually cooked by steaming in boiling water. However, it is also quite tasty cooked in lager.
Maine is the overwhelming leader in lobster fishing, bagging about 85% of the annual catch. Maine lobstermen must take a two-year apprenticeship before they can captain a boat—however, you can start learning at the ripe age of eight. If you have an entrepreneurial and seafaring third grader, consider a move to Maine!
Lobsters have blue blood due to the presence of copper-rich hemocyanin.
Lobsters are most commonly greenish-brown in color, though their shells can be blue, yellow, or speckled. All lobster shells turn red when cooked. This is because of a carotenoid pigment called astaxanthin, which is red-orange and heat-stable. Cooking degrades the other pigments in the shell but leaves the red stuff intact. Magic!
Despite its rich, buttery flavor, lobster is low in fat (and unlike shrimp, low in cholesterol). They're high in protein and trace minerals as well as many of the B vitamins. Your body consumes huge amounts of B-complex vitamins when you are stressed out, so consider a lobster tail an investment in your mental health.
Lobsters' best friend in the kitchen is usually still clarified butter. However, it's a versatile food that lends itself to all kinds of pairings and seasonings. Amazing in risotto, great grilled with compound butter (try miso or ginger, or chives), it's also friendly with butter lettuce and avocados, pasta, and corn and tomatoes.
Bottom-feeders are no longer just for those at the bottom of the social ladder, folks. Get your hands on a lobster. Oh, and yes, those claws mean business, so be careful.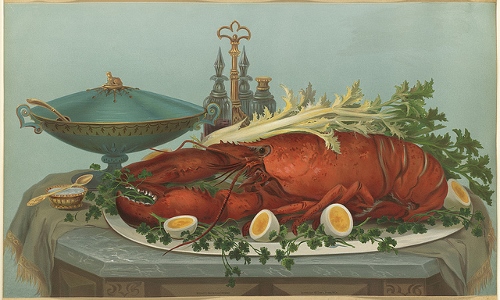 Flickr/Boston Public Library
An award winning poet and longtime food and wine pornographer, Amy Glynn was first accused of being a "food snob" by her parents at age 8. Her book "A Modern Herbal" was released by Measure Press in 2013. She lives in the SF Bay Area, Ground Zero of the "Delicious Revolution." She thinks about apples a lot. Follow her on Twitter @AmyAlysaGlynn and on Facebook here.