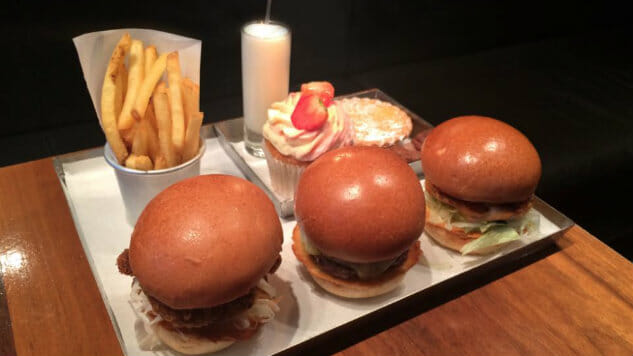 If you only do one thing in London, let it be afternoon tea.
British culture was built on civilized tea time, and nothing calls to mind the stuffiness and pomposity of the old guard better. From overly complicated settings of trays, plates, and delicate china to Lilliputian sandwiches of thinly-sliced cucumber, the whole Downton Abbey-ness of it all really sucks the joy out.
Here's where to find afternoon tea served with a spoonful of high culture and a splash of subversion.
For Burger Lovers
Burgerlicious Afternoon Tea at BRGR.CO, 187 Wardour St., Soho
Do you react to a tray of diminutive finger sandwiches by telepathically willing the server to sneak you something more substantial? This is the tea you've been waiting for. Live out your Hamburglar fantasy with three sliders (beef, crispy chicken, and salmon), a small serving of French fries, and your choice of diner-style dessert. As for the tea? It comes iced, along with two other mini drinks—a fizzy bellini and a classic strawberry milkshake.
For Gastronomes
Afternoon Tea at The Modern Pantry, 47-48 St John's Square, Clerkenwell
The ultra-modern menu here gives British classics an unexpected twist, featuring a host of ingredients your grandma's probably never heard of. Can you picture her cutting the crusts from a sandwich of chia seed bread, parsnip, cumin and garlic pureé, hazelnut and macadamia dukkah, and sorrel cress? (If so, we'd like to be invited over her place as soon as possible.)
For the Inner Child
Charlie and the Chocolate Factory Afternoon Tea at One Aldwych, 1 Aldwych, Covent Garden
This scrumdiddlyumptious menu is a nod to the Roald Dahl book that launched 1,000 sweet tooths, offering obligatory savory items (heritage tomato tart, leek and stilton quiche) and glorying in Wonka-esque sugared treats. To wit, golden chocolate eggs spiked with vanilla cheesecake and mango, chocolate caramel milk, and house-made candy floss. Sorry, no snozzberries.
For Dudes
Gent's Afternoon Tea at Sanctum Soho Hotel, 20 Warwick St., Soho
If acting out strict gender roles is your cup of tea, pull up a YouTube tutorial on how to tie a Windsor knot and swagger on over to the Sanctum Hotel. Here, hanging with the wolfpack means a macho celebration of meat (steak, lamb, and rabbit are all on menu), whiskey (Gentleman Jack, natch), and cigars (a Villiger Export, to be enjoyed on the 5th floor roof deck).
For Street Food Fans
W Spice Tea at W London, 10 Leicester Square, Soho
When it comes to an obsession with tea, Southeast Asia gives the UK a run for its money. Luckily, the two cultures are expertly brewed together in this afternoon menu inspired by the exciting flavors of street food in cities like Penang and Hanoi. There are no loud food stall hawkers or sputtering motorbikes here—only expertly-crafted snacks like salted peanut butter nougat satay, pandan macaron with kaya jam and powdered soy sauce and Ovaltine kulfi with whipped condensed milk and candied fennel seeds.
For Vegans
Vegan Afternoon Tea at La Suite West, 41-51 Inverness Terrace, Hyde Park
For those blissfully free of food rules, breaking gluten-free bread with a vegan friend can leave some parties unsatisfied. This isn't a veganized imitation of a traditional tea menu—it's an inspired assortment of bites that doesn't happen to include animal-derived ingredients. Think portobello mushroom pate and cashew butter or lemon thyme tahini and cucumber sandwiches, and an airy coconut "cream" that dairy-lovers rave about to plop on fresh strawberries and scones.
For Those in the Know
Afternoon Cream or Champagne Tea at Secret Tea Room above The Coach & Horses pub, 29 Greek Street, Soho
Pay no mind to the wobbly wood tables and grouchy old men hunched over the bar. At first glance The Coach and Horses looks like a typical pub; and without a heads-up in advance, that's all you'd find inside. But, if you speak to the barman (or make a reservation) you'll be allowed to sneak behind the bar and up a narrow staircase that leads to a hidden English tearoom. The décor is eclectic, the serveware doesn't match, and the music is provided via gramophone. It's a charming setting for homemade scones and sandwiches against a backdrop of old-time swing and jazz.
For Anglophiles
Afternoon Tea at the UK House of Parliament, Terrace Pavilion, Westminster
The House of Commons is best known for how often its MP jeer and yell at one another or bang on tables. Here's something that isn't common knowledge: As part of the insiders' tour of the Houses of Parliament on Saturdays (and some weekdays during recesses), visitors can take traditional tea inside the Palace of Westminster. You might have tasted the classic menu before—cucumber and cream cheese sandwiches, sultana scones with jam and clotted cream—but never with a royals' view overlooking the Thames.
For the DIY Crowd
The Ultimate Afternoon Tea Class at Cookery School, 15 Little Portland St., Fitzrovia
For amateur chefs who'd rather roll up their sleeves than sit daintily with pinkies out, this hands-on workshop is a lesson in English tea 101. Learn the secrets of using locally-sourced, sustainable ingredients to make your own sweet and savory scones, perfectly-cooked scotch quail eggs, indulgent Devonshire cream cake and lemon curd tartlets, and more. Once that's finished, you can fling off your apron and eat it all with newfound friends over sparkling wine and Cornish tea.
For a Side of Sex Appeal
Saturday Afternoon High Tea & Tease at Cellar Door, under Zero Aldwych, Covent Garden
Everything is better with a dash of retro glamour—even high tea in an underground dive bar. A rolling cast of burlesque dancers, naughty cabaret acts, and sultry showgirls bring some Rat Pack-era Vegas shimmy and shake to the table on Saturdays, so you can enjoy your T(ea) with some A. In this basement-level speakeasy, finger sandwiches and cupcakes pair well with bubbly and a side order of casino chips for a blackjack game.
Meirav Devash is a freelance writer, a vegetarian muse, a beauty expert, and a genuine rock vixen. Tweet her @meiravdevash.
Photos courtesy of Brgr.co and the UK House of Parliament