Wine Gets a Fresh Young Upgrade
Brooklyn Winery's Conor McCormack is making wine for a new generation
Photos courtesy of Brooklyn Winery
Food
Features
wine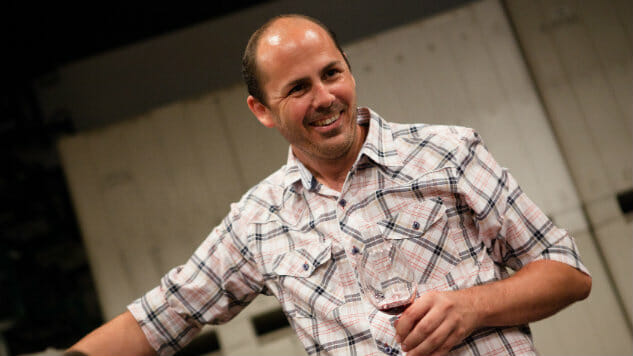 Wine doesn't have the reputation for bringing all the boys to the yard. A craft beer? Yeah. Scotch, neat? Of course. An old-fashioned? Sure. A humble PBR is much more likely to grace the hands of any guy in Brooklyn than a glass of wine.
But one bar is changing all of that with Brooklyn-made wines.
When you pull up to the large wooden doors of the former Williamsburg club that is now Brooklyn Winery, you feel like you're entering an event. DJs, photographers and club kids may no longer be the norm, but Brooklyn Winery holds onto a youthful mystique and a fun, social atmosphere.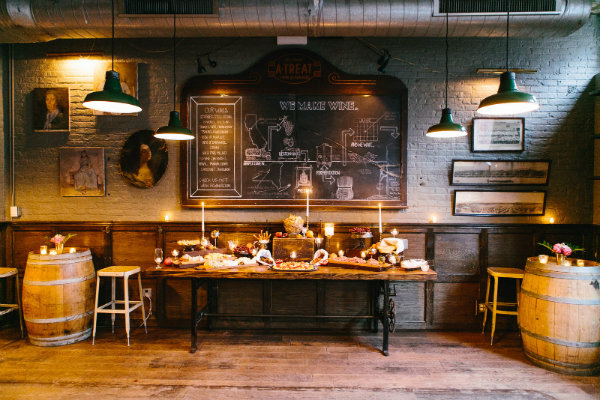 Inside, there are no softly-flickering sconces, no long skinny bar with quiet customers slicing cheese and charcuterie while querying the bartender about the best vintages. Instead, a handsome tattooed bartender seems to defy the word sommelier as he casually jokes around with the equally tattooed folks posted up at his bar just relaxing after work, and big groups of friends and coworkers are crowding in as if the winery was a beer hall.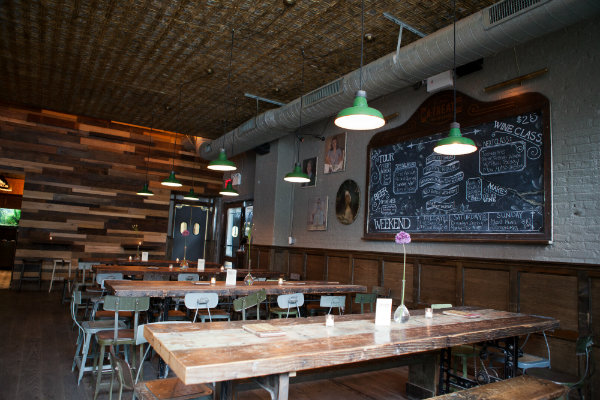 Brooklyn Winery is exciting, young and a touch brash. Though you can easily carry on a conversation without going deaf, the bar is packed and full of life, even on a Monday night. It's a great date spot, and its new-world wines are easy to understand for patrons, who want good wine now, and don't want it to be fussy. Two rieslings, three chardonnays, two pinot noirs, a North Fork blend, a syrah, a cab and two rosés make it easy to select what you like.
There are just as many men as women in the space, and a group of male drinking buddies seems to be enjoying their wine without giving much thought to it, the way they would with a nice craft beer.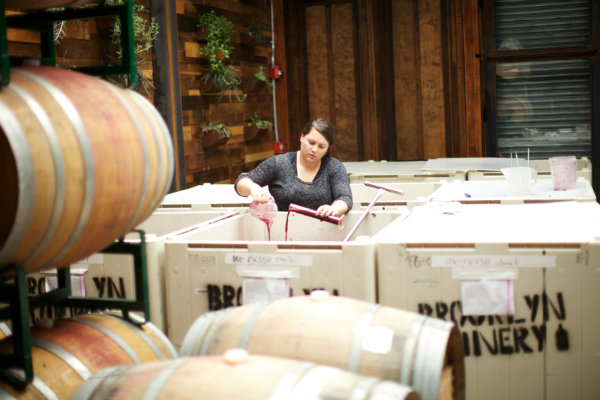 Though its interior features thoughtfully-recycled antique wood walls, Brooklyn Winery's wines are fairly new. Its first wines were produced in 2010, after co-founders Brian Leventhal and John Stires made wine on a New Jersey work trip. The pair loved the experience and were inspired to bring winemaking to Brooklyn by shipping grapes from California, Long Island and Ithaca.
From the beginning, they brought on Conor McCormack, an Irish-born, Northern California-raised expert winemaker who learned the trade working for Vineyard Negociant in California and is passionate not only about the process, but about teaching the basics of his craft to Brooklynites, tourists, and whoever wants to learn.
Paste chatted with McCormack about his favorite local vineyards, that "Aha!" learning moment and the potential effects of global warming on winemaking.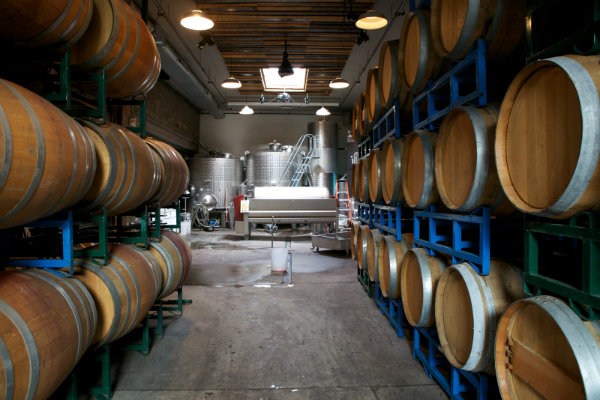 Paste: Where did you train and how did you get into making wine?
Conor McCormack: I fell into winemaking after college by applying for a harvest position with a vineyard negociant. The work suited me well and I ended up running the harvest crew that first year. I then went on to work at a winery right afterwards, when the winemaker for the winery we were processing at said "When you are done working for him, come work for me in the winery", and here I am. I learned from the ground up from very experienced winemakers. I got my start in the wine industry in 2003.
Paste: What was your life before wine?
CM: Music was my priority before I really got into wine, and was what I studied in college. I played bass in numerous bands, some with extensive live performances, and played on numerous albums over the years. I produced and engineered a handful of albums too, and launched a record label, which never really got off the ground.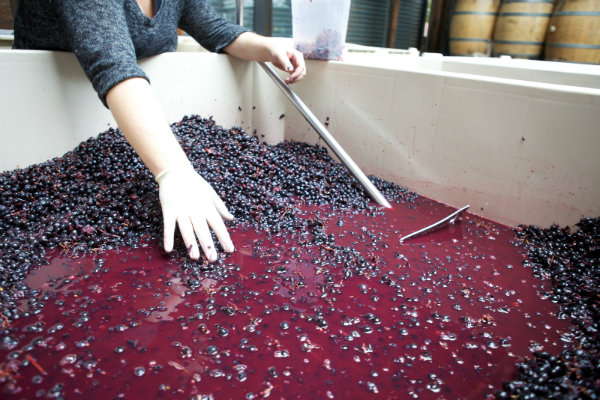 Paste: How much time do you spend a day making wine during the time of the harvest?
CM: During harvest time I have winemaking on my mind 24/7. We monitor our fermentations around the clock, guiding them gently to where they need to go. The first batch of fruit in is always exciting. We have been watching the grapes' progress on the vine since the Spring, and to see them arrive safely at the winery for the next step of the process represents a passing of the torch in many ways.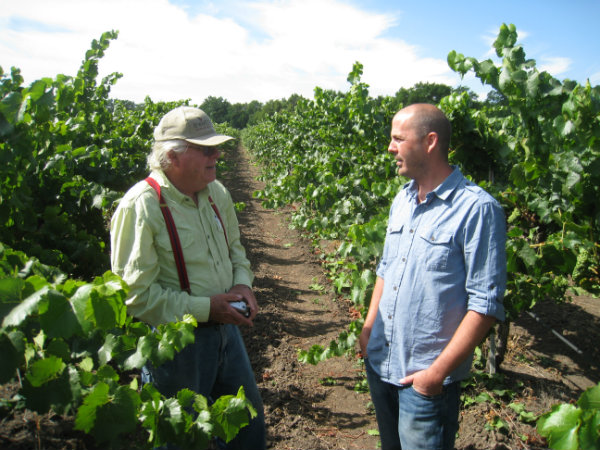 Paste: What's exciting or interesting about teaching winemaking to lay folks?
CM: I like to see the look on people's faces when they get that "Aha!" moment, when I can tell that they truly understand a stage in the process. Its all about explaining a very natural process in a simple and precise way.
Paste: Do you think it's important for people who are never going to make wine to know how one of their favorite drinks is produced?
CM: That depends on the person. Knowing some of the process can give you a deeper understanding, and therefore a deeper appreciation of what goes into your body. Whether that heightens your enjoyment of a beverage is subjective. Sometimes our brains can get in the way, and other times it can enhance our experiences.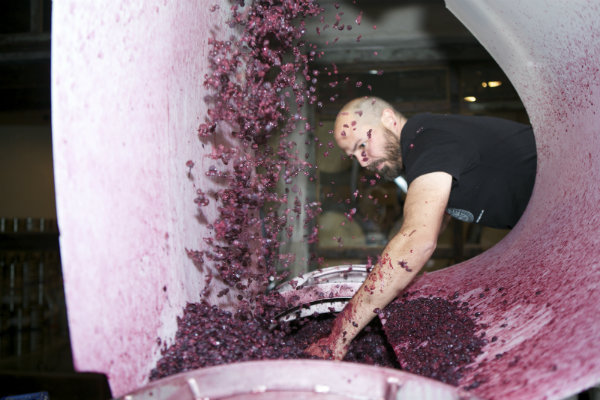 Paste: Tell us about the steps in the process.
CM: For red wine, there's the hand harvest, delivery to the winery, de-stemming, fermentation, pressing, aging, blending and bottling. For white wine, there's the harvest, delivery to the winery, pressing, fermentation, settling, aging, blending and bottling.
Paste: What are your favorite and least favorite parts of the process?
CM: My favorite part is the first batch of the year — usually our chardonnay for sparkling. Tasting the first press cuts of the year signals that we are about to get super busy! What's most agonizing is when a truck full of grapes gets delayed in traffic on its way to the winery. It's also difficult when there's a sluggish or stuck fermentation. It requires incredible attention to detail, organization and timing to ensure that fermentation is complete.
Paste: The rosé you've created this year is very, very light in color. Why did you aim for that? Does it taste how you'd hoped, and what would you pair your rosé with?
CM: The light color and flavor profile were very intentional. This rosé ended up exactly how i wanted it, and is inspired by rose wines that you find in the south of France. It's perfect with oysters, and can hold up to a robust lobster roll.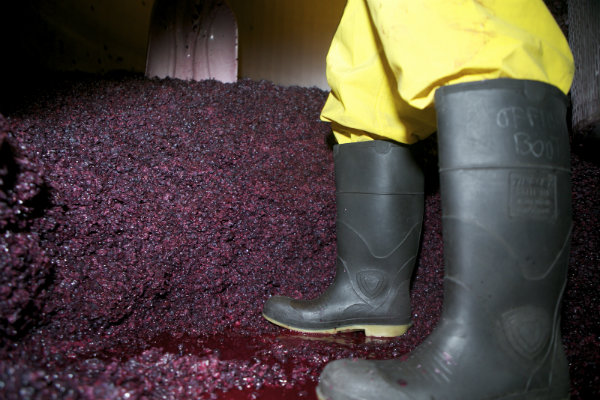 Paste: Are you concerned about global warming and weather changes affecting wine season, shifting wine regions geographically, and/or moving up the dates of harvest?
CM: There has definitely been a switch in weather patterns over the years, and it becomes plain to see when looking through the eyes of a farmer. I consistently hear, from farmers on the west and east coast, that there is no such thing as a "normal" growing season anymore. This requires everyone to be vigilant and to stay on their toes.
Whether or not this will result in shifting wine regions geographically remains to be seen, but there are definitely wider swings in the extremes of weather patterns that affect not just grape growers, but all farmers.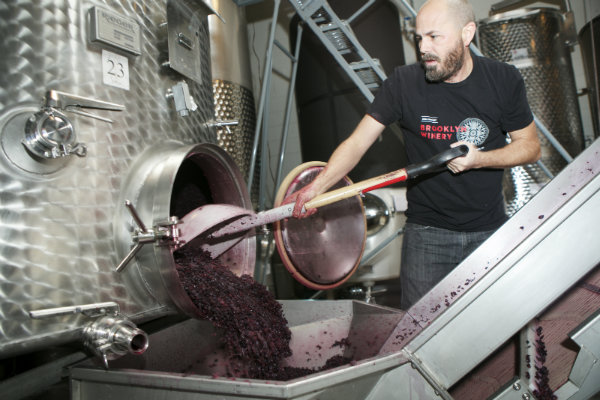 Paste: What would be your dream grape be to get in perfect condition at the winery?
CM: I get my dream grapes into the winery every year, and they all require different attention. There are a few that I haven't worked with in quite some time, such as Nebbiolo, that I would like to work with again in the future.
Paste: What small batches have you loved making? Any experiments in hard liquor with grapes or grape byproducts?
CM: I experiment every year with small batches. We have one going now which I am excited about. It is a Malvasia Bianca, which we fermented on the skins for two weeks, then transferred to old oak barrels where it is still going through the secondary malolactic fermentation. Essentially, it a white wine made like a red, and is super interesting.
As for hard liquor, we have worked with some boutique distillers over the years, most notably a brandy made by King's County Distillery from cabernet franc wine I made. It is delicious.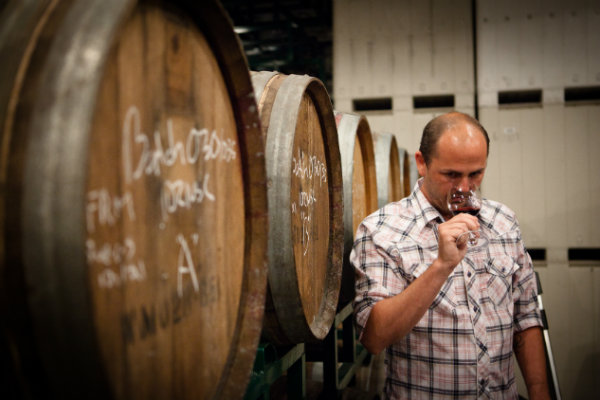 Paste: What do you think about the scenes developing in the Finger Lakes and the North Fork, and what are the top wineries to visit there?
CM: Both scenes are still developing, with a wide range of quality. The bar is constantly being raised, which requires everyone else to up their game. The east coast is a difficult region to grow grapes for high-quality wine. The farmers who are the most attentive and organized are the ones who will stand out in the future. The same goes for the wineries.
In the Finger Lakes, I'd recommend Hector Wine Company, Hermann J Wiemer, Lamoreaux Landing, Standing Stone and Anthony Road Wine Company. On the North Fork, I'd recommend Sparkling Pointe, McCall, Macari, Bedell and Paumonok.
Paste: What's your relaxation drink after a long, hard day?
CM: It depends on the time of year. After a long day during harvest, I always reach for a hoppy and bitter IPA.
Paste: What do you hope to improve upon and do in the future?
CM: Everything. The world of wine is a never-ending learning process, and making new discoveries within it is a lifelong pursuit. You can never know everything, but the journey is the point.