EA Teases Anthem Reveal to Come at E3
A three-second teaser ... great
Images via EA/Bioware
Games
News
Anthem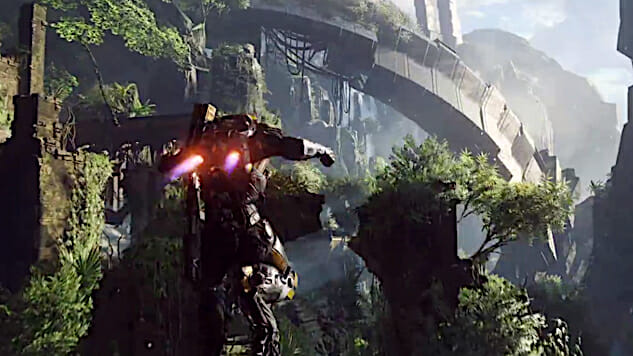 EA and Bioware's shared-world, third-person shooter Anthem is one of the most anticipated videogames in recent memory. Yet, we know very little about it beyond the first gameplay demo shown at last year's E3. Well, unsurprisingly, Anthem will be making another, more in-depth appearance at this year's E3 via the EA Play showcase. Anthem's Twitter account shared a tweet Friday teasing fans with, "There is something waiting for us beyond the wall."
There is something waiting for us beyond the wall… https://t.co/J0lr4GQrYVpic.twitter.com/iFq4fJARsX

— Anthem (@anthemgame) June 1, 2018
Anthem is getting a brand-new trailer on June 9 that showcases the game's world, story, characters and the monsters that the player will encounter on both sides of the wall. Accompanying this trailer will be an even deeper dive into the gameplay loop and core mechanics of Anthem, from a combat showcase to how loot and player locomotion work in-game. An in-depth look at the game's development will be shown by the developers themselves, along with a look into the game's creation via proof-of-concept documents and production art.
Anthem is being developed by Bioware and they seem intent on making this game the best that it can be—more or less, it has to be good in the wake of their Mass Effect: Andromeda blunder. The game is shaping up to have a mech-sized presence at this year's E3. And speaking of E3, Anthem will be shown off at the EA Play conference at 11 a.m. PT. Mark your calendars!
Until then, check out the Anthem gameplay demo from last year's E3.