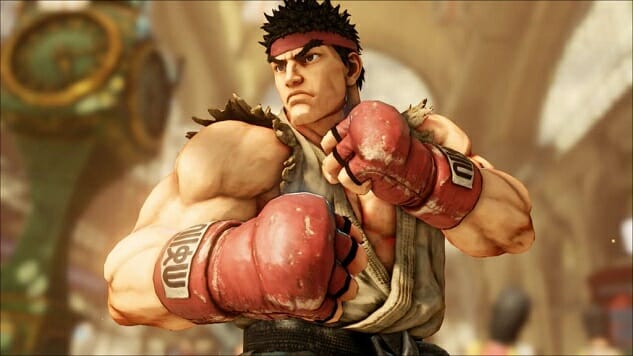 The time has come for the greatest fighters to assemble in Vegas and hash it out in the biggest fighting game tournament around. EVO, or Evolution Championship Series, celebrates its 20th anniversary this year, and to match it, this year's festivities are easily the biggest they've ever been.
Starting off as only a two-game tournament called Battle by the Bay, EVO has since grown to be a sort-of World Cup for all fighting games. Massive attendance is reported across all nine of the official games, with Street Fighter V having 5107 confirmed participants, almost twice the amount of the next highest pool of fighters.
EVO is where dreams are made and careers are forged, as players compete in pools to earn a berth into the main tournament bracket. This means pros can theoretically fall early on to a nobody with the right moves, and everyone has to earn their spot on the main stage at Mandalay Bay.
On the Street Fighter front, all eyes will certainly be on Tokido, a player whose Ryu handed Justin Wong a sour defeat at NorCal Regionals and took down Infiltration, the third place winner at last year's Street Fighter IV tourney. Though he looked shaky in the early month or two of Street Fighter V, Tokido has bounced back with grace, and is certainly a favorite going in. These three will likely all be eyeing each other headed into the EVO tournament.
Don't count out The Beast, though. Daigo Umehara has long been a dominant presence in EVO, and the first EVO showing of Street Fighter V could be his chance back at the title, after a disappointing finish at last year's event. Other players to watch will be Fuudo, another talent from the Street Fighter IV days, as well as the American competitors in PR Rog and Ricki Ortiz.
Switching gears to Super Smash Bros., the Wii U version has the next highest entry pool, and will likely see some fierce competition in pools. This is likely to be an inflection point for the game, as it has routinely tussled with Melee for the spotlight at larger events like EVO. Top players to watch here are ZeRo, who alternates between Diddy Kong and Sheik, and Nairo, who bounces between characters but is well-known for his Zero Suit Samus. Players of Smash on the Wii U will be looking to cement it as one of the top games in the fighting game community, and solidify their spot in the EVO pantheon for years to come.
Melee, on the other hand, has made some waves coming into the tournament. Some top players have been vocally questioning standard EVO practices, asking for floats out of pools (top players not having to win in pool matches to place in the main tournament) and criticizing tournament structure. These complaints haven't stopped them from showing up in Vegas, but it's at least sufficed for some drama going into the event.
As far as the landscape goes for Melee, Hungrybox, Mango and Mew2King are still the players to watch, considered the "gods" of competitive Super Smash Bros. Melee. Other players like Plup and Axe can bring a strong challenge to the pros, and could easily be looking at a run up through the top eight if pools bode well for them.
Those three games make up the signature trinity of the most-watched and most-followed within the current fighting game pantheon, but that's not to detract from the other six official tournaments at the event. Both Pokken Tournament, the recently released Pokémon fighter, and Guilty Gear Xrd Revelator, the kingpin of the so-called "anime fighters", had a surprising level of turnout for entrants. Both are on the rise, and if it's anything like last year, Xrd especially will be a top eight to watch.
Ultimate Marvel vs Capcom 3 continues to appear, despite having declining numbers each year. It's a shame, because MvC has been a staple of the community since the early days of X-Men vs Street Fighter. With the game being literally unavailable for purchase digitally and a steadily disappearing stock of physical copies, both thanks to copyright degradation, it's hard to keep the scene alive.
The three rounding out the list are all classics as well. Mortal Kombat XL will likely deliver some interesting finals, and it's the healthiest the Kombat scene has been in some time. Despite not being publicly available in the US yet, Tekken 7 will be one of the official tournaments, and will likely feature Street Fighter antagonist Akuma in an EVO final before Street Fighter V does. Killer Instinct rounds out the list, and is a surprise joy to watch every year. Iron Galaxy has done a good job of keeping this game fresh in every iteration, and even if you're only somewhat aware of what Instinct is, the grand finals will be worth a watch.
Of course, EVO is also all about the community events. "Salty suites," or side events where pros compete in money matches, are always a highlight, especially if your favorite player drops early in the pools. Side tournaments will be held throughout the week, ranging from hype-building events for upcoming games like King of Fighters XIV, to an actual competitive Catherine tournament that is stellar to watch.
Despite complaints or concerns, EVO always manages to capture a community feeling. While the move to Mandalay Bay for the grand finals has rubbed some grassroots-naturalists the wrong way, this year is bound to be an exciting event and a massive celebration of the fighting game community. If you've never watched e-sports before, if you find MOBAs and shooters too complicated, or if you just like watching two players of immense skill square off, there's no reason to miss out on this weekend of fighting game nirvana.
---
EVO 2016 will run July 15 through 17, and can be streamed live on Twitch through the official EVO and Capcom channels.
Eric Van Allen is a Texas-based writer. You can follow his e-sports and games rumblings @seamoosi on Twitter.