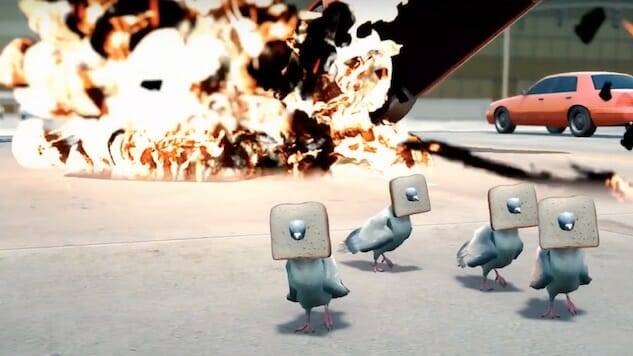 Pigeon Simulator is preparing to take flight. Bossa Studios, the developers behind the ever-meme-able I Am Bread, are back with another chaotic sandbox in which, as always, the goal is to unleash mayhem.
In a new announcement trailer, we're introduced to a merry band of evil pigeons highly skilled at sowing chaos and happy to stage a "coo" in the streets
PIGEON SIMULATOR Takes Flight!!

No bird of a lie, we're thrilled to announce @BossaStudios has officially begun work on the ultimate crapshoot – Pigeon Simulator!

Further news hatching soon, so until then, check out the im-peck-able TRAILER here https://t.co/fPgbNs4fGYpic.twitter.com/CWoxvM5sSW

— Bossa Studios (@bossastudios) July 1, 2019
In the game, you play as a pigeon flying and warbling through parks and streets. And it's a crapshoot, literally.
If you've ever dreamed of hurling a dangling body through a wall as a pigeon, you've come to the right place.
You can smash through windows, wear a nice slice of bread around your little pigeon face (perhaps, the slice of bread from I Am Bread?), and terrorize lowly humans by pooping on them, picking them up and dropping them in untimely places, pelting them with skateboards, exploding their cars and even murdering them. So basically all the normal shenanigans you typically see pigeons get up to every day.
This isn't the first ridiculous simulator from the eclectic British developers Bossa Studios. They're also the team behind the notoriously difficult and hilariously gory Surgeon Simulator and the adventurous I Am Bread, in which you play as a slice of bread on a journey to become toast.
Now, the team are flocking back to their time-tested, pleasantly dumb novelty set-up by letting you play as a mischievous winged rat, i.e. a pigeon.
No word on when the game will hatch quite yet, but the developers promise more information soon.
In the meantime, watch the Pigeon Simulator announcement trailer and check out these GIFs that capture the game's comical magic below.
This is Pigeon Simulator!
A game dedicated to the kings and queens of the sky and the true owner of every town square #screenshotsaturdaypic.twitter.com/BV7MB9yZsm

— KevKev (@Der_Kevin) June 8, 2019
Iam Pigeon pic.twitter.com/bZDLbuMkqj

— KevKev (@Der_Kevin) June 11, 2019
I am getting a lot of mails asking if there is a PigeonSimulator alpha available, when it will be out and for what platforms etc.

There is no alpha/beta available atm. and the rest I still have to figure out by myself 🙂 pic.twitter.com/KEdA6SaxzB

— KevKev (@Der_Kevin) June 15, 2019