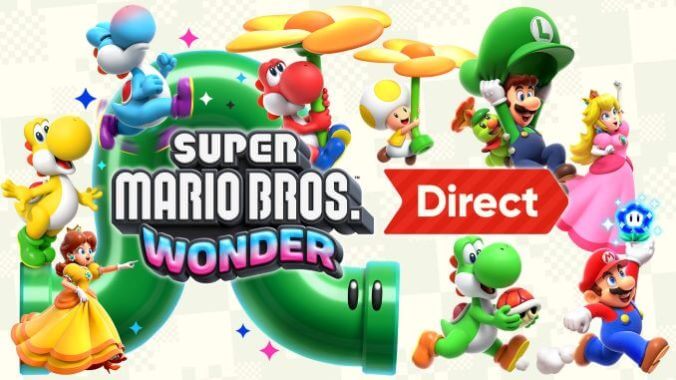 Nintendo has announced a Nintendo Direct presentation focused on Super Mario Bros. Wonder for later this week.
The details were posted on the company's official Twitter this morning. The presentation will be broadcast at 7 a.m. PT / 10 a.m. ET on this Thursday, August 31, and will be about 15 minutes long.
Super Mario Bros. Wonder was announced via a trailer at the end of the last Nintendo Direct in June, and marks the first complete original 2D Mario platformer in over a decade, and the first to not be a part of the New Super Mario Bros. series in over 30 years. It's not surprising that Nintendo is rolling out the red carpet for such a consequential release. While Nintendo has not stated what specific information the Direct will cover, the reveal trailer brings up numerous points of interest, including new power-ups such as the elephant mushroom and the world-bending wonder flower and four-player simultaneous multiplayer featuring numerous playable characters.
Also of note is that we may get to hear more of Charles Martinet's successor(s) as the voice actor(s) of Mario and Luigi, as it was recently revealed that Super Mario Bros. Wonder will be the first Mario game following the iconic voice actor's retirement. While Nintendo has stated that the voice cast for the game will not be revealed until its release, we may still get to hear a greater sample of what the new voices sound like from seeing more gameplay.
You can watch the Direct as it airs on Thursday here: