Spike Lee Set to Direct Filmed Version of David Byrne's Broadway Show American Utopia
Photos by Kevin Winter/Getty, Bruce Glikas/WireImage
Movies
News
American Utopia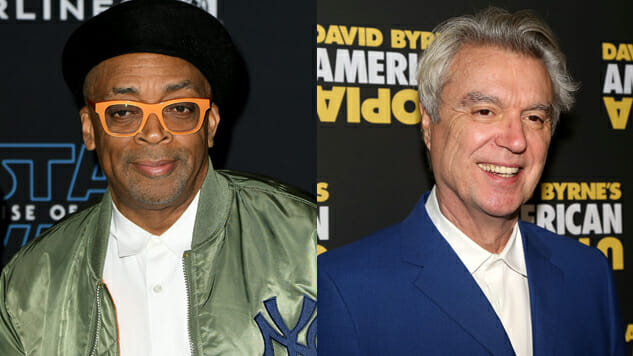 David Byrne's American Utopia opened on Broadway back in October. The show is built on a modified version of his 2018 solo album American Utopia, along with several hits from Talking Heads' illustrious catalogue. At his core, Byrne's goal is to "spread positivity," and there's no better place to do that than Broadway, right?
Well, now American Utopia is getting a filmed version, with Spike Lee set to direct. The film will be produced via Participant, a production company known for Oscar-winning films like Green Book and Spotlight. Byrne expressed great joy at the comity between his ideals and those of Participant and Lee: "Pinch me. This couldn't have worked out better for this project," Byrne said in a statement. "Spike Lee directing and Participant producing—two socially engaged teams, well, three if you count us in the band, coming together in what I feel will be something moving, important, and unlike anything anyone has seen before."
The film is a centerpiece for Participant's social impact work in 2020: It's a personal goal of theirs to produce and encourage acts of civic engagement and democracy. There's really no better work to look to than Byrne's show—Participant's CEO David Linde said of the collaboration, "American Utopia is a true celebration from a great artist and a beautiful reminder to our nation that we are all born barefoot and wearing the same suit."
Lee, meanwhile, is finishing post-production on his forthcoming film Da 5 Blood, about four black Vietnam vets returning to Vietnam in search of their squad leader, starring Chadwick Boseman, Delroy Lindo, Paul Walter Hauser, Norm Lewis and Jonathan Majors. This film is riding on the coattails of Lee's previous, six-time Oscar nominated film BlacKkKlansman. The film ended up taking the award for Best Adapted Screenplay. The Oscar became his first win from the Academy (other than his 2016 Honorary Award), which seems rather delayed given Lee's long and impactful career. Needless to say though, Lee is hotter than ever, and a perfect choice to bring Byrne's vision to screens.
Watch a Talking Heads performance from the Paste archives below.