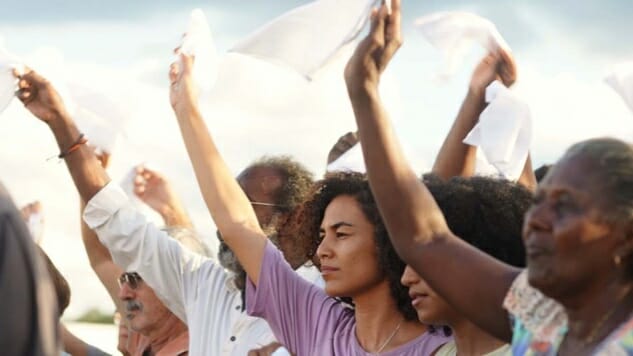 Brazilian directors Kleber Mendonça Filho and Juliano Dornelle's Bacurau begins with a woman named Teresa (Bárbara Colen) being driven down a winding mountain road with sweeping swathes of lush greenery below. Suddenly, a splintered wooden casket appears in the middle of the asphalt. After the driver swerves to avoid it, there is another one. And another. Soon, broken caskets litter the entire road. The cause of the coffin calamity is revealed when Teresa sees that an open-back truck transporting caskets has collided into the mountainside, killing its passengers. The scene is oddly pleasant, though, as opportunists have quickly begun selling off the least damaged goods to a line of passersby, both seeming giddy about the exchange. Death is pervasive in the film, but it is often funny.
Coincidentally, Teresa is on her way to a funeral. Her grandmother—the beloved matriarch of Bacurau, a small Brazilian village where she grew up—has died. The entire town mourns her death, oblivious to the fact that their little village is slowly, literally, being erased from the face of the earth.
Here, what has seemed like a horror film morphs into a weird Western that incorporates psychoactive flora, a seemingly benign history museum, and even an apparition or two. That's not even counting the UFO.
Though the film might come off as ridiculous, its absurdity is hardly impossible. Bacurau presents a dystopian vision of Brazilian atrocities to come, taking place "a few years in the future," with explicit implications of what far-right president Jair Bolsonaro might reap from the most vulnerable populations of the country. Bacurau becomes an inspiring, raucously funny tale of class vengeance that's totally satisfying.
The clinic run by the village's doctor Domingas (played fiercely by Brazilian icon Sônia Braga) is replenished with medicine that Teresa has brought back from her unstated metropolis, which the village desperately needs due to lack of governmental funding for the community. The detestable mayor Tony Jr. (Thardelly Lima) arrives with moldy, outdated books, highly addictive opioids and—you guessed it—more caskets in an attempt to win the town over in his reelection bid. However, all that Bacurau wants is access to water, which has been privatized and is now a precious resource, mimicking the reality of attempts at privatizing water in neighboring South American countries Bolivia and Colombia.
But Tony Jr.'s sordid gifts are merely a distraction. He has given free rein to a group of wealthy gringos to hunt the townspeople of Bacurau for sport in order to sate their colonial impulses—for a fee, of course. This is why the town is disappearing—its cell signal is cut, and all GPS images of the town are swabbed from Google Maps. The townspeople begin to realize something is gravely wrong after their weekly water truck arrives with bullet holes, leaking the scarce supply onto the sandy ground.
Bacurau is wildly creative, and its hilarious, Dadaist aura provides an uncanny comfort despite ample bloodshed. This is not to say that the film is without heart-wrenching loss and tearful contemplation of a world on fire. There is a stark line between villains and victims—and then villains and vigilantes. The political pawns are immeasurably stupid and corrupt, the gringos are irredeemably evil, and the tourists from Sao Paolo really are the worst.
It's clear that there is no space for moral ambiguity in this film. In reality, the Amazon is ablaze, rampant inequality festers and indigenous populations are displaced all for the net benefit of the ruling class. Bacurau is a long overdue neo-colonial revenge fantasy.
Directors: Kleber Mendonça Filho, Juliano Dornelles
Writer: Kleber Mendonça Filho, Juliano Dornelles
Starring: Bárbara Colen, Thomas Aquino, Silvero Pereira, Sônia Braga
Release Date:March 6, 2020
---
Natalia Keogan is a Queens-based writer who covers film, music and culture, with particular interest in the horror genre and depictions of sexuality and gender. You can read her work in Narratively, Filmmaker Magazine and Paste, and find her on Twitter.