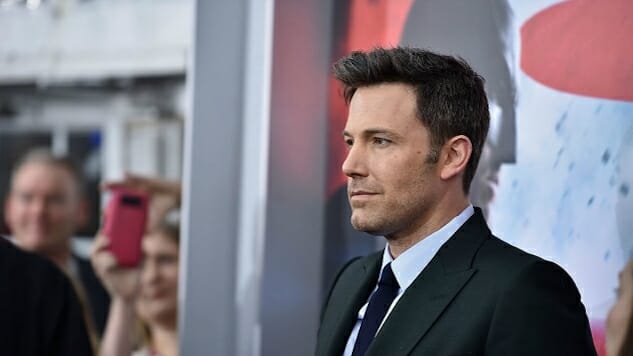 Despite his insistence to the contrary earlier this month, it turns out Ben Affleck will not direct The Batman.
The actor will still star in and produce the film, and the word is the decision was made by Affleck and studio Warner Bros. mutually. Affleck quashed any rumors of disharmony with a statement:
There are certain characters who hold a special place in the hearts of millions. Performing this role demands focus, passion and the very best performance I can give. It has become clear that I cannot do both jobs to the level they require. Together with the studio, I have decided to find a partner in a director who will collaborate with me on this massive film. I am still in this, and we are making it, but we are currently looking for a director. I remain extremely committed to this project, and look forward to bringing this to life for fans around the world.
A few weeks ago, Affleck insisted on Jimmy Kimmel Live that he'd helm the movie despite reports of his apparent ambivalence. Not long before that, he'd told The Guardian that his being the film's director was "not a set thing." He said if the script "doesn't come together" in a satisfying way, he might reconsider directing the film.
Variety reports that not only does Affleck's dropping out have nothing to do with the recent commercial and critical failure of Live by Night, which he also directed and starred in, but apparently he and the studio have made a shortlist of directors they'd like to tackle the project. The outlet says War for the Planet of the Apes' Matt Reeves is among those listed.
Affleck will next appear as Batman in Zack Snyder's Justice League, out Nov. 17.