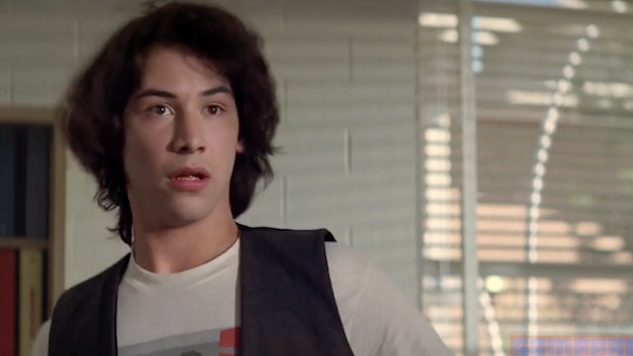 As Ted says, "Party on, dudes!" Orion Pictures, the distributors of Bill & Ted 3: Face the Music, set to be released in theaters on Aug. 21, have revealed an image from the new film. In the picture, William "Bill" S. Preston, Esq. (Alex Winter) and Theodore "Ted" Logan (Keanu Reeves) are dressed up at some kind of black-tie event (perhaps a wedding, or a gig?).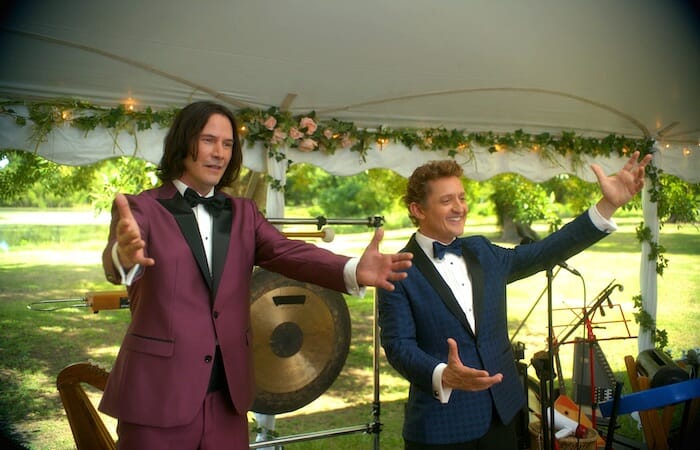 According to the official synopsis, the film's plot is as follows:
The stakes are higher than ever for the time-traveling exploits of William "Bill" S. Preston Esq. and Theodore "Ted" Logan. Yet to fulfill their rock and roll destiny, the now middle aged best friends set out on a new adventure when a visitor from the future warns them that only their song can save life as we know it. Along the way, they will be helped by their daughters, a new batch of historical figures, and a few music legends—to seek the song that will set their world right and bring harmony in the universe.
The stacked cast includes: Reeves (The Matrix franchise, John Wick), Winter (The Lost Boys), Samara Weaving (Ready or Not, Three Billboards Outside Ebbing, Missouri), Brigette Lundy-Paine (Bombshell, The Glass Castle), Scott Mescudi (aka Kid Cudi), Kristen Schaal (Bob's Burgers, BoJack Horseman), Anthony Carrigan (who plays "NoHo Hank" in Barry), Holland Taylor (Two and a Half Men), Jillian Bell (Brittany Runs a Marathon) and Beck Bennett (Saturday Night Live), among others.
The film is directed by Dean Parisot (Galaxy Quest, Fun with Dick and Jane), and written by Chris Matheson and Ed Solomon, the duo who wrote Bill & Ted's Excellent Adventure and Bill & Ted's Bogus Journey.
Watch the official announcement for Bill & Ted 3: Face the Music below.