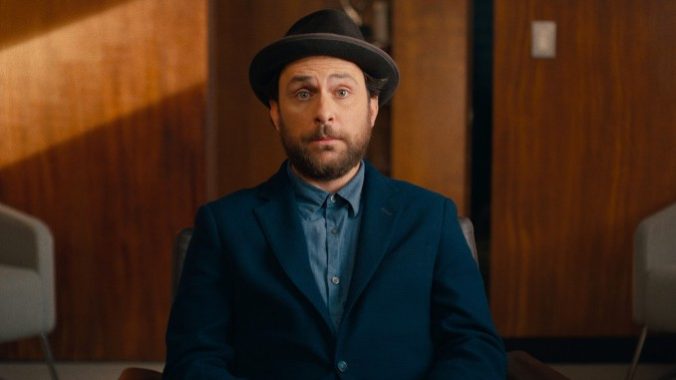 In an interview about Fool's Paradise, actor and director Charlie Day expressed that he was eager to play a silent character. His instantly recognizable voice—a playful tenor which evokes a friendly Labrador when speaking and can rise to a shrill Eldritch screech at its most played-up—came to define the seminal, rat-bashing character he plays on It's Always Sunny in Philadelphia, the profoundly vulgar and immensely popular FX sitcom that he created and writes for alongside his friends and co-stars Glenn Howerton and Rob McElhenney. His voice helped bring him his first mainstream success as squeaky Dale Arbus in 2011's Horrible Bosses, and has come to mark much of his Hollywood career—recently, he's lent his unique voice to Luigi for The Super Mario Bros. Movie. 
It therefore makes sense that for his feature directorial debut, Day would write for himself a role that he's always wanted to play, a role that he knew no one would otherwise bring to him. Of course he would be keen to take on the challenge of, for once, simply being silent. Fool's Paradise (which shares a name with a silent-era Cecil B. DeMille film) also draws on Day's clear cinematic inspirations, in part revealed by a recent trip to the Criterion Closet. There is a direct throughline between Day's silent, mugging Latte Pronto and Charlie Chaplin's Little Tramp. And Fool's Paradise is an obvious rephrasing of Hal Ashby's Being There: Peter Sellers' Chance, a simple-minded gardener kicked to the curb after his wealthy employer dies, is, by chance, picked off the street by a mogul assuming him to be another member of the elite and is accidentally shepherded into high society.
Fool's Paradise doesn't come close to clearing the self-imposed hurdle of matching a Chaplin classic or an Ashby satire. But it does sometimes work as a breezy comedy and a satire-lite of vacuous Hollywood, articulated tenfold by the modern Superhero Franchise Industrial Complex. Our Tramp surrogate, an as-yet-unnamed Latte Pronto (Day), is an anonymous, committed mental patient with the brain of a child and an inability, or reluctance, to talk. But since the state is unwilling to pay for any recovery, the patient is kicked to the curb, where he ambles passively through the Los Angeles city streets getting into various shenanigans until he stumbles upon a man known only to us as The Producer (Ray Liotta). 
The Producer has a stubborn, English method actor named Thomas Bingsley (also Day) on his hands who refuses to leave his trailer to shoot a film, and who also happens to be the dead ringer for the strange, silent little man holding bags of oranges outside The Producer's car window. So, in a last-ditch effort to save the scene, The Producer enlists the mental patient to replace Thomas. It's here that the patient acquires the name Latte Pronto, after the comically arduous shoot wraps and The Producer calls on someone to bring him his coffee drink quickly. Struggling, motor-mouthed publicist Lenny (Ken Jeong)–mishearing, perhaps intentionally–foists the moniker upon Latte. Lenny is looking for the "next big thing" to revive his career, and he sees that in Latte, whose inability to not look at the camera while shooting becomes a revered fourth wall-breaking "quirk" of his acting "technique." Partnering with Lenny is the first domino to fall in Latte's inadvertent ascent to movie stardom, which cascades after Bingsley commits accidental suicide and Latte is forced to finish the film.
It's difficult to see die-hard Sunny fans not enjoying Fool's Paradise—like myself along with, seemingly, the majority of my Thursday evening premiere screening, which was in stitches for most of the runtime and hooted joyously at every appearance of a Sunny actor. The film indulges in similar irreverent, sneaky throwaway gags and allows Day to utilize more of his winsome physicality, spending much of the film mugging in a way that's just sort of funny by virtue of it being Charlie Day. It doesn't lean into the laugh-a-minute nature that many may have come to expect from a sitcom co-creator, nor does it embrace the extremes of that same irreverence (not that that was Day's intention), but I still found it consistently funny. There are also some gorgeous compositions shot by DP Nico Aguilar; the film is noticeably better-looking than most mainstream comedies, and avoids the Gray Soup of Despair.
I do wonder, though, what the film might have been had it been co-written by Day alongside Howerton and McElhenney. Fool's Paradise is clearly Day's baby, but I suspect that the three of them need each other if the wild success of Sunny and the less-than-success of Fool's Paradise is any indication. However, until the third act, the film is a genuine delight, watching our passive protagonist get jostled into one situation after the next, those around him hilariously projecting his identity onto him so that he essentially becomes the most ideal version of an actor that modern Hollywood could want. There are several standout performances, including Adrien Brody's riotous turn as "bad boy" actor Chad Luxt, Jason Sudeikis as hip franchise director Lex Tanner, and Jimmi Simpson as a Fallon-esque, guffawing talk show host surrogate. Brody in particular is enjoying what's shaping up to be a little resurgence in mainstream film, and Fool's Paradise further cements his comedic chops, something only Wes Anderson seemed to know how to properly exploit.
Day evidently wanted to surround himself with other artists he's enjoyed working with previously or artists he's been eager to collaborate with. Most of the cast of Fool's Paradise is comprised of former co-stars (Edie Falco, John Malkovich, Jason Bateman), actors he's wanted to work with (Liotta), and seemingly half of his Sunny stable whom, as he mentioned on "The Always Sunny Podcast," he was inspired to bring on more of during script rewrites. He also brought on two prior collaborators of Paul Thomas Anderson: Composer Jon Brion, who scored Punch-Drunk Love, a film Day made sure to snag during his Criterion visit, and editor Leslie Jones.
Yet despite the preferred collaborators and artistic heroes that Day sought to work with, including some screenplay guidance from Guillermo del Toro, Fool's Paradise frays apart in the third act. Latte finds himself wandering through half-realized plot threads with characters played by Common, Benito Martinez and Malkovich, making one wonder how Day got script notes from del Toro but still didn't quite grasp how to conclude his film. It also becomes clear by this point just how woefully the film falls short in demonstrating any real connection with the audience. Latte Pronto can't talk, and the emotional heft is left almost entirely with Jeong. The actor, past his Hangover heyday, isn't entirely grating, and is often even funny, but his presence isn't enough to carry this arc. Though the relationship between Lenny and Latte is meant to tug on our heartstrings, it is interesting that Day was so obviously inspired by Chaplin yet didn't trust his silent character enough to be the center of our compassion and understanding. 
Still, I'd be first in line to see Day's next directorial effort, should he choose or be able to embark upon one. He has clear directorial confidence, a solid sense for comedy and a good eye. Fool's Paradise is a promising start and a genuinely charming film, though undeniably hindered by a shaky grasp on storytelling and character development. As Day, Howerton,and McElhenney have frequently expressed on their podcast, part of the joy of working on their sitcom together is getting to work with a group of creatives who stimulate and challenge one another. Sure, with Fool's Paradise, Day "just made a movie with his famous friends." But the genesis of Sunny was built on the simple pleasure of making art with people you love. Clearly, it's the type of collaborative ideal he wanted for his first film—he probably just needs co-writers, too.
Director: Charlie Day
Writer: Charlie Day
Starring: Charlie Day, Ken Jeong, Kate Beckinsale, Adrien Brody, Jason Sudeikis, Edie Falco, Jason Bateman, Common, Ray Liotta, John Malkovich
Release Date: May 12, 2023
---
Brianna Zigler is an entertainment writer based in middle-of-nowhere Massachusetts. Her work has appeared at Little White Lies, Film School Rejects, Thrillist, Bright Wall/Dark Room and more, and she writes a bi-monthly newsletter called That's Weird. You can follow her on Twitter, where she likes to engage in stimulating discussions on films like Movie 43, Clifford, and Watchmen.