Report: 21st Century Fox Has Had Talks to Sell Most of the Company to Disney
Photos by Jesse Grant/Getty, Jamie McCarthy/Getty
Movies
News
Disney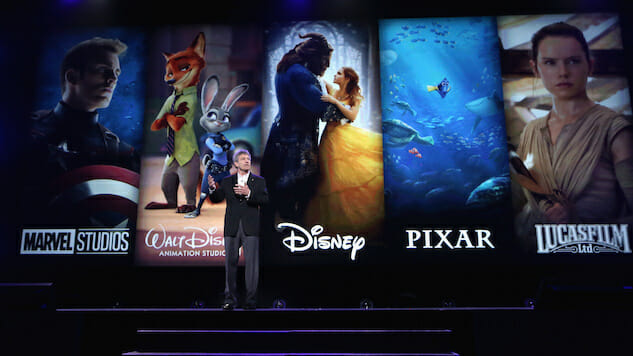 If The Walt Disney Company doesn't own the world yet, perhaps they will soon enough. According to a CNBC report, the House of Mouse has been in talks to acquire (most of) 21st Century Fox. The talks have been described as "on again, off again," and are currently at a halt, but sources tell CNBC that discussions have indeed taken place between the two massive companies in recent weeks, although "there is no certainty they will lead to a deal."
The talks apparently stem from the belief of top Fox executives that acquisition is not the correct avenue for gaining scale, and that a refocusing on properties revolving around news and sports would make the corporation more competitive. With the shift to digital media, many believe that a corporation like Disney, rather than Fox, has the scale to compete in this new landscape.
As Disney prepares to launch their own streaming service in the near future, acquiring more film and television studios could be beneficial. But as Disney could not own two broadcast networks (it already owns ESPN), this would not include the Fox Broadcasting Channel, meaning Disney would not acquire Fox News, Fox Business Network, Fox Sports or any local Fox affiliates. This would, however, include networks such as FX, FXX and National Geographic, along with international networks Sky and Star.
Perhaps most notably, Disney would also be acquiring the rights to X-Men and The Fantastic Four in such a deal, opening the door for some of Marvel's most beloved characters to appear in the Marvel Cinematic Universe.
Reps for both companies declined CNBC's request for comment on the potential sale, and there are no details about possible figures or dates on such a deal, although it's estimated that it would cost Disney about $20 to $30 billion.
Be sure to stay tuned to Paste for further updates, and read our recent feature on the inevitability of The Fantastic Four's return to the MCU here.
The Simpsons. Every time. pic.twitter.com/TYNgbtOHed

— Aaron Escobar (@aaronfraggle) November 6, 2017