Everything We Know about Disney's Streaming Service So Far
Photo by Michael Loccisano/Getty
Movies
Features
Disney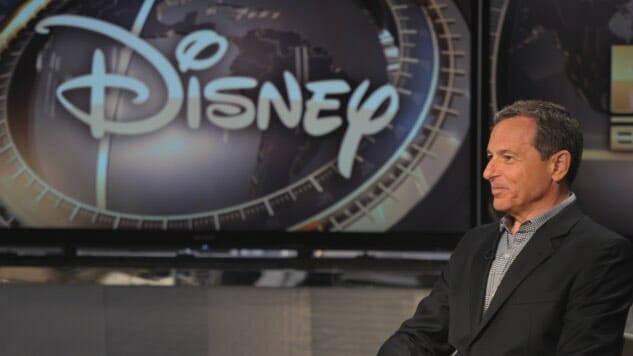 "Everything We Know about … " is Paste's series of deep dives into the forthcoming projects we're most excited about. Explore them all here.
Disney is betting big on its own streaming service, which will feature the entertainment giant's massive movie and TV library, as well as exclusive original content. Here's everything we know so far about Disney's forthcoming, still-untitled, potentially game-changing streaming service.
What Happens to the Competitors
Disney announced in August 2017 that it was ending its distribution deal with Netflix, which took effect in 2016, giving the rival streaming company exclusive streaming rights to Disney-owned new releases, including Pixar, Lucasfilm and Marvel movies, that were released in theaters from 2016 to 2018.
Netflix subscribers will lose access to new Disney movies starting with the company's 2019 theatrical slate. Captain Marvel will be the first film to stream exclusively on the new service, although the year's slate also includes a number of massive titles like Avengers 4, Toy Story 4, The Lion King, Frozen 2 and the Disney trilogy-capping Star Wars: Episode IX.
"They will have rights to the films that were made in '16, '17, '18 for quite a long period of time thereafter, with a window for us to use them ourselves that falls within the period of time […] where they'll have those rights," said Disney CEO Bob Iger in the company's 2018 Q1 earnings conference call. "The films that our studio makes in 2019 and beyond will be self-licensed, or licensed to our own platform, and that will include Marvel, Pixar, Disney and Lucasfilm films."
That window will give Netflix subscribers a few more years of access to Disney titles, at least until the Disney service becomes the exclusive streaming home of the company's entire film catalog somewhere down the line.
On the television side, the plan is to keep Netflix's ongoing deal with Marvel TV, through which it produces its own Marvel shows connected to the MCU. Netflix recently canceled two of those shows, Luke Cage and Iron Fist, although earlier this month, the streaming giant also launched the third season of Daredevil, and has already ordered a third season of Jessica Jones, as well as a second season of The Punisher.
As for Hulu, plans are to move all of Disney's R-rated fare to the service, per Deadline. This would include any Fox movies that Disney would acquire through its proposed merger with 21st Century Fox, if that deal goes through. Disney already owns 30 percent of the streaming service, and would own an additional 30 percent share through its Fox ownership.
There are currently no signs that Hulu will lose Marvel's Runaways, which is set to premiere its second season on the service in December.
It's still unclear whether the launch of Disney's service will clash with competing offerings from rival tech giants in the crowded streaming market.
Apple reportedly budgeted $1 billion in 2018 to prepare for its big push into the original content space, and could roll out its original TV shows as early as March 2019, per New York Times reports from this March. Several high-profile projects currently in development at Apple include a Reese Witherspoon-Jennifer Aniston starring morning news drama, Chris Evans' post-Captain America TV return Killing Jacob, and straight-to-series projects from Damien Chazelle and M. Night Shyamalan.
Google has not disclosed subscriber numbers for YouTube Premium (formerly YouTube Red), but the company is also expected to ramp up spending on premium original content in coming years. "We're starting to dip our toe into doing a lot more higher end content production, and we think that will be important to grow that subscription service," YouTube CEO Susan Wojcicki told Recode's Kara Swisher in an episode of the Recode Decode podcast. "Right now we spend billions and billions on this long tail of these amazing creators that we have, which we see as our core business," she also mentioned. The service premiered the Demi Lovato documentary Simply Complicated last year, and has also announced original shows from stars including Kevin Hart, Ellen Degeneres and Katy Perry, among others.
What's Not On It
As mentioned above, the Disney streaming service will not have any R-rated movies, most likely including any Fox-owned titles, in an effort to keep programming consistent with Disney's brand.
At launch, the service will also be missing the original six Star Wars movies. Turner Broadcasting owns the rights to those movies until 2024, having made a deal with Disney in 2016 that gave Turner TV broadcasting rights, as well as streaming. In August, Bloomberg reported that Disney was in talks with Turner to buy the Star Wars rights back in order to put the entire series on its streaming service, although it's unclear how far those talks progressed.
What's New
Disney has an ambitious slate of new programming lined up for its forthcoming service.
In November 2017, CEO Bob Iger that Disney was in development on four new live-action shows for the service, all of which would be based on high-profile Disney properties: Pixar's Monsters Inc., Disney Channel's High School Musical, and live-action Marvel and Star Wars shows.
In February, we also got this update on the company's streaming film slate:
In-development
3 Men and a Baby remake
Sword and the Stone remake
Timmy Failure (with Spotlight director Tom McCarthy attached)
Pre-production
A new adaption of Don Quixote (written by Billy Ray)
Lady and the Tramp remake
The Paper Magician
Stargirl (directed by Julia Hart)
Togo (directed by Ericson Core)
Post-production
Magic Camp (directed by Mark Waters)
Noelle (directed by Mark Lawrence; starring Anna Kendrick and Shirley MacLaine)
The same month, sources told THR that Disney was planning another Muppets reboot for the service. They last attempted to revive the property with ABC's The Muppets, which ran for one season from 2015 to 2016. At the time, sources also revealed that the company was considering a TV version of the The Mighty Ducks from the trilogy's original screenwriter, with film reboots of 1989's Honey, I Shrunk The Kids, 1991's Father of the Bride and 1998's The Parent Trap among the first projects on the table for the streamer's push into original films.
While there haven't been updates on the Monsters Inc. and High School Musical shows since the initial reports, there have been several more updates on the status of the Marvel and Star Wars shows, as well as a revival of Star Wars: The Clone Wars.
At this year's San Diego Comic Con in July, The Clone Wars showrunner Dave Filoni spoke with StarWars.com about plans to bring back the series for a 12-episode seventh season on the Disney service. Cartoon Network canceled the show after five seasons in 2013, a year after Disney's Lucasfilm acquisition, although a sixth season subtitled The Lost Missions premiered on Netflix in 2014, and featured 13 episodes that were in active production when the show was canceled at Cartoon Network.
It's unclear what will happen to the first five seasons of The Clone Wars series and the animated 2008 film Star Wars: The Clone Wars, the home media distribution rights to which are owned by Warner Bros.
In September, reports revealed plans to develop new shows based on secondary Marvel Cinematic Universe characters who haven't yet gotten their own standalone movies, including Scarlet Witch (Elizabeth Olsen) and Loki (Tom Hiddleston), with the original stars reprising their roles.
Reports followed in late October revealing that Disney was in development on a Falcon-Winter Soldier limited series, with Anthony Mackie and Sebastian Stan reprising their respective roles from the Captain America and Avengers franchises. The same day, SlashFilm reported that the Scarlet Witch series would center on her relationship with Vision (Paul Bettany), a pairing that has not been featured extensively in the Avengers franchise to this point (although they were certainly major players in the climactic battle of Infinity War).
In October, writer and executive producer Jon Favreau also revealed the first details on Disney's live-action Star Wars series, which he announced is titled The Mandalorian. The series will follow "a lone gunfighter in the outer reaches of the galaxy far from the authority of the New Republic," in the planet of Mandalore, the home of Boba and Jango Fett, who won't be featured in the series. The series reportedly cost Disney $100 million to produce 10 episodes, per the New York Times.
The Mandalorian is in production as of Oct. 5, with a pilot directed by Star Wars: The Clone Wars and Star Wars Rebels alum Dave Filoni, who previously announced the return of The Clone Wars on the Disney service. Additional episode directors include Jessica Jones' Deborah Chow; Dope and HBO's Confirmation helmer Rick Famuyiwa; Jurassic World star Bryce Dallas Howard, making her TV directing debut; and Taika Waititi, who is also helming FX's series adaptation of What We Do in the Shadows.
How Much It Will Cost
Disney has not yet revealed how much its streaming service will cost, although CEO Iger has mentioned that it will go for less than Netflix's $8-14 monthly fee.
"I can say that our plan on the Disney side is to price this substantially below where Netflix is. That is in part reflective of the fact that it will have substantially less volume," said Iger in Disney's 2017 Q4 earnings call. "You'll have a lot of high quality, because of the brands and the franchises that will be on it that we've talked about, but it will simply launch with less volume, and the price will reflect that."
When It Will Launch
All signs point to Disney's streaming service launching in fall 2019, although the company has yet to announce an official launch date.
This August, Iger said the launch "is the biggest priority of the company during calendar [year] 2019" in the company's 2018 Q3 earnings conference call.
This comment was especially noteworthy, considering that 21st Century Fox exec Peter Rice expects the company's mega-deal to merge with Disney will close at the start of 2019. That deal, if approved by international regulators, would give Disney the opportunity to include Fox titles on the service at the end of the year, the same point at which Disney has announced it is ending its current deal with Netflix.
Disney is said to be making an aggressive push into the streaming space following lackluster fourth quarter earnings reports in 2017, which were dragged down by weaknesses in its film studio and media networks division, including losses in ESPN subscriber numbers. Disney launched the subscription service ESPN+ in April, and we can expect the parent company's service to join that service, plus Hulu, in the fourth quarter of 2019.
The Latest
Disney announced on Nov. 8 that Diego Luna will reprise the role of Cassian Andor in a new Rogue One prequel, the second live-action TV series set in the Star Wars universe. The prequel series, described by Disney as a spy thriller, is currently in development for the entertainment giant's streaming service.
The company also confirmed Nov. 8 that Marvel Studios is bringing back Tom Hiddleston as fan favorite Loki for a new limited series in development. The official confirmation of the Loki standalone came in the company's announcement revealing the name of its new service, Disney+.
Disney will hold an event in April to reveal more information about Disney+, per THR.