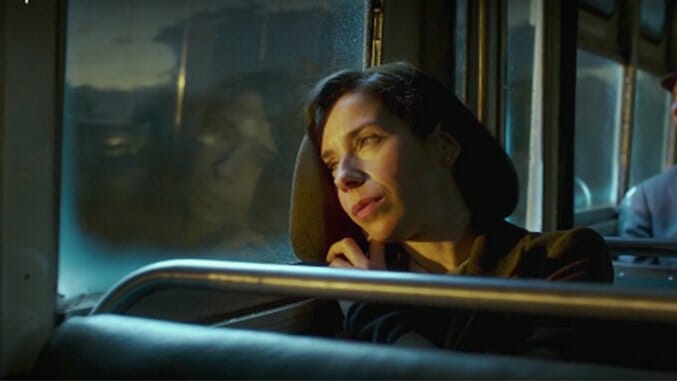 The new Guillermo Del Toro film looks … strangely familiar. Fox Searchlight has released the trailer for Del Toro's forthcoming film The Shape of Water, which is currently being labelled "an other-worldly fairy tale."
The film is set in 1963 at the height of the Cold War. Elisa (Sally Hawkins) is a mute, lonely cleaner who is employed by a top-secret government lab housing an experiment that doesn't seem to relate to the Cold War: an Amazonian aquaman.
Elisa longs to set him free as they develop an intimate connection. "When he looks at me, he doesn't know I am incomplete," she signs, "he sees me as I am." The trailer shows dream-like underwater sequences depicting the romance Eliza strikes up with the creature, to the horror of her boss (Michael Shannon) and coworker (Octavia Spencer). Richard Jenkins, Michael Stuhlbarg and Doug Jones also have roles in the film.
With overt influences in play, like Amelie, Pan's Labyrinth, Beauty and the Beast, The Creature From the Black Lagoon and Night of the Hunter, such an intriguing trailer feels a bit less exceptional. Watch the trailer above and look at the newly unveiled poster below. The film hits theaters Dec. 8.