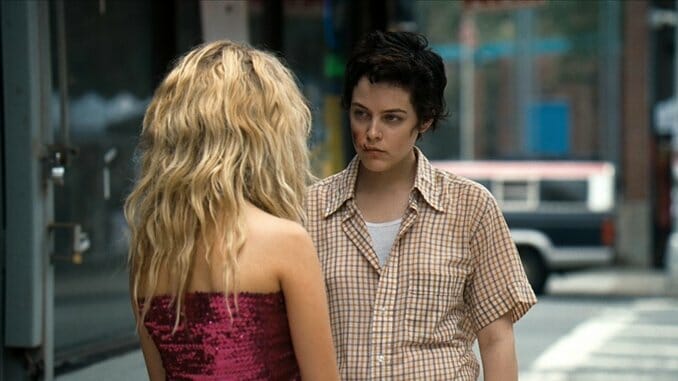 A girl-on-girl werewolf flick may sound similar to a plot line for the ultimate guilty pleasure horror flick, but in reality Jack and Diane may be just a little too John-Mellan-campy for most viewers' tastes. What starts off as your average New York City indie experiment with potential, takes a quick turn south when the Quay Brothers' stop-motion graphics are juxtaposed and forced upon the story line. Stunning, sure, but it seems that perhaps writer-director Bradley Rust Gray ( Exploding Girl) wanted an excuse to work with the legendary team and wound up sacrificing the flow of his narrative for a visual feast.
Doll-faced Juno Temple plays Diane, a mouthy Brit on holiday who is left stranded in New York City after she loses her cell phone and is unable to contact her aunt (Cara Seymour), with whom she is staying. Punkish tomboy, Jack (an impressive Riley Keough) comes to her rescue by not only lending Diane a phone to use, but also by flirtatiously inflating her insecure ego and introducing her to the downtown scene of drinking and drugging.
A week-long relationship jam packed with hurdles, sex, and heartache commences, and audiences get a semi-full scope of a young and modern New York City romance. Gray's teenaged characters carry with them sufficient angst and back stories—Diane has a damaged teen sister and Jack's brother committed suicide—but such details bring little additional depth to the proceedings. Cranky aunts get in the way, as do taxi cabs (Jack suffers a nasty run in with one while skateboarding), and older and more experienced paramours (after a lover's quarrel, Jack's revenge hookup is played by a surprisingly convincing Kylie Minogue), ultimately leaving little potential for the hopelessly in love couple.
Although the horror component is supposed to lie solely within the interjected wolf sequences (themselves meant to represent the bottled up frustration and fear of feelings that Diane is experiencing), in fact the most emotionally affecting scene occurs when Jack stumbles upon an amateur porno on the Internet that features Diane's twin sister. This unsettling video reunites the previously feuding couple as audiences wait for the next absurd event to take place.
Coming off of the fantastic, smart and highly watchable Exploding Girl, Gray's Jack and Diane is a surprising and unfortunate wasted effort. A bit more time spent in the editing room—in a writing and technical sense—could have done wonders for the talented filmmaker's latest. In the midst of it all going awry, Gray nonetheless deserves to be commended for solid casting choices, especially with Keough, who looks to have immense potential as an actress.
In the end, the one thing audiences learn from watching Jack and Diane—aside from the realization that at 110 minutes, the movie is a far too long—is that this is not a film about werewolves, despite its premise.
Director: Bradley Rust Gray
Writer: Bradley Rust Gray
Starring: Juno Temple, Riley Keough, Kylie Minogue, Cara Seympir
Release Date:Nov. 2, 2012