Danny Boyle Will Officially Direct Bond 25 For a 2019 Release Date
Photo via Getty Images, Jonathan Olley
Movies
News
James Bond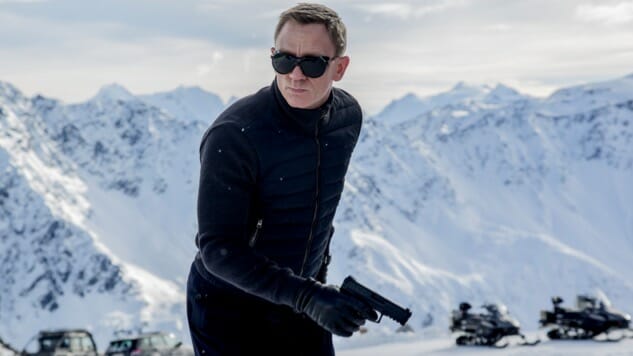 Director Danny Boyle, the creator of everything from Trainspotting and 28 Days Later to Slumdog Millionaire and 127 Hours, had long been rumored as a potential director for the next entry in the venerable James Bond series, "Bond 25," but now things are finally official: Boyle is in the director's seat. The still-untitled film will be scheduled for a 2019 release date, with domestic distribution from MGM, and international distribution from Universal. Bond series producers Michael G. Wilson and Barbara Broccoli confirmed as much in a statement:
We are delighted to announce that the exceptionally talented Danny Boyle will be directing Daniel Craig in his fifth outing as James Bond in the 25th installment of the franchise. We will begin shooting Bond 25 at Pinewood Studios in December with our partners at MGM and thrilled that Universal will be our international distributor.
It has to be assumed that this film will be Daniel Craig's last go-round as the British super spy, as the actor has famously been resistant to the idea of making additional Bond films in recent years, only to be repeatedly pulled back into the fold, presumably via the promise of ever-larger paychecks. As a result, we can probably assume this story to be written as the cathartic send-off to the Daniel Craig version of Bond, who has been around ever since Casino Royale in 2006. It's been a pretty decent run for Craig as Bond … well, at least in the first film and Skyfall, anyway. The most recent entry, Spectre, left a bad taste in the mouths of most fans despite being a box office success, so this will be Craig's chance to end his run on a high note.
Frequent Danny Boyle collaborator John Hodge will write the screenplay for Bond 25, and we can likely expect big announcements on casting, locations, music and titles in the near future. According to Slashfilm, production on Bond 25 is scheduled to begin on Dec. 3, 2018, which will put it into U.K. theaters in October of 2019, with American theaters immediately to follow.
Let's hope that the Bond series can get at least one more classic entry before Craig rides off into the sunset and we begin the inevitable arguments about who should play James Bond next.