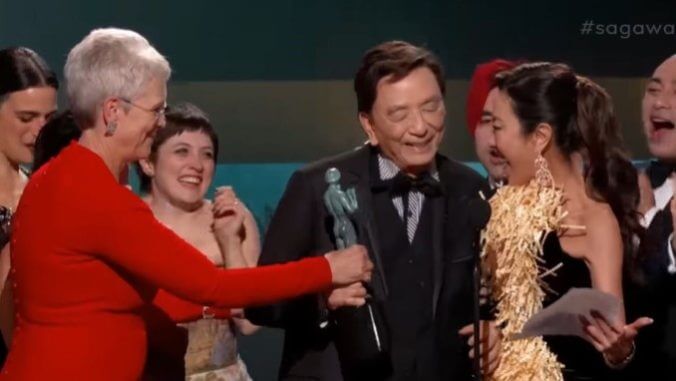 Daniel Kwan and Daniel Scheinert's Everything Everywhere All At Once was a big winner at last night's 29th Annual Screen Actors Guild Awards, making history on multiple fronts with four awards wins, the most for any film in SAG Awards history. Michelle Yeoh and Ke Huy Quan both became the first Asian actors to win awards in individual categories, and the film also took home the award for Outstanding Performance by a Cast in a Motion Picture to close out the night. It was this final award that yielded one of the highlights of the night: The cast's tribute to screen legend James Hong, the ultra-prolific actor who also happened to turn 94 years old this week. Thrust before the camera, Hong delivered a wonderful speech, going far over his allotted time while no one dared to stop him. After all, the guy waited about 70 years since first getting his SAG card to be there—that's not the kind of speech you can cut off.
Hong was his usual, magnetic self, reminiscing about his early days in the American film industry, where he appeared alongside none other than Clark Gable in his first ever role. Over the years, Hong has appeared in everything from Hawaii Five-O and Bonanza to Seinfeld, Big Trouble in Little China, Airplane and the Kung Fu Panda series, while also being one of the most prolific voice actors of the last few decades as well. He's estimated to have close to 700 credited film and TV roles, making Hong one of the most prolific actors, in general, to ever grace the silver screen. It was only natural for the cast of EEAO to fete him at the SAG Awards, considering the steady role he's played in the industry for decades. And the always affable Hong gave the jokes right back to his cast mates, at one point noting that although co-star Jamie Lee Curtis couldn't claim to be Asian, "Lee" was at least "a good Chinese name," and a name shared with Hong's mother, Lee Shui Fa.
Hong went on to proclaim that he hopes to grace the stage again after turning 100 in the year 2030. You can watch his full speech below.