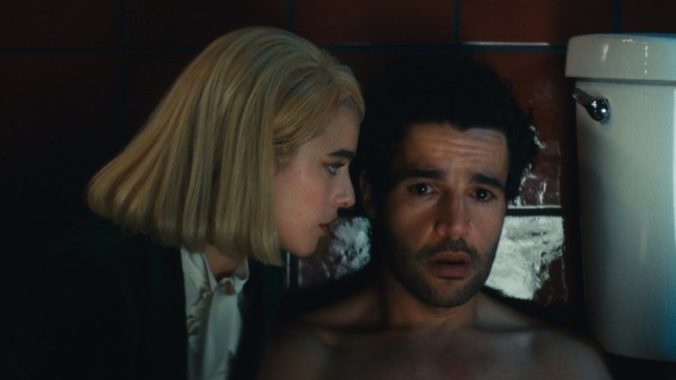 About three-quarters of the way through Zachary Wigon's Sanctuary–his first new feature in nearly a decade since his debut The Heart Machine–we learn that "sanctuary" is a safe word. Ultimately, it's more than just that—it does come to suggest the significance of the relationship between Rebecca (Margaret Qualley), a professional dominatrix, and Hal (Christopher Abbott), her paying sub, who engage in non-physical sessions of erotic roleplay. Hal Porterfield is the heir to a hotel empire, still reeling from the fairly fresh death of his domineering father, which has paved the way for his ascension to taking over the family business. In spite of the meaningful escort-client connection he's built with Rebecca over an unspecified amount of time (enough for him to buy her a $32K "goodbye" present), Hal feels that having a secret side hobby being shamed into ejaculation isn't a good look for an incumbent CEO. He decides, earnestly and gracefully, that it is best for the two of them to part ways.
With Sanctuary, Abbott is two-for-two in "films where he is sexually tormented by a demented woman in a hotel room for 90 minutes," the second being Nicolas Pesce's Piercing. No complaints here: It's a great subgenre that Abbott excels at, his soft face and dark, expressionless eyes primed for either a handsome serial killer out of his depth (Piercing) or a subordinated nepo-baby (Sanctuary). In both roles, he portrays men whose attempts at power plays are unmatched by the loose cannon women in their company, and Qualley proves mostly apt to the task as a spurned escort looking for the financial and emotional lion's share.
"Heartbroken" might be too tame to describe Rebecca's psychological state in the wake of Hal's decision—in fact, her distress is more than feels logical or reasonable given what we know about her character thus far. Any abnormality detected in her personality during the film's first 15 minutes ends up revealed as part of a wholly in-character roleplaying scene with manufactured instances of would-be improvisation. Rebecca prides herself on being good at what she does, and she cherishes the relationship she has built with Hal. But we don't learn the extent of what Hal means to Rebecca (and vice versa) until the very end. It's Sanctuary's main flaw, a sense of contrivance in the inciting incident that is meant to carry the bulk of the narrative, but that doesn't quite propel the film towards its heights. But everything else is so compelling that it mostly works.
Rebecca doesn't like that she has to lose her highest-paying client, and she begins jumping through a series of unhinged hoops in order to not necessarily keep Hal, but blackmail him into giving her a piece of his fortune. She starts by attempting to convince him that she's the only reason he's now able to rise to the CEO throne; that without their sub-dom sessions, Hal would not have the mental fortitude for the job. Next, she threatens to release an as-yet filmed video of their session to sensitive recipients—Hal reminds her that a video needs to have been made first. Then she reveals something that finally gets his attention: She has had hidden cameras recording all their sessions. There's one concealed in their hotel room right now. This leads into an uproarious disco-set sequence in which the claustrophobic confines of the room (gorgeously designed by Jason Singleton) become an expansive labyrinth, cinematographer Ludovica Isidori using stimulating camera techniques to enhance Hal's desperate pursuit of the camera (including one memorable moment, in which the camera, as if attached to Hal's body by an invisible wire, moves in sync with his search).
Rebecca mind fucks Hal in a way that obfuscates whether it's all a game that he's in on, or whether it's not but he nonetheless can't resist. What becomes clear is that it's an incredibly convoluted way for Rebecca to prove her worth to Hal, prove to him that she's the one who really knows what he wants despite his destiny being predetermined from birth, and prove, above all, that the reason he is not fit to lead a company is because his place is beneath Rebecca—the latter, Rebecca realizes, being his true predetermined destiny. Removed from whatever it is that Sanctuary wants to say about power, pleasure, class and the extent to which our lives can be defined by our sexual proclivities, the film is a truly erotic thriller. Abbott and Qualley's cat-and-mouse relationship aesthetically titillates bordering on softcore, and the fervor Wigon brings to his direction of the one-locale concept blows movies like Inside, another one-location film from this year, completely out of the water.
Ultimately, Sanctuary's psychology—which I found a bit muddled at times—is less persuasive than the artistry of shifting, gendered dynamics between Hal and Rebecca, and less enthralling than watching Abbott and Qualley play off of one another. Though, Qualley is the evidently weaker of the two: Her "crazy girl" acting oscillates between an unpredictability that generates genuine unease (which she brought beautifully to the table as Pussycat in Once Upon a Time… in Hollywood) and sporadic moments of transparent artifice in her attempts to do so. But Sanctuary is nonetheless exciting and scintillating, a formally impressive and taut erotic thriller that showcases Wigon's directorial capability and the prowess of the actors under his guidance.
Director: Zachary Wigon
Writer: Micah Bloomberg
Starring: Margaret Qualley, Christopher Abbott
Release Date: May 19, 2023
---
Brianna Zigler is an entertainment writer based in middle-of-nowhere Massachusetts. Her work has appeared at Little White Lies, Film School Rejects, Thrillist, Bright Wall/Dark Room and more, and she writes a bi-monthly newsletter called That's Weird. You can follow her on Twitter, where she likes to engage in stimulating discussions on films like Movie 43, Clifford, and Watchmen.