Miranda July Heist Feature From Annapurna, Plan B Sets All-Star Cast
Photos by Frazer Harrison/Getty, Kevork Djansezian/Getty, Donna Ward/Getty, Sean Gallup/Getty
Movies
News
Miranda July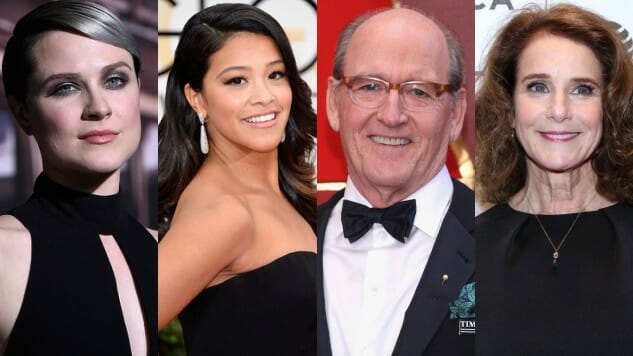 Golden Globe nominee Evan Rachel Wood, Golden Globe winner Gina Rodriguez, Academy Award nominee Richard Jenkins and Academy Award nominee Debra Winger will star in the untitled heist feature from indie filmmaker Miranda July, with Annapurna Pictures and Plan B Entertainment producing.
According to THR, the film's script centers on a woman named Old Dolio (Wood), whose life is turned upside down when her parents (Jenkins and Winger), amateur con artists who must face the mistakes of their bad parenting, invite an outsider (Rodriguez) to join their biggest heist yet.
July is an acclaimed filmmaker and artist who made quite a name for herself with her 2005 film You and Me and Everyone We Know, which won the Camera d'Or at Cannes and a Special Jury Prize at Sundance.
Wood can be seen in the highly anticipated second season of Westworld, which just launched its trailer today. Rodriguez currently can be seen opposite Natalie Portman in one of the best films of the year so far, Annihilation, and will star as Carmen Diego in an animated reboot of the classic '90s show for Netflix. Jenkins just received his second Oscar nomination for Guillermo Del Toro's Oscar-winning The Shape of Water, while Winger can be seen in the Netflix comedy The Ranch.
There's no word yet on production details or when to expect this interesting collaboration to hit theaters, but one thing is for certain; the combined talent and the team from Plan B and Annapurna working together will create something wonderful and artistic.