Disney Shares First Look at Live-Action Mulan
Photos via Visual China/Getty, Lintao Zhang/Getty
Movies
News
Mulan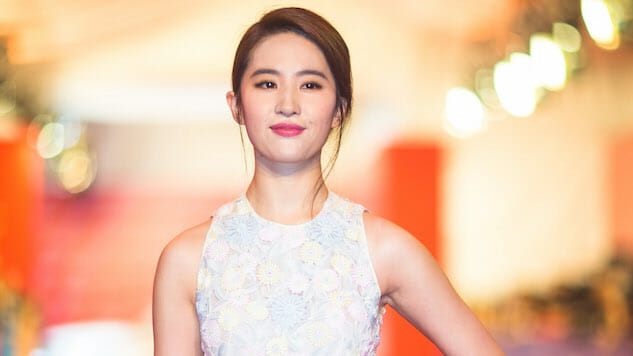 Is there a strong chance that Disney is cashing in on '90s nostalgia with its recent barrage of live-action remakes of animated classics? Absolutely. Does that eliminate the hype surrounding the movies? Not a chance. Monday, the world's most magical entertainment conglomerate shared a first look at its forthcoming live-action remake of 1998's Mulan, with production now underway.
After a five-continent-wide search, Disney cast Liu Yifei as the film's eponymous protagonist, who disguises herself as a man to take her father's place in China's draft. Yifei—also known as Crystal Liu—will star opposite Gong Li (Memoirs of a Geisha), Jet Li (Shaolin Temple), Donnie Yen (Rogue One: A Star Wars Story), Yoson An (The Meg), Utkarsh Ambudkar (Pitch Perfect), Ron Yuan (Marco Polo), Tzi Ma (24), Rosalind Chao (Star Trek: The Next Generation) and Cheng Pei-Pei (Crouching Tiger, Hidden Dragon). See Yifei as Mulan below.
Production has begun on live-action #Mulan! pic.twitter.com/o4nROnyw4H

— Disney (@Disney) August 13, 2018
The reboot is being helmed by Niki Caro, director of 2017's The Zookeeper's Wife. Caro is only the fourth-ever woman to direct a film with a $100-million budget, joining rank alongside Kathryn Bigelow, Patty Jenkins and Ava DuVernay.
After a production delay, Mulan is now filming in China and New Zealand. The reboot isn't due out until March 27, 2020, leaving Disney plenty of time to ratchet up anticipation for the film even further.