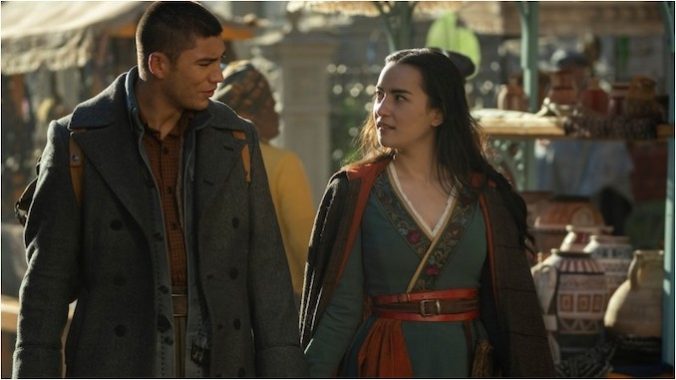 Netflix has been notoriously stingy with its data. Even directors and showrunners have had a hard time gauging if what they'd put out into the world was reaching its intended audience. With the advent of the Netflix Top 10, though, we can now get at least one little peek behind the curtain. The list of Netflix's daily Top 10 Most Popular indicates an omnivorous appetite among the Netflix faithful, from reality shows to prestige TV, animated kids shows to docu-series of every stripe. Here are the entries for Feb. 20, 2023, of the five most popular TV shows and five most popular movies on Netflix.
TV Series
1. Shadow and BoneYears: 2022-23
Creators: Leigh Bardugo, Eric Heisserer
Stars: Jessie Mei Li, Archie Renaux, Freddy Carter, Amita Suman, Kit Young, Ben Barnes, Zoë Wanamaker
Genre: Fantasy
Rating: TV-14
Since Game of Thrones, all the cable and streaming networks have been looking for its successor. For many reasons, not many have ignited on a zeitgeist scale. Shadow and Bone feels like the first real contender. It lands across the board with its production value, tone, visual effects, and engaging characters, culminating in an exhilarating season finale which all points to a potential large-scale hit. As a non-reader of Leigh Bardugo's Grishaverse novels, but a great admirer of richly crafted, adapted fantasy on television and film, I went into Netflix's Shadow and Bone cold. All I expected was that—as with most intricate world-building that transitions from page to screen—there's often a steep learning curve in the pilot, as the language, regions, factions, and magical terminology gradually makes sense. Costumes can be a big visual shorthand with that, and let me tell you, this series offers a level of visual embroidery porn I was not prepared for. This fabric cheat sheet was deeply appreciated, because the drab military wear of orphans-to-First Army BFFs, cartographer Alina Starkov (Jessie Mei Li) and tracker Malyen "Mal" Oretsev (Archie Renaux) make it clear these two outsiders are nothing in the eyes of those they report to in their encampment on the edge of the Unsea, or the Shadow Fold, a black magic cloud of evil mojo created by a Grisha hundreds of years ago. It splits the country of Ravka in two, making access to needed foods, supplies, and resources dire. Impossible to cross without Grisha help (and even then, there's no guarantee because of the volcra monsters flying inside, ready to attack), it's a sore point for the entire world. In particular, the leader of the Grisha, General Kirigan (Ben Barnes), a.k.a. the Darkling, is a Shadow Summoner obsessed with fixing the Fold. But can only do that with the powers of a Sun Summoner, someone who has never existed in their history… until now. Of particular success is how well Heisserer and his writers set up the required mythology in eight episodes without being exhausting, all the while deftly laying an emotional foundation. The show also weaves an ensemble of support characters into strong B and C stories that are interesting enough to exist on their own, yet masterfully bump in and out of lead's journey throughout. Unfortunately, the second season of Shadow and Bone is off to a rougher start. —Tara Bennett
---
2. You
Years: 2018-
Creator: Greg Berlanti, Sera Gamble
Stars: Penn Badgley, Elizabeth Lail, Luca Padovan, Zach Cherry, Shay Mitchell
Genre: Thriller
Rating: TV-MA
Never before has a series delighted this much in pulling the rug out from under its viewers. What started out as a clever serial killer/stalker drama about deconstructing "nice guy" tropes and seemingly romantic overtures, You has upped its game each and every season to reveal it's more than just a show about a man (Penn Badgley's Joe Goldberg) who regularly gets away with murder. Full of twists and turns you'll never see coming, the blood-soaked thriller—which originated on Lifetime before moving to Netflix beginning in Season 2—has evolved to become a perfectly orchestrated social satire, with Joe going up against pretentious hipsters in Brooklyn (Season 1), wellness gurus in Los Angeles (Season 2), and fully optimized techies in a fictional Silicon Valley suburb (Season 3). And while Joe doesn't seem to evolve as quickly as the show around him, he remains a compelling narrator and one of the most interesting characters on TV. — Kaitlin Thomas
---
3. Outer BanksYears: 2020-2021
Creators: Josh Pate, Jonas Pate, Shannon Burke
Stars: Chase Stokes, Madelyn Cline, Madison Bailey, Jonathan Daviss, Rudy Pankow, Austin North
Genre: Drama
Rotten Tomatoes Score: 77%
Rating: TV-MA


No one actually says "Welcome to the OBX, bitch!" but the sentiment is definitely there in Netflix's teen dream of a TV series. Created by Josh Pate, Jonas Pate, and Shannon Burke, Outer Banks explores the lives of the rich kids (called Kooks) and poor kids (Pogues) along North Carolina's marshy coastal islands. Adults are scarce, school is out, shirts are practically sacrilege; it's a high schooler's fantasy. Though the first episode establishes what seems like a very paint-by-numbers teen drama whose players are almost indistinguishably attractive, the series' dynamic ultimately feels classic rather than rote. It's a throwback, in some ways; the kids drink and hookup a little, but mostly the story revolves around the search for gold lost in an ancient shipwreck. There's a mystery, young love, missing parents, and lots of general rabble-rousing. Outer Banks isn't exactly wholesome, but there is something about its sun-soaked adventure that feels emotionally authentic to the teen experience. For a show whose first episode starts off with the Pogues all crashing at a parentless pad and nothing less dramatic than a hurricane, it's surprisingly grounded—so much so that some may find it a little bland. But as it threads together the island's various social orders in ways that continues to amp up the drama, the twists (emotional and plot-driven) manage to be both familiar and surprising—despite an overwrought denouement that threatens to overshadow its better parts. Outer Banks isn't trying to be anything other than what it is, and that's a respectable position to take. Welcome to the OBX, viewer. —Allison Keene
---
4. Sky HighYear: 2023
Creators: Daniel Calparsoro, Jorge Guerricaechevarria
Stars: Asia Ortega Leiva, Luis Tosar, Álvaro Rico, Richard Holmes, Patricia Vico
Genre: Thriller
Rating: TV-MA


When her criminal husband dies, Sole (Asia Ortega Leiva) decides the best way to continue supporting her son is to pick up where he left off—or maybe surpass him. The widow becomes the crime boss, and a rival to her own father, in this Spanish crime thriller.
---
5. The Glory
Year: 2022
Creators: Kim Eun-sook, An Gil-h0
Stars:: Song Hye-kyo, Lee Do-hyun, Lim Ji-yeon, Yeom Hye-ran, Park Sung-hoon
Genre: Drama, Thriller
Rating: TV-MA
After getting bullied by her high-school classmates, Moon Dong-eun finds that revenge is the best path out of despair. Her intricate and devilish plans roll out over the course of 16 episodes in this dark Japanese drama.
---
Movies
1. Dragged Across Concrete
Year: 2018
Director: S. Craig Zahler
Stars: Mel Gibson, Vince Vaughn, Tory Kittles, Michael Jai White, Jennifer Carpenter, Laurie Holden
Genre: Thriller
Rating: R
Crooked cops Brett Ridgeman (Mel Gibson) and Anthony Lurasetti (Vince Vaughn) are suspended without pay, following a leaked video of them using excessive force when confronting a suspect. It's not the first time they've had trouble playing by the albeit loose rules given to the police, but they chalk their penalty up to the latent scourge of "wokeness." With both of them desperately hard up for cash, the pair team up to rob a professional thief. But things don't quite go according to plan, cascading into a violent climax with a syndicate of assassins that also makes for the film's most tense and awe-striking setpiece. S. Craig Zahler's stark, slow filmmaking style crafts a brutal and merciless noir/exploitation drama that plays off of the perceived societal oppression towards white men against the dreaded Other in American society. But interpretation of the film's reactionary politics aside, Dragged Across Concrete is an effective, pulpy crime thriller. —Brianna Zigler
---
2. Luther: The Fallen SunYear: 2023
Director: Jamie Payne
Stars: Idris Elba, Cynthia Erivo, Andy Serkis, Dermot Crowley, Thomas Coombes, Hattie Morahan
Genre: Mystery
Rating: R
In the streaming era, what distinguishes a movie from a TV show? Luther: The Fallen Sun, a continuation of writer Neil Cross's BBC cop drama Luther, is the latest such edge case. The movie continues from where the fifth season left off in 2019, wherein former DCI John Luther (Idris Elba) was stripped of his badge and arrested. Here, this arrest has been recontextualized; as opposed to just being framed for murder once again, Luther is sentenced to prison due to a dossier containing evidence of all the actual procedure violations the hard-edged cop has committed in his pursuit of justice. The dossier is the doing of the film's new villain, David Robey (Andy Serkis), a psychopathic tech mastermind who runs an extensive network of blackmail responsible for a missing persons case Luther was investigating. Robey can't possibly match Ruth Wilson's Alice Morgan (not appearing in this movie, still presumably dead for the second time) as the most compelling villain Luther has faced, and his Black Mirror schtick already feels cliche. Serkis, however, makes the character entertaining through sheer over-the-top camp. The other big new addition to the cast is Cynthia Erivo as DCI Odette Raine, filling the requisite role of "good cop" trying to solve the same case as Luther, but with concerns about his unorthodox methods. This character type is there to provide some degree of realistic emotional grounding, and Erivo is an excellent actress for the job. The horror she encounters is deeply felt, and the tough choices she has to make are presented with genuine suspense even when you know how things will ultimately turn out. Beyond these two new characters, the biggest thing Luther has gained in its transition to movie form is a greater emphasis on action sequences. Director Jamie Payne, who previously directed all of Season 5, does a good job with the action, keeping it clear and easy to follow even in moments of chaos. Nobody watched Luther for serious social commentary or a moral compass—you watched it because Idris Elba is a beautiful man with arguably the world's best voice ,and you got to see him catch bad guys played by other good actors. On that level, Luther: The Fallen Sun delivers. —Reuben Baron
---
3. The Magician's ElephantYear: 2023
Director: Wendy Rogers
Stars: Noah Jupe, Mandy Patinkin, Brian Tyree Henry, Natasia Demetriou, Sian Clifford, Benedict Wong, Miranda Richardson
Genre: Animation, Adventure
Rating: PG
The wrong tonal choices can be a killer, especially when it comes to making an animated film tailored to kids. Netflix's adaptation of author Kate DiCamillo's The Magician's Elephant makes some fatal tone mistakes in trying to smoosh together comedy, tragedy, childhood wonder and animal exploitation—which clash pretty hard. In the aftermath of a terrible war, the town of Baltese has lost its belief in magic and is a bummer of a place to grow up. A muted, postwar pastel wash blankets the melancholy town. Peter (Noah Jupe) is a war orphan now being raised by Vilnius (Mandy Patinkin), an old, paranoid ex-soldier who wants the young boy to be ready for the next invasion, should it ever come. But Peter is far more concerned with finding his little sister that he was separated from during the war. He even goes to a fortune teller, who cryptically confirms that she does live, and if he follows the elephant, he will find her. That leads him to the visiting magician (Benedict Wong) who gets so heckled during his act by the wonderless townspeople that he casts an actual spell, conjuring up a real elephant that falls on a very mean old lady (Miranda Richardson). It's a highlight moment. But that gets him jailed and the elephant becomes a ward of the state. The goofy King (Aasif Mandvi), who loves to be entertained, gets wind of the marvel and arrives in town to see it for himself. When Peter hears of what happens, he knows the elephant is the key to finding his sister, so he wheedles his way into the castle and promptly asks that the elephant be given to him. The King is delighted to turn that outlandish demand into a game, telling Peter that if he accomplishes three impossible tasks, the elephant will be his. From there The Magician's Elephant fractures into two halves. Peter's pursuit of the three tasks compose the most dynamic sequences of the film, as his faith in his new elephant friend and what she represents inspires him to outwit the quests in fun ways. But then there's the other half, which is overstuffed with somber side stories about an agoraphobic nun (Dawn French) raising a moppet of an orphan girl (Pixie Davies), the backstory of the paranoid soldier, the terrible truth of how the elephant was magicked away from her herd, and much, much more. There are plenty of sad stories in animated films that cater to kids, but the way Rogers and Hynes relentlessly crosscut back to the more sorrowful elements ruins any momentum they achieve with the lighter half of the story. There's just too much complicated plot to follow and too many distracting tangents that bloat the runtime into boring territory. —Tara Bennett
---
4. RiddickYear: 2013
Director: David Twohy
Stars: Vin Diesel, Karl Urban, Katee Sackhoff, Jordi Moliá, Matt Nable, Dave Bautista
Genre: Sci-fi, action
Rating: R
Pitch Black (2000) and its sequel, The Chronicles of Riddick (2004), the first two chapters in the adventures of anti-hero Richard B. Riddick (Vin Diesel), provided a surprisingly satisfying one-two punch. Unfortunately, as with other sci-fi trilogies, the third live-action installment of My Favorite Furyan stumbles plenty. Though there's no one clear culprit, the absence of a tightly constrained, furiously paced story arc couldn't have helped. Ultimately, Riddick is a perplexing result for a 'til-now dependable recipe: the ingredients, cooks and kitchen are the same, yet the dish that results is not nearly as tasty. Twohy's film opens with a Riddick who's buried, bloodied and somewhat broken. In the leisurely paced sequences that follow, the audience gets plenty of voiceover-assisted insight into how he got there and how he'll set about becoming less so (including the sort of montage usually reserved for plucky underdogs in sports films). Eventually, when Riddick wants off the planet, he does what any reasonable castaway would do, summoning a passel of bounty hunters anxious to collect the price on his head. With the arrival of two separate crews (the one with the criminally underutilized Katee Sackhoff and the one without), Riddick assumes a stance more familiar to fans of the first two films—that of an elusive killing machine. Eventually, of course, the group will have to work together to avoid being eaten (a common hazard on planets in the Riddick universe, it seems). Yet despite having so much in common with Pitch Black, this latest batch of unfortunate events doesn't hold together as well as its predecessors. In part, this can be attributed to a puncturing of the protagonist's mystique. As a result, Riddick lacks the punch of Twohy and Diesel's earlier efforts. —Michael Burgin
---
5. NoiseYear: 2023
Director: Steffen Geypens
Stars: Ward Kerremans, Sallie Harmsen, Johan Leysen, Jesse Mensah, Mieke De Groote, Katelijne Damen
Genre: Thriller
Rating: TV-MA
This Belgian thriller follows a young man who has returned to his hometown and uncovers dark family secrets.