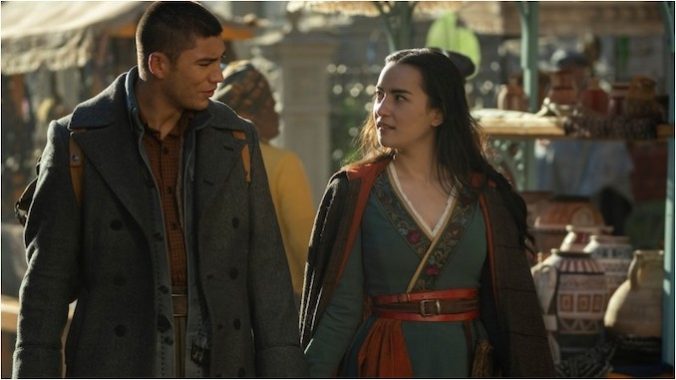 Netflix has been notoriously stingy with its data. Even directors and showrunners have had a hard time gauging if what they'd put out into the world was reaching its intended audience. With the advent of the Netflix Top 10, though, we can now get at least one little peek behind the curtain. The list of Netflix's daily Top 10 Most Popular indicates an omnivorous appetite among the Netflix faithful, from reality shows to prestige TV, animated kids shows to docu-series of every stripe. Here are the entries for Feb. 20, 2023, of the five most popular TV shows and five most popular movies on Netflix.
TV Series
1. The Night Agent
Years: 2023
Creator: Shawn Ryan
Stars: Gabriel Basso, Luciane Buchanan, Hong Chau, D.B. Woodside
Genre: Thriller
Rating: TV-MA
An FBI agent (Gabriel Basso) gets caught up in a case that goes all the way up to a mole in the White House in this new Netflix series based on Matthew Quirk's novel and created by Shawn Ryan (The Shield, Terriers).
---
2. Love Is BlindYears: 2020-
Creator: Chris Coelen
Stars: Nick Lachey, Vanessa Lachey
Genre: Dating Reality
Rating: TV-MA


"How do you spell Cole? So not like the 'coal' like Santa?" "This is a deal breaker. Do you like the Jonas Brothers?" And with those two absurd quotes from two different singles, I was hooked on yet another season of Love Is Blind, a reality relationship series that takes the word "cringe" to an entirely new level. The Nick and Vanessa Lachey-hosted Netflix series is back for a third season, this time set in Dallas, and it's crazier than ever. While the formula remains the same (chat via pods for 10 days, propose, meet your fiancé, get married four weeks later, drink from golden goblets) the players have all changed—and what an oddball group of characters they are. —Terry Terrones
---
3. Waco: American ApocalypseYears: 2023
Genre: Docuseries
Rating: TV-MA


Waco was back in the news last week when former President Donald Trump chose the Texas town for a rally. This three-part docuseries looks at the group led by David Koresh that was involved in a 51-day standoff with federal agents back in 1993.
---
4. Who Were We Running From?Year: 2023
Creators: Umut Aral, Gökçen Usta
Stars: Melisa Sözen, Eylül Tumbar, Musa Uzunlar
Genre: Thriller
Rating: TV-MA


A mother and her daughter live a life on the run, moving from one hotel to the next in this Turkish thriller.
---
5. Shadow and BoneYears: 2022-23
Creators: Leigh Bardugo, Eric Heisserer
Stars: Jessie Mei Li, Archie Renaux, Freddy Carter, Amita Suman, Kit Young, Ben Barnes, Zoë Wanamaker
Genre: Fantasy
Rating: TV-14
Since Game of Thrones, all the cable and streaming networks have been looking for its successor. For many reasons, not many have ignited on a zeitgeist scale. Shadow and Bone feels like the first real contender. It lands across the board with its production value, tone, visual effects, and engaging characters, culminating in an exhilarating season finale which all points to a potential large-scale hit. As a non-reader of Leigh Bardugo's Grishaverse novels, but a great admirer of richly crafted, adapted fantasy on television and film, I went into Netflix's Shadow and Bone cold. All I expected was that—as with most intricate world-building that transitions from page to screen—there's often a steep learning curve in the pilot, as the language, regions, factions, and magical terminology gradually makes sense. Costumes can be a big visual shorthand with that, and let me tell you, this series offers a level of visual embroidery porn I was not prepared for. This fabric cheat sheet was deeply appreciated, because the drab military wear of orphans-to-First Army BFFs, cartographer Alina Starkov (Jessie Mei Li) and tracker Malyen "Mal" Oretsev (Archie Renaux) make it clear these two outsiders are nothing in the eyes of those they report to in their encampment on the edge of the Unsea, or the Shadow Fold, a black magic cloud of evil mojo created by a Grisha hundreds of years ago. It splits the country of Ravka in two, making access to needed foods, supplies, and resources dire. Impossible to cross without Grisha help (and even then, there's no guarantee because of the volcra monsters flying inside, ready to attack), it's a sore point for the entire world. In particular, the leader of the Grisha, General Kirigan (Ben Barnes), a.k.a. the Darkling, is a Shadow Summoner obsessed with fixing the Fold. But can only do that with the powers of a Sun Summoner, someone who has never existed in their history… until now. Of particular success is how well Heisserer and his writers set up the required mythology in eight episodes without being exhausting, all the while deftly laying an emotional foundation. The show also weaves an ensemble of support characters into strong B and C stories that are interesting enough to exist on their own, yet masterfully bump in and out of lead's journey throughout. Unfortunately, the second season of Shadow and Bone is off to a rougher start. —Tara Bennett
---
Movies
1. I See YouYear: 2019
Director: Adam Randall
Stars: Helen Hunt, Jon Tenney, Judah Lewis, Owen Teague, Libe Barer
Genre: Horror, Thriller
Rating: R
Helen Hunt stars in this supernatural missing-child thriller from 2019.
---
2. Dragged Across Concrete
Year: 2018
Director: S. Craig Zahler
Stars: Mel Gibson, Vince Vaughn, Tory Kittles, Michael Jai White, Jennifer Carpenter, Laurie Holden
Genre: Thriller
Rating: R
Crooked cops Brett Ridgeman (Mel Gibson) and Anthony Lurasetti (Vince Vaughn) are suspended without pay, following a leaked video of them using excessive force when confronting a suspect. It's not the first time they've had trouble playing by the albeit loose rules given to the police, but they chalk their penalty up to the latent scourge of "wokeness." With both of them desperately hard up for cash, the pair team up to rob a professional thief. But things don't quite go according to plan, cascading into a violent climax with a syndicate of assassins that also makes for the film's most tense and awe-striking setpiece. S. Craig Zahler's stark, slow filmmaking style crafts a brutal and merciless noir/exploitation drama that plays off of the perceived societal oppression towards white men against the dreaded Other in American society. But interpretation of the film's reactionary politics aside, Dragged Across Concrete is an effective, pulpy crime thriller. —Brianna Zigler
---
3. Luther: The Fallen SunYear: 2023
Director: Jamie Payne
Stars: Idris Elba, Cynthia Erivo, Andy Serkis, Dermot Crowley, Thomas Coombes, Hattie Morahan
Genre: Mystery
Rating: R
In the streaming era, what distinguishes a movie from a TV show? Luther: The Fallen Sun, a continuation of writer Neil Cross's BBC cop drama Luther, is the latest such edge case. The movie continues from where the fifth season left off in 2019, wherein former DCI John Luther (Idris Elba) was stripped of his badge and arrested. Here, this arrest has been recontextualized; as opposed to just being framed for murder once again, Luther is sentenced to prison due to a dossier containing evidence of all the actual procedure violations the hard-edged cop has committed in his pursuit of justice. The dossier is the doing of the film's new villain, David Robey (Andy Serkis), a psychopathic tech mastermind who runs an extensive network of blackmail responsible for a missing persons case Luther was investigating. Robey can't possibly match Ruth Wilson's Alice Morgan (not appearing in this movie, still presumably dead for the second time) as the most compelling villain Luther has faced, and his Black Mirror schtick already feels cliche. Serkis, however, makes the character entertaining through sheer over-the-top camp. The other big new addition to the cast is Cynthia Erivo as DCI Odette Raine, filling the requisite role of "good cop" trying to solve the same case as Luther, but with concerns about his unorthodox methods. This character type is there to provide some degree of realistic emotional grounding, and Erivo is an excellent actress for the job. The horror she encounters is deeply felt, and the tough choices she has to make are presented with genuine suspense even when you know how things will ultimately turn out. Beyond these two new characters, the biggest thing Luther has gained in its transition to movie form is a greater emphasis on action sequences. Director Jamie Payne, who previously directed all of Season 5, does a good job with the action, keeping it clear and easy to follow even in moments of chaos. Nobody watched Luther for serious social commentary or a moral compass—you watched it because Idris Elba is a beautiful man with arguably the world's best voice ,and you got to see him catch bad guys played by other good actors. On that level, Luther: The Fallen Sun delivers. —Reuben Baron
---
4. Minions: The Rise of GruYear: 2022
Director: Kyle Balda
Stars: Steve Carell, Pierre Coffin, Taraji P. Henson, Michelle Yeoh, RZA, Jean-Claude Van Damme, Lucy Lawless, Russell Brand, Julie Andrews, Dolph Lundgren, Danny Trejo, Alan Arkin
Rating: PG


By now we've grown used to animated films possessing a million cuts per minute, wall-to-wall sound design and non-stop frenetic energy. But The Rise of Gru's hysteria is simply on another level. Directed by Kyle Balda, the fifth entry in the beloved Despicable Me franchise tracks the exhausting origin story of supervillain Gru (Steve Carell). What kicks this adventure into action is Gru's decision to apply for the Vicious 6, the most badass villain supergroup since the Crime Syndicate of America. But the doe-eyed 12-year-old is quickly shut down by Belle Bottom (Taraji P. Henson), the fiery leader of the squad, who tells Gru to come back when he can really impress her. So, the young scoundrel does what any good aspiring villain would do, stealing the priceless Zodiac Stone from the Vicious 6's lair. The remainder of the film sees Gru flee from the Vicious 6, while his faithful little Minions do everything in their power to bring their "little boss" back; and yes, you can bet they run into quite a few obstacles along the way! There's kung-fu, there's San Francisco and there's a man-lobster hybrid, in addition to just about anything else the creators want to stick in there, no matter how much they have to disfigure the story to make that happen. While a lot of this stuff is undeniably enjoyable, it also resembles a frenzied fever dream. After watching Gru, I felt as though I was finally starting to get a grasp on our society's bizarre infatuation with Minions. Not only are they incredibly sweet and loyal in a genuinely touching way, but their strange little mushy bodies lend themselves well to physical comedy. One of the Minions gets his goggles embedded in his face during a kung fu stunt, and when he pops them back out, it's ASMR-level satisfying. The purpose of the Minions may be that they are the epitome of visual comfort, sort of like those mildly eerie baby sensory videos. This, paired with its irrefutable sweetness, sometimes makes Gru worth watching. Yes, it veers on a total frenzied nightmare at times. But hey, what did you really expect from another Minions movie? —Aurora Amidon
---
5. The Hunger Games: Catching FireYear: 2013
Director: Francis Lawrence
Stars: Jennifer Lawrence, Josh Hutcherson, Liam Hemsworth, Woody Harrelson, Elizabeth Banks, Philip Seymour Hoffman, Jeffrey Wright, Lenny Kravitz, Stanley Tucci, Donald Sutherland, Jena Malone
Genre: Sci-fi, action
Rating: PG-13
When we last saw Katniss Everdeen (Jennifer Lawrence), she'd just won the Hunger Games, saving both her and her fellow Tribute from District 12, Peeta Mellark (Josh Hutcherson), by defiantly holding out a palmful of poisonous berries. Her victory was short-lived, however, as she realized she'd royally ticked off President Snow (Donald Sutherland) and she'd have to keep up the ruse that she and Peeta were sweethearts if she wanted to survive outside the Arena. Katniss, Peeta and their alcoholic mentor, Haymitch (Woody Harrelson), reside in the nearly abandoned Victors' Village, living in posh mansions while their friends and neighbors continue to struggle to get by. Meanwhile, there's unrest in some of the other districts, a rebellion rumbling, and President Snow pays Katniss a personal visit to warn her that the people better believe she threatened to kill herself in the Arena for love, not in defiance of the Capitol—or else. She tries—she really does, despite being a public-relations nightmare for their chaperone, Effie (the delightfully over-the-top Elizabeth Banks)—but it's not enough, and after the Tour, President Snow and the new Head Gamemaker Plutarch Heavensbee (Philip Seymour Hoffman) devise a plan to get rid of Katniss and quash the rebellion once and for all: For the 75th Hunger Games, the Tributes will be plucked from those who have won the Games before. Working from a smartly adapted script by Simon Beaufoy and Michael DeBruyn, Francis Lawrence emphasizes the story's cynical critique of celebrity culture, of living one's lives and loves for the camera, and condemnation of a 1 percent who drink potions to puke during parties so they can eat more while the rest of the country is starving. The Hunger Games: Catching Fire is a stellar sequel and a crackerjack middle chapter. —Annlee Ellingson