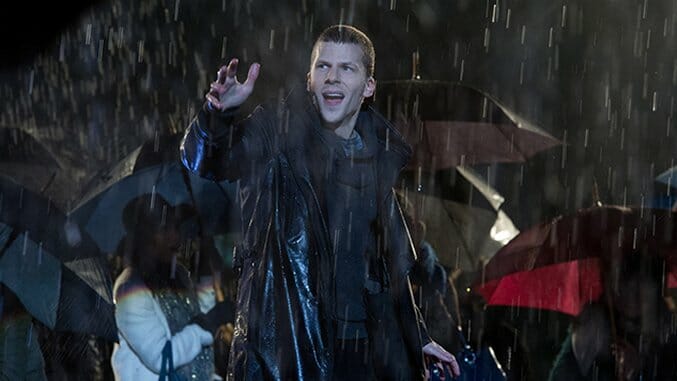 The magic-based caper film Now You See Me 2 pulls off a trick that eludes many a would-be film franchise: It's a sequel that actually improves on the original. In 2013, the original Now You See Me took a promising premise about "The Four Horsemen," Vegas-caliber illusionists staging Robin Hood-style heists, but diminished it with aggressive slickness and unlikable, posturing characters. Now You See Me 2 proves similarly glib (and lacks many thoughtful ideas up its sleeve), but brings an appropriately breezier tone to its high-adrenaline razzle-dazzle.
The first film kept its emphasis Dylan Rhodes (Mark Ruffalo), an FBI agent who always fell one step behind the Horsemen. Here in the sequel, Rhodes serves as their often-absentee leader, with the Horsemen spending much more time at center stage. After their public disappearing act in the first film, the magicians in 2 have been lying low, although street-performer-turned-front-man Daniel Atlas (Jesse Eisenberg) increasingly chafes at Dylan's choices.
Hypnotist Merritt McKinney (Woody Harrelson) and card shark/pickpocket Jack Wilder (Dave Franco) also return, but original Horseman Henley Reeves (Isla Fischer) is written out with a few lines. Presto change-o, Lizzy Caplan steps in as her replacement, Lula—and it's a definitely better trade-up. A more-rounded character, Lula revels in engineering grisly stunts as well as calling out her teammates' implicit sexism: "I'm the girl Horseman! Yeah!" she sarcastically says at one point.
Lula barely settles in when Dylan announces their next big play: hijacking the product launch of an unscrupulous tech company. Their Ocean's 11-style infiltration of the high-security event goes off without a hitch, though, before they get to their big reveal, an unknown nemesis turns the tables, revealing their secrets to the audience—and the FBI. "We're the laughingstocks of the magic world and fugitives in the real world," Daniel laments.
Rhodes resolves to rescue the team, even if it means working with smug magic debunker Thaddeus Bradley (Morgan Freeman). Imprisoned in the last film, Bradley's been making sinister threats from his prison cell, like an illusionist Hannibal Lecter. Meanwhile, Rhodes must also work through his issues with his late father, an ill-fated escape artist whose death he witnessed as a 10 year-old (shown in a downbeat prologue).
Top-billed Eisenberg enjoys an excellent vehicle for his trademark hyper-verbal one-upmanship. He's well matched by Caplan's canny sense of irony and refusal to be anyone's sidekick. Harrelson gets plenty of leeway—possibly too much—for broad comedy, at times possibly spoofing his True Detective co-star Matthew McConaughey. Daniel Radcliffe, best known for taking magic classes at Hogwarts, joins the cast with a zesty portrayal of a reclusive, sociopathic zillionaire.
At their best, these films deliver wholly on their high concepts, seamlessly applying familiar setpieces of stage magic to high-risk thefts and other stings. In fact, Now You See Me 2's highlight finds the Horsemen performing elaborate sleight-of-hand maneuvers to steal a card-shaped computer chip in plain sight of its guards. The scene is full of CGI sweetening—a POV shot follows the card down Eisenberg's sleeve and through his shirt—but still offers the viewer an insider's perspective of how real tricks can work.
Overall, the Horseman's David-Copperfield-meets-Anonymous brand of showy economic populism found a better foil in the previous film's insurance companies and big banks. Now You See Me 2 critiques corporate surveillance and invasions of privacy, but its hot-button issues lack the same urgency as the financial slump, plus the first film's director Louis Leterrier brought more propulsion and visual clarity to its action scenes. New director Jon M. Chu muddles the fights and chases, but the veteran of the Step Up series and Justin Bieber documentaries generally keeps the film upbeat and light on its feet.
Now You See Me 2 also suffers from the Achilles heel of many con-man movies by providing one twist too many at the expense of story logic and established characterization. It brings down the curtain by prepping the audience for an encore, with Now You See Me 3 reportedly in the works, but it's easy to imagine the Horsemen riding again, filling a globetrotting, neon-lit caper niche between the Fast and Furious movies. Both offer ideas about "family" after all, only Now You See Me trades the fast cars for faster cards.
Director: Jon M. Chu
Writer: Ed Solomon
Starring: Jesse Eisenberg, Lizzy Caplan, Woody Harrelson, Dave Franco, Mark Ruffalo, Morgan Freeman, Daniel Radcliffe, Michael Caine
Release Date: June 10, 2016