Watch Saoirse Ronan in the Exquisite Trailer for On Chesil Beach
Images via Robert Viglasky/Bleecker Street
Movies
News
On Chesil Beach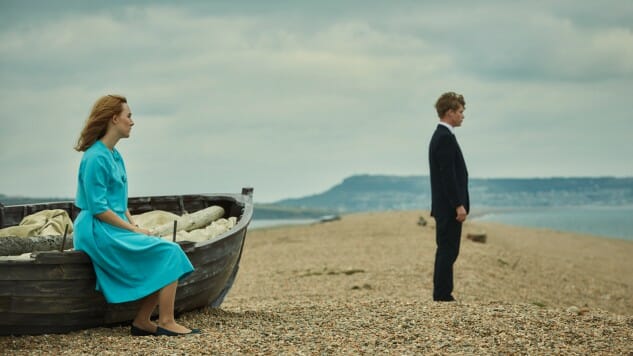 Academy Award nominee Saoirse Ronan stars in what THR calls the "exquisitely delicate" On Chesil Beach. Based on Ian McEwan's novel of the same name, the film centers on a couple in 1962 from two dramatically different backgrounds. Ronan plays Florence Ponting, a well-to-do violinist of upper society, and newcomer Billy Howle plays Edward Mayhew, a graduate student with rash taste and sexual fervency. The film follows their relationship, starting with their lovely courtship and leading to their wedding night, all the while exploring the societal pressures that come with physical intimacy. The film will be distributed by Bleecker Street, which has an amazing 2018 lineup, and is produced by BBC films.
Ronan has been acting since she was a young child. At 13, she earned an Academy Award nomination for Best Supporting Actress for her role as Briony Tallis in Atonement, also based on a McEwan novel. Since then, she has received Oscar nominations for Best Actress for her roles in Brooklyn and Lady Bird. She will be seen in the forthcoming historical drama Mary Queen of Scots playing Mary Stuart, with fellow Oscar nominee Margot Robbie playing Queen Elizabeth I.
On Chesil Beach is directed by debut feature director Dominic Cooke. The film also stars Samuel West, Ann Marie Duff, Oscar nominee Emily Watson and Billie Howle, who recently had a small part in Christopher Nolan's Dunkirk. Howle will also be seen alongside Ronan again in the forthcoming film adaptation of Anton Chekhov's play The Seagull. Enjoy the beautiful trailer below and make sure to catch On Chesil Beach in cinemas on May 18.