Oscar Isaac was Slapped by Carrie Fisher 27 Incredible Times While Filming Star Wars
Photo by Nicholas Hunt/Getty
Movies
Video
Oscar Isaac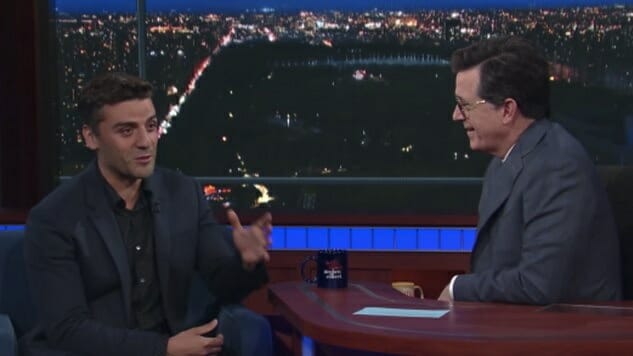 Star Wars bae Oscar Isaac appeared on The Late Show last night to promote his starring role as Hamlet in The Public Theater's production of Hamlet.
Of course the discussion quickly turned towards the iconic Carrie Fisher and Isaac begins reminiscing about their first scene together. In it Isaac's character, Poe Damaron, walks up to Fisher and she immediately slaps him for some reason (does it really matter?).
Director Rian Johnson kept redoing the scene until Fisher had slapped Isaac 27 times, never going easy on his beautiful face. Fisher is one of the few people we would let slap us as many times as she wanted, along with Oprah and Meryl Streep.
Isaac calls Fisher one of the "quickest witted, funniest, most down-to-earth, real human beings I ever had the opportunity to work with," and the studio responds in applause.
Watch Isaac's interview with Stephen Colbert above, where they begin discussing Fisher around the 2:45 mark.