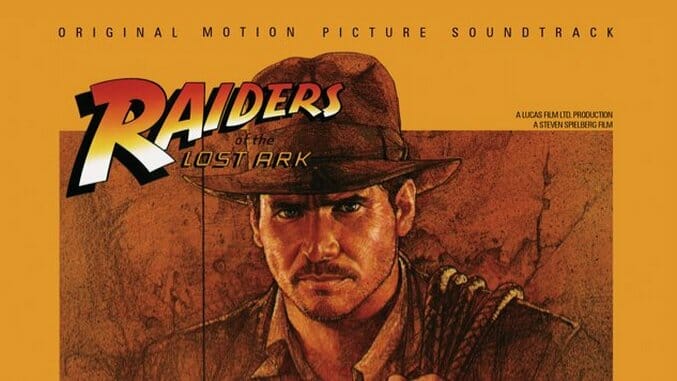 Just a year after Indiana Jones' debut adventure celebrated its 35-year anniversary, the seminal film's score is getting a re-issue. The vinyl version of John William's Oscar-nominated score for Raiders of the Lost Ark will reportedly include 30 additional minutes of music previously available exclusively on the 2008 CD release. This is the first—and only—Indiana Jones film score to be performed by the prestigious London Symphony Orchestra.
Concord Music Group will press the iconic score onto 180-gram vinyl and release it as a double LP. The release will be put together by engineer Bernie Grundman, who mastered the original soundtrack back in 1981.
This performance will undoubtedly be the perfect companion piece for living-room reenactments of the groundbreaking film. Grab your trusty whip and head over to Amazon to rustle up a preorder now, and check out the complete tracklist and artwork below.
Raiders of the Lost Ark Vinyl Reissue Tracklist:
01. In The Jungle
02. The Idol Temple
03. Escape From The Temple
04. Flight From Peru
05. Washington Men / Indy's Home
06. A Thought For Marion / To Nepal
07. The Medallion
08. Flight To Cairo
09. The Basket Game
10. Bad Dates
11. The Map Room: Dawn
12. Reunion In The Tent / Searching For The Well
13. The Well Of The Souls
14. Indy Rides The Statue
15. The Fist Fight / The Flying Wing
16. Desert Chase
17. Marion's Theme / The Crate
18. The German Sub
19. Ride To The Nazi Hideout
20. Indy Follows The Ark
21. The Miracle Of The Ark
22. Washington Ending / Raiders March
Raiders of the Lost Ark Vinyl Reissue Album Art: