Rambo Is Back, Baby, and You Can Watch the Final Installment's First Teaser Now
Images via Yana Blajeva/Lionsgate, Lionsgate
Movies
News
Rambo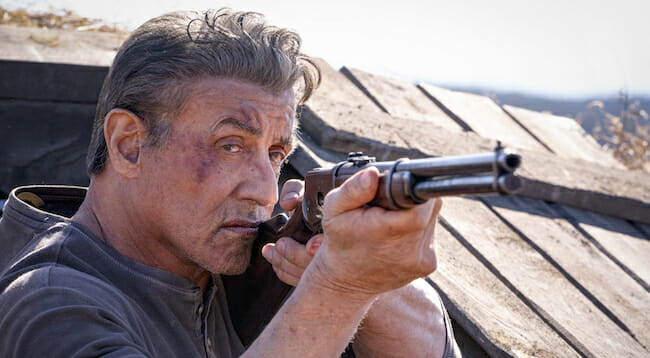 Rejoice and be merry: The first teaser trailer for the fifth and final installment in the Rambo franchise has arrived, and it is way better than you could ever imagine.
Out Sept. 20, Rambo: Last Blood, the sequel to 2008's Rambo, features Sylvester Stallone as the tortured and downtrodden Vietnam veteran battling a Mexican cartel guilty of kidnapping local girls, knifing agents out for blood and ultimately seeking revenge one last time.
"I've lived in a world of death," Stallone growls at the beginning of the teaser as he sharpens his knives and deftly practices his archery. "I've watched people that I love die."
And boy, does he want their killers to pay.
The short preview is just as high-octane as you'd imagine—cars explode! Villains are impaled! Stallone is very, very bloody!—and is unbelievably set to a cinematic, recut version of Lil Nas X and Billy Ray Cyrus' "Old Town Road" remix.
Watch the official teaser below and decide for yourself which part is more unsettling: Stallone's grizzly, bloodthirsty performance or the fact that the film's desert landscape just so happens to work well with "Old Town Road."
Keep scrolling to check out the film's official poster.