New on Showtime: All the Movies and TV Coming in June
Photo by Patrick Ecclesine/Showtime
Movies
Features
Showtime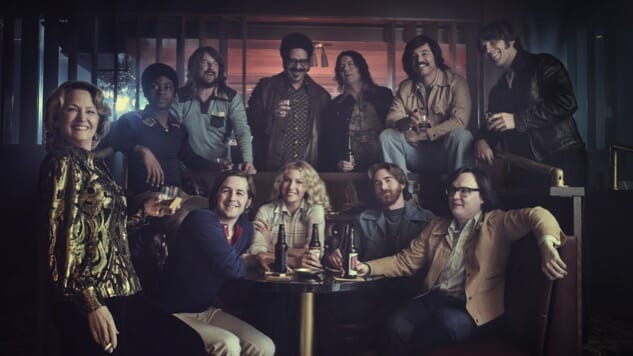 As June steadily approaches with its promises of sunshine and beach volleyball, Showtime has released its list of June offerings for when things get too sandy.
While the film offerings aren't particularly substantial this month, solid releases like The Boondock Saints, Fried Green Tomatoes and Rosemary's Baby should provide decent—if wildly varied—appeal for filmgoers with an eclectic palette. For those without any such pretense, Bad Ass and Badass 2: Bad Asses should pair nicely with Zombie Honeymoon for a lazy, gorey afternoon of cheap thrills. Additionally, these films and others will be bundled together in various streaming collections based on topics like LGBTQ Pride, Great Directors and Daddy Issues, if you're feeling sensitive.
On the television front, new Twin Peaks episodes will continue to air on the channel alongside the series premiere of I'm Dying Up Here, which promises to be a hilarious and poignant look at the world of stand-up comedy.
For a complete cataloging of what's coming to Showtime in June, check out the full list below.
NEW MOVIES
Available 6/1:
THE FREE WORLD
BAD ASS
BAD ASS 2
BEACHES
THE BEST OFFER
THE BOONDOCK SAINTS
FRIED GREEN TOMATOES
GROSSE POINTE BLANK
IT RUNS IN THE FAMILY
OPEN WATER 2: ADRIFT
THE PROGRAM
ROSEMARY'S BABY
THREE MEN AND A BABY
TWIN PEAKS: FIRE WALK WITH ME
ZOMBIE HONEYMOON
Available 6/2:
FREE STATE OF JONES
ORIGINAL SERIES:
TWIN PEAKS (Sundays at 9 p.m. ET/PT)
I'M DYING UP HERE (Series Premiere, Sunday June 4 at 10 p.m. ET/PT)
DOCUMENTARIES & COMEDY SPECIALS:
Available 6/1:
MORE THAN T
Available 6/2:
ANDREW SANTINO: HOME FIELD ADVANTAGE
Available 6/9:
BECOMING CARY GRANT
STREAMING COLLECTIONS
LGBTQ Pride Collection: (BROKEBACK MOUNTAIN, CAROL, THE CRYING GAME, FAIR HAVEN, MORE THAN T, AND MORE [Available 6/1 – 6/20])     
Daddy Issues Collection: (ALL OR NOTHING, A BRONX TALE, A RISING TIDE, THREE MEN AND A BABY, AND MORE [Available 6/1 – 6/20])
Excellent Ensembles Collection: (THE HATEFUL EIGHT, LINCOLN, MOTHER'S DAY, SECRET IN THEIR EYES, TRIPLE 9 AND MORE [Available 6/4 – 7/11])
Maximum Action Collection: (BAD ASS, BAD ASSES 2, BAD ASSES 3, BATTLE ROYALE, THE BOONDOCK SAINTS, TRIPLE 9 AND MORE [Available 6/7 – 7/11])
Cary Grant Collection: (BECOMING CARY GRANT, CHARADE, TO CATCH A THIEF [Available 6/9 – 7/7])
Great Directors Collection: (BRIDGE OF SPIES, CINDERELLA MAN, THE HURT LOCKER, SOUTHPAW, NO COUNTRY FOR OLD MEN, AND MORE [Available 6/21 – 7/18])