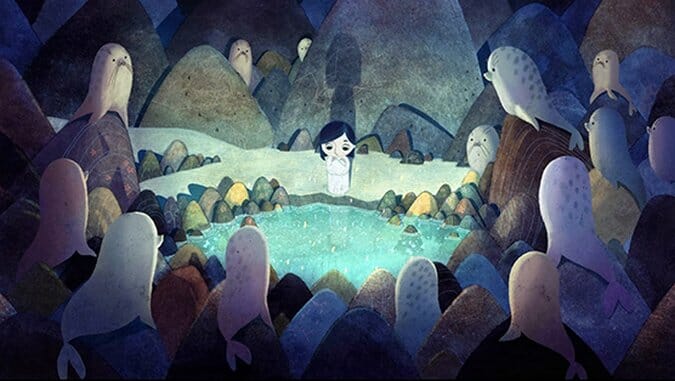 Tomm Moore's Song of the Sea might have made a better video game than a motion picture. That's saying something, because as motion pictures go, it's an absolutely visceral stunner: you may find yourself wishing you could interact with its characters, live in its vividly realized world, participate in its defining ancestral conflicts. In fact, among 2014's varied animated offerings, only Studio Ghibli's The Tale of Princess Kaguya compares to Moore's sophomore effort for the sheer, alluring magic of its storytelling. Why GKIDS, the film's U.S. distributor, didn't hustle to guarantee its theatrical run in the States before the annual onslaught of critics' groups voting is, and always shall remain, a mystery.
It's easy to imagine how seamlessly the film could translate into a puzzle game, and easier still to trip out over how great that game might be. Alas, we must accept Song of the Sea as it is, which is a pretty good deal anyway, because it's easily the best animated film of the year, at least for anyone who has a deep-rooted love for the textured, deceptively simple aesthetics of 2D animation. It doesn't hurt to also possess an appreciation for national mythology; Moore saturates his film with enough references to Irish folklore to make Neil Gaiman blush.
Song of the Sea begins with a trope familiar to many children's movies—the death of a parent—and from there transitions into a yarn about sibling resentment. As a child, Ben (David Rawles) happily lives with his father, Conor (Brendan Gleeson), and his mother, Bronagh (Lisa Hannigan), until, spurred on for no immediately obvious reason, she seemingly abandons them; on that same night, she gives birth to a daughter, Saoirse, who all these years later still hasn't learned to speak. Ben blames Saoirse for his mother's death, and has diligently maintained a grudge against his sister ever since that fateful, stormy eve. But then Saoirse gets her tiny hands on a shell flute Bronagh bequeathed to Ben, and each tune she plays the instrument it slowly but surely reveals a hidden, enchanted world full of fae inhabitants. Thus, adventure commences.
More so than almost any other movie released in 2014, Song of the Sea leaves a literary impression. Watching the narrative unfold piece by piece is akin to reading a good book, flipping by page after page of a well-worn tome of fables as old as Ireland itself; by consequence, Song of the Sea feels like a lifetime of bedtime stories all carefully shaped into one 90-minute film. It's tempting to assume that Moore and screenwriter Will Collins grew up hearing of Manannán mac Lir, Macha, the Daoine Sidhe, and how dangerous a parliament of owls can be from the shanachies of their youth. (Here, he personifies those historians and soothsayers through an old, flighty, endlessly bearded man, whose infinite bristles each tell the tale of every fairy folk still living in the world.)
Or maybe Moore and Collins simply locked themselves up in a library for hours, days, weeks on end, pouring over antediluvian cultural texts in search of inspiration. Either way, Song of the Sea is undoubtedly an inspired effort, gorgeous to behold and told with a poignant urgency. Ben, at times, acts like an insensitive clod; at others we empathize with his frustration, even when Moore focuses on Saoirse's beaming, beatific expressions. This is a film about a child pushing past his grief and anger so that he can finally bond with his sister after years of malcontent. In that regard, Moore's work is startlingly mature given his target audience. He's created the sort of kids' movie that speaks as much to the innocence of the young as to the heartbreaking experience of their parents.
Bright and vibrant, fresh but wholly lived-in, Song of the Sea, like Moore's previous film, 2009's The Secret of Kells, is a beautiful tour through the legends that color his country's proud history of narrative tradition. You will want to repeatedly revisit Ben's and Saoirse's world, peppered with whimsy and awe, sharing in the sort of lore-soaked fiction that most authors and directors wish they could come up with, creating something so effortlessly timeless.
Director: Tomm Moore
Writer: Will Collins
Starring: David Rawle, Brendan Gleeson, Fionnula Flanagan
Release Date: Dec. 12th, 2014
---
Boston-based critic Andy Crump has been writing about film for the web since 2009, and has been contributing to Paste Magazine since 2013. He also writes for Screen Rant and Movie Mezzanine. You can follow him on Twitter. Currently, he has given up on shaving.